Vaccinated only: World Rugby Classic lays down the law
Updated: Nov 09, 2021 08:13 AM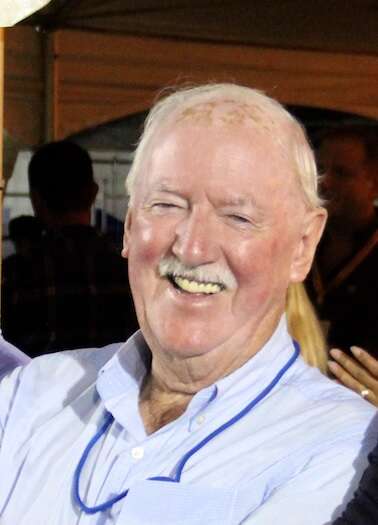 John Kane has confirmed that the World Rugby Classic event next month will be a "vaccinated only" event.
The ever-popular tournament will mark its return at the National Sports Centre from November 7 to 13, after it was postponed last year for the first time since it began 32 years ago.
Original restrictions in place meant that the tournament would be run under public health regulations as a SafeKey event.
However, with Bermuda registering 1,319 active cases and having recorded 82 deaths after the most recent update, Kane, the president of the World Rugby Classic, has revealed the added protocol of a vaccination and SafeKey will be required of everyone, including players, officials, volunteers, caterers, delivery personnel and ticket holders.
"Our primary concern is to protect everyone attending the Classic, as well as Bermuda at large, and this is the best way we can do this," Kane said. "No one, including ticket holders, will be able to access the National Sports Centre North Field area without them.
"SafeKey, following a negative Covid test, is not sufficient on its own for our purposes; vaccination is the key for those 12 and over.
"It is very important that we put on a safe event as Bermuda needs to start on the road to recovery and this event provides some much needed income to the island."
In another notable change, Kane also revealed that the USA Classic Eagles have withdrawn after losing their main sponsor and will be replaced by a Bermuda team, led by national head coach Jamie Barnwell.
The USA Classic Eagles are the latest past participants who will not be making an appearance at the tournament, which has been scaled down from previous years.
As a result, the field has been reduced to six teams challenging for the crown left vacant by three-times champions Classic Pumas of Argentina — Rugby Canada, Ireland Rugby Legends, Lions Legends, Rugby Italian XV, France Classic Rugby and Bermuda.
The Classic Pumas and Classic Springboks have not been invited to compete this year out of precaution, with both Argentina and South Africa on Britain's Covid-19 "red list" for travel restrictions.
"The United States team has had to withdraw this year but hope to return in 2022," Kane added. "But we are delighted that Bermuda has stepped in to fill the gap.
"It's welcome news for local sports enthusiasts that Bermuda will be taking part for the first time in many years.
"Bermuda took part in the very first Classics, along with England, Ireland, Wales, Scotland and the USA. The island had a relatively strong team back then with Stuart Outerbridge joint third in points scored overall as well as being the first person to score a try in the World Rugby Classic.
"The return of a Bermuda team adds immeasurably to local interest in the Classic and will be a great experience for the players involved."
The Bermuda team will kick off proceedings in the first game of the tournament against Canada.
• The 33rd Classic will be an all-ticket event with no sales at the gate. General admission tickets may be purchased at www.ptix.bm, while those seeking hospitality tickets should e-mail Jkane@worldrugby.bm
SCHEDULE
Sunday, November 7: Bermuda v Rugby Canada 2.20pm.
Monday, November 8: Lions Legends v France Classic Rugby 7pm; Ireland Rugby Legends v Rugby Italian XV 8.30pm.
Wednesday, November 10: Bermuda v Rugby Italian XV 7pm; Lions Legends v Rugby Canada 8.30pm.
Thursday, November 11: Ireland Rugby Legends v France Classic Rugby 7.30pm.
Saturday, November 13: Bermuda v France Classic Rugby 4pm; Rugby Canada v Rugby Italian XV 6pm; Ireland Rugby Legends v Lions Legends 8pm.