Can Dandy Town turn back the clock?
Updated: Mar 08, 2011 09:01 AM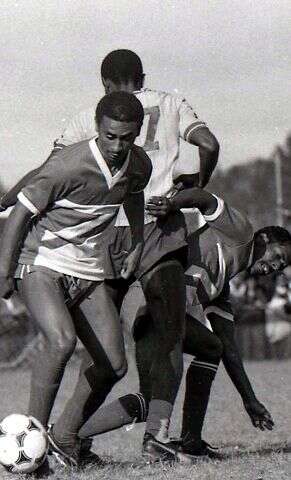 Dandy Town will be hoping history repeats itself when Trinidad's Defence Force return to Bermuda for the first time in 28 years for this week's CFU Club Championships qualifier.
Back in 1983 the much-fancied Trinidadians managed to win just one of their four Christmas tour matches after being handed a footballing lesson by some of the top local teams of that era.
Since those halcyon days it's widely accepted that the Bermudian game has deteriorated whereas the intervening years have been more fruitful for Trinidad who reached the 2006 World Cup finals and now boast a domestic pro league.
Certainly the conventional wisdom would point towards a comfortable victory for Defence Force Trinidad's most successful ever club. Hornets though will be doing their utmost to prove conventional wisdom wrong, and if the Teteron Boys' previous tour of the Island is to be used as a barometer then maybe, just maybe, Jomar Wilkinson's side can upset the sporting odds.
Should Hornets require extra inspiration ahead of Thursday's first leg tie at BAA Field then they need look no further than the performances of their footballing fathers who proved to be a cut above Defence Force's Class of ''83.
On the Boxing Day of that year, the tourists were given a less than warm welcome to the Island when they took on Hotels, then managed by ex-New England Revolution goalkeeper coach Gwynne Williams, whose team made them pay for some sloppy defending.
Hotels players Mike James, Andrew Caldwell and Bill Abley all grabbed goals before half-time to leave the visitors with a proverbial mountain to climb in the second period..
But whatever visiting coach Ken Joseph said during the interval seemed to do the trick. Defence Force then threatening to wipe out Hotels' three-goal lead largely through the brilliance of Roderick Gibbs.
The tricky winger pulled a goal back midway through the second half when he fired past Hotels keeper Stan Ray before winning a penalty which was dispatched by substitute Bertram O'Brien.
Just minutes later though Hotels, settled the match when striker Ricky Hill headed home his side's fourth goal late on.
A dismayed Defence Force coach Ken Joseph described his team's 4-2 defeat as one of their worst performances of the year when interviewed by
The Royal Gazette after the game. "That was one of our very bad games in 1983. I was totally disappointed with our first half. Against PHC you'll see something different," he said. Joseph's words of warning proved to be prophetic with PHC feeling the backlash two days later at Somerset Cricket Club where all of the Christmas tour games were held.
Like a wounded animal, the visitors ripped apart Zebras during a 4-1 triumph with goals from Curtis Murrell, O'Brien (pen) and a brace from Gibbs. Kenneth Castle was on target for PHC.
North Village were the visitors' next opponents and without their mercurial midfielder Andrew Bascome, the Rams were expected to struggle. In Bascome's absence, they offered little in attack but did managed to hold the tourists to an impressive goalless draw.
In the festive period finale Somerset Trojans' Perry Scott saw to it that Defence Force finished their four-game tour in the same manner they started it in defeat.
Around 3,000 supporters packed into Somerset Cricket Club on New Year's Day to watch Joseph's team featuring six internationals crash to their second tour loss courtesy of Scott's third minute winner.
Dennis Brown, the current Trojans coach, played a key role for the West Enders in that match and remembers Defence Force as "physical and skillful" opponents.
"That game was a very long time ago, I can just about remember it," he said. "They were a skillful team, a physical team and I imagine the side Dandy Town will face this week will be of a similar mould.
"Back then (Bermuda) used to beat Trini teams both at the club level and international level. We've regressed since then whereas the Trinidadian game has prospered."
The gate receipts from Thursday's game will go towards covering the costs of Hornets' away second leg on March 19, and Brown is urging the Island to turn out and support the defending Premier Division champions.
"We used to get 3,000 supporters for league matches when I played but a lot has changed since then," he said. "I went to watch Cougars against Blazers on Sunday and there were around 50 people there! I really hope that the Island gets behind Dandy Town and come out and support them against Defence Force."
Hornets must now endeavour to emulate those yesteryear performances of Hotels, Village and Trojans who, almost three decades ago, showed that Bermuda's clubs could more than hold their own against the Caribbean's very best.