Best upset after BFA cancel his tourney
Updated: Mar 22, 2011 09:45 AM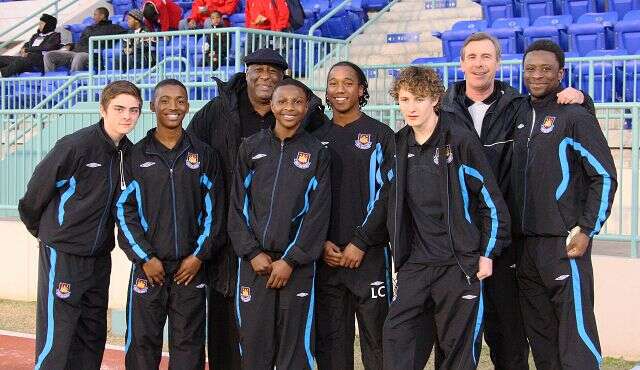 West Ham legend Clyde Best has laid bare his huge disappointment that his annual youth football tournament has been scrapped this year.
The popular Clyde Best Invitational Youth Tournament was meant to be held last month but was cancelled by Bermuda Football Association (BFA) who failed to organise it in time because of their late preparations.
Best said he understood the new BFA administration had "a lot on their plate" but felt dismayed that Bermuda's best youngsters had been deprived of playing against overseas opposition at the National Sports Centre this year.
"It's a real shame that we're not going to be able to have it," he said. "Obviously we've had a change of administration (at the BFA) and I'm sure it's something that just couldn't be worked out.
"When you have new people coming in and they're not really aware of what's going on you get this kind of thing happening. I'm sure funding has a lot to do with it. (The BFA) have got to try and save their pennies but the sad thing is that it's the children who are missing out.
"It's important for them to get experience playing against overseas opposition. If you don't invest in the youth then you're going to be in serious trouble."
Best will now consider taking control of promoting and organising the tournament himself, as was the case in 2007 and '08. He said: "I think next year we will have to go back to the drawing board and go from there.
"I think it's been a very successful tournament over the years and we have to find a way to continue it.
"Even if I have to do it myself with the help of a few other people I will do so. I understand the BFA have had a lot on their plate so it might be better if we run it ourselves. I know a few people who are interested in coming on board to help out because I won't be able to do it all myself."
Chairman of the BFA player development committee, Mark Wade, said it was a "travesty" this year's tournament would not go-ahead.
He stressed that efforts were made to bring in visiting teams from the US but those approached were put off because the BFA were not prepared to pick up the entire tab this year.
Wade admitted plans should have started earlier and said the previous BFA administration could have helped matters had they started the ball rolling before leaving office at the end of October.
"I think it's a travesty the tournament's not going ahead. Preparations started too late and that made things difficult; maybe the former administration could have started planning for the tournament before (standing down)," he said.
"In previous years the BFA have covered the costs in their entirety but we weren't prepared to do that this time.
"There wasn't so much of a funding issue at our end, it was more that the visiting teams weren't able to commit to anything in short notice in the difficult financial climate."
Wade said preparations were already in motion for next year's tournament which had piqued interest from US teams partnered with West Ham United's International Academy. He added that next year's tournament would be moved to April to avoid bad weather.
Last year saw youth teams from West Ham and French First Division side Saint Etienne compete in the Clyde Best Youth Tournament.