Wells: Bantams can pull off another upset
Created: Feb 21, 2013 08:00 AM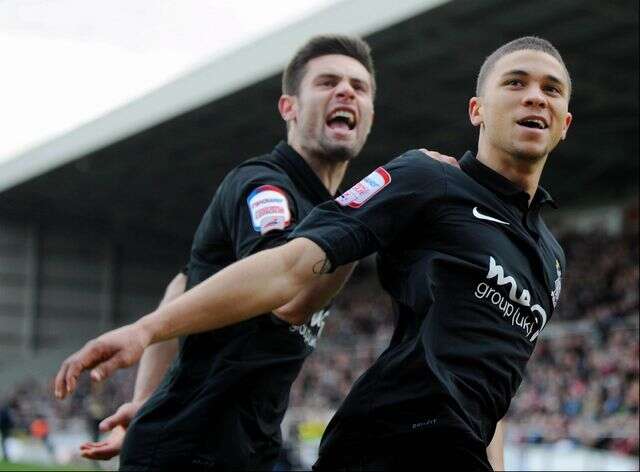 Bradford City striker Nahki Wells admits Premier League Swansea will be a tough nut to crack during Sunday's League Cup final at Wembley Stadium.
But the Bermuda international is confident he and his Bantams teammates have what it takes to lift a first major trophy since the club's FA Cup success in 1911.
"I rate Swansea highly and it's going to be hard to stop them," he told
The Royal Gazette. "But we have a game plan and hopefully if we stick to it and give 110 percent we shouldn't have any problems."
The Bantams have been the biggest surprise in this season's League Cup after recording upset wins against Premier sides Wigan, Arsenal and Aston Villa. They also bested League One side Notts County and Championship side Watford en route to becoming the first fourth tier team to reach a major English domestic cup final in 51 years.
Wells has netted three goals in the League Cup so far, including a brace against League Two rivals Burton Albion.
He also scored in the Bantams 4-3 aggregate win against Villa in the two-legged semi-final.
Swansea beat reigning European Cup and FA Cup champions Chelsea 2-0 on aggregate in the remaining semi-final to reach their first major cup final.
"I have watched them since they entered the Premier League and I admire the way they play, even more so this year," added Wells. "I just feel they are more of a dominant force in the Premier League and are not far off from a spot in Europe in my opinion with the addition of a few players.
"It's going to be hard to stop them and it's going to take a bit of luck as well, and we have ridden our luck throughout the competition. It's going to take desire, hunger and most of all resilience to get the job done."
Bradford beat Swansea 3-1 in the first meeting between the two sides in a Second Division match during the 1925-26 season. The last encounter between Bradford and Swansea was in a League One contest back in 2006-07 that ended in a 2-2 stalemate.
City and Swansea have met a total of 54 times, with both sides winning 20 matches each and drawing the remaining 14.
The Bantams will be making only their second appearance at Wembley, their previous one was back in 1996 for a third tier play-off that they won to gain promotion to the Championship. Incidentally, Swansea were relegated from the Championship to League One the same season.
Victory over the Swans on Sunday would earn Wells and his teammates a place in next season's Europa League.
Bradford's last taste of European football was in 2000 when they reached the two-legged semi-final of the now defunct UEFA Intertoto Cup where they lost 4-0 on aggregate to Russia's FC Zenit Saint Petersburg.
Are you going to watch Nahki at Wembley? If you are you can Tweet #nahkiwells or @royalgazette to get your comments and pictures published on our Twitter site or our Follow it Live site, where will be following the final with live text coverage. You can also email your comments and pictures to news@royalgazette.bm.