Wells targets Wembley brace
Created: May 06, 2013 05:18 PM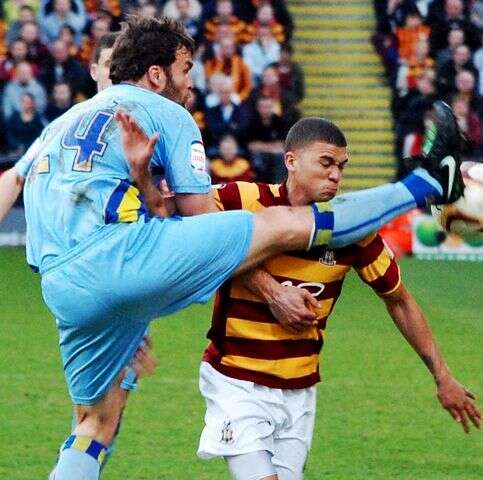 Nahki Wells' double salvo against Burton Albion during Sunday's League Two play-off semi-final at Pirelli Stadium enabled the Bradford City striker to reach the goal tally he set out to achieve at the beginning of the campaign.
Wells' superb brace extended his season tally to 25 in all competitions the precise number he had hoped to achieve this term.
"Twenty five is the exact number I set out for myself to score at the beginning of the season so I'm delighted to reach it," the Bermudian told the Telegraph and Argus.
The Bantams won Sunday's League Two play-off semi -final 3-1 to secure a 5-4 aggregate win in the two-legged home and away series.
City will now face Northampton in the League Two play-off final at Wembley Stadium on May 18.
The occasion will mark the Bantams' second visit to the iconic stadium in nearly three months having lost heavily against Premier side Swansea in last February's League Cup Final.
Three of Wells' 25 goals have come against Northampton and the Bantams striker is confident he can hit the target again when the two sides clash for the right to gain promotion to League One later this month.
"I've scored against Northampton already so I'm confident that I can do it again and help us get promoted," he declared. "I've got two more in my locker I'll save them for Wembley."
City overcame great odds in beating a Burton side that had won 12 of their previous 13 home games to boast the best home record in League Two.
"To come here and beat this team at home comfortably is unbelievable," added Wells. "In my opinion, it could have been five.
"I'm not saying it just because I play for Bradford City and I'm biased but I think we're the best team in the league. If we do as the manager sets us up and we're all on our game, I don't think anyone can beat us.
"It was brilliant the way we turned the tie around. There was some magnificent attacking play and to keep them at bay with only scoring one goal is a great achievement everyone deserves credit.
"It's been a long journey. A few weeks back, we were sitting 11th or 12th in the table and had almost written off our season. But the manager's done well, he regrouped us.
"We got over the loss to Swansea in the cup final and turned our season around. We finished as the form team in the table and that was the best way to creep into the play-offs. It was very unexpected and a lot of teams were shocked when we did."
Wells, the first Bermudian to play at the new Wembley Stadium, hopes to finish the season off with a bang by helping Bradford gain promotion to League One next season.
"It's been a phenomenal season and we all deserve it," he said. "We need to keep climbing the leagues and we've given ourselves a good chance to start that."