Football is first love, says Donawa
Updated: Mar 27, 2015 10:56 AM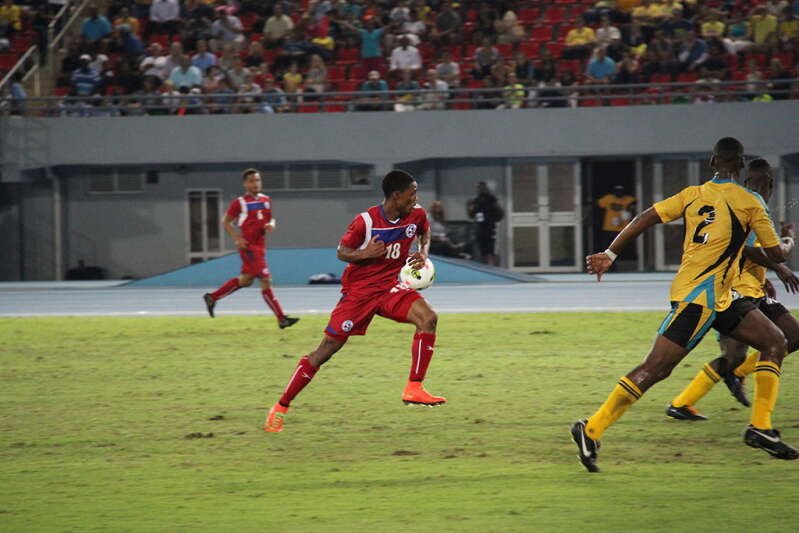 It was always assumed that there would come a time when Justin Donawa would have to choose which sport to focus on.
Apparently, however, that has never been an issue for the triple jumper, cricketer and footballer.
Donawa impressed in his first World Cup qualifier for Bermuda against Bahamas on Wednesday, and said that he would never trade that feeling for anything.
"I love football, it is definitely my first love, I'll never trade anything for football," Donawa said.
"I'm going to be focusing on it at college next year, and hopefully take it to the highest level I can. I'll do what I have to do to get there."
Donawa is heading to Dartmouth College in New Hampshire, the smallest of the Ivy League schools, but one with a growing football reputation.
"I'm looking forward to it, and developing my football there and getting a quality education," Donawa said.
The Somerset Trojans player announced himself on the international stage with two well-taken goals, including a 25-yard rocket that blew past Dwayne Whylly, the Bahamas goalkeeper, before keeping his composure to rifle the ball in past a host of defenders from inside the penalty area.
"I've been known to be a fast player in my career, and [for the first goal] I heard the right back, Tyrell Burgess, saying 'take him on, take him on'," said Donawa, who won a gold medal for Bermuda in the triple jump at the Carifta Games in 2012.
"So, I got a couple of inches on him [the defender] and took the hit, and you've got to shoot to score, I was a little surprised that it came off that well, but I'll take it."
Andrew Bascome, the Bermuda coach, was equally pleased with his new charge's start in the team, and praised his "athleticism and high work rate".
"I was pleased for Justin in his first international, he took his goal well," Bascome said.
The manner of Donawa's performance suggested a player comfortable with the pressures that international football can bring, even if it was a relatively easy introduction to the senior level.
Bermuda controlled the game from the kick-off, and could well have scored more than the five they eventually put past their opponents.
"There were some nerves out there at the start, obviously, but we eventually got into the game," he said.
"Got one, got two, and we could have had a lot more goals.
"We had a lot of chances, but we took care of the game comfortably and now we're going to go home and take care of business in front of our home crowd."
Donawa might even have scored a hat-trick, but a couple of half chances went begging. Not that the attacking midfielder was particularly upset by that.
"There were one or two half-chances, but I scored two, the team played well, and I'm not going to get greedy," he said.
Lewis winning battle, page 15