Ball and Richards leading by example
Created: Nov 05, 2015 08:00 AM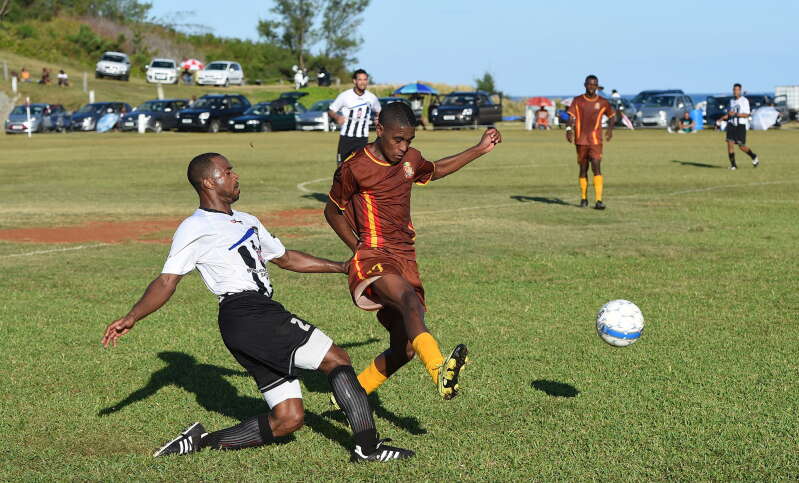 Sometimes football gets a bad reputation, but there are plenty of positives at a club like PHC Zebras who are not only developing good young footballers but also good role models off the field.
The club reopened their Warwick ground this year, held a public forum in September along with three other clubs in the area — Paget Lions, Warwick Workman's Club and Southampton Rangers — entitled "Are We Having an Impact?" to address community issues.
The month before they handed out about $40,000 in scholarship funds to eight college students as they continue to invest in their community.
Developing good footballers is one thing, moulding positive young men is important too.
"Sometimes people look at football and cricket in a negative light, but if you look under the hood there is a lot of positives that come from it," Johnny Ball, the PHC president, said.
"It's about holding ourselves to account and trying to have as great an impact as we can within our communities, so it will be beneficial that we collaborate and talk.
"We have various initiatives such as our scholarship programme which has expanded under the PHC Foundation. We have the community fun day, and each of our coaches is required to go into the schools each year to check on our young players to make sure their grades are up to par.
"If their grades are not adequate then they cannot participate."
Next week the Zebras have a final to look forward to, after beating Dandy Town Hornets, the two-times defending champions, in last Sunday's Dudley Eve Trophy semi-final.
Ball, who is also the team's first-choice left back, is fighting against time to be available for next week's Dudley Eve Trophy final after picking up a leg injury in their recent 4-0 league loss to Town.
He watched from the sidelines as PHC reached their first Dudley Eve Trophy final in five years, with Julian Carpenter filling in at left back. And if Ball, still only 30, does not recover in time to reclaim his place, he will still be at Wellington Oval on November 11 in an official capacity as the president of the club.
"As far as me playing it is still to be determined, but I'm confident in my team-mates, we have a good, young left back, Julian Carpenter, who is more than capable of getting the job done," Ball said.
"I had a slight tear in my quadricep and the last time we played Dandy Town I went off in the first five minutes. It's getting better but I'm still not ready. It's going to be a close call but we'll see how I make out towards the end of this week."
PHC has a team of upstanding young men who are giving back to the club and the community, including Kevin Richards, the former Bermuda defender, who has resumed playing with the Zebras in a player-coach role after returning to the Island. Richards was recently appointed as business development manager at Bermuda Business Development Agency. The team also have college graduates Anthony Hunter, Casey Castle, and Marquel Waldron back to form the nucleus of a good team on the field led by captain Cecoy Robinson. Brothers Na'eem and Kenji Griffith are also establishing themselves as key players in the heart of the defence.
"We have a good blend of youth and experience and it is definitely a boost to have Kevin back," said Ball, who took over the presidency at just age 28. "The last time we won the trophy he was playing with us, in 2007-08.
"He just moved back to the Island and it is definitely great to have him on board.
"He's a player-coach so he's involved in the coaching as well. He didn't start the season but has played the last two games which we won. He had a slight knock [on Sunday] but he should be OK for next week."
Ball and Richards both took a break from local football in 2009 to pursue Masters degrees abroad at the City University in London and Notre Dame in the US respectively.
Ironically, Richards signed off by scoring the winner in the 2-1 win over Rangers in the Friendship Trophy final. Now both are back helping move the club forward both on and off the field.
"It's not just about moulding good athletes but moulding productive young men in society," Ball stressed. "I think we've done that and will continue doing that.
"Anthony [Hunter] graduated from university and is working at Deloitte now. He came up through our youth programme and played for BAA but it is good to have him back home, he adds another dimension to our team.
"Casey is another recent graduate from university and he brings explosiveness to the team with his playmaking ability."
PHC have not won this competition since 2007 when it was the Martonmere Cup and Ball is hoping victory next week over Robin Hood could help turn their season around.
"I'm hoping that the result can be a catalyst for bigger and better things to come this season," Ball said. "We have a good spirit in the team, a lot of the guys have played together from junior level so we know each other very well.
"It would be good to get a result in the final. At the end of the day it is about a result, whether I'm there or not."