West End derby marred by mass brawl
Created: Oct 31, 2016 09:00 AM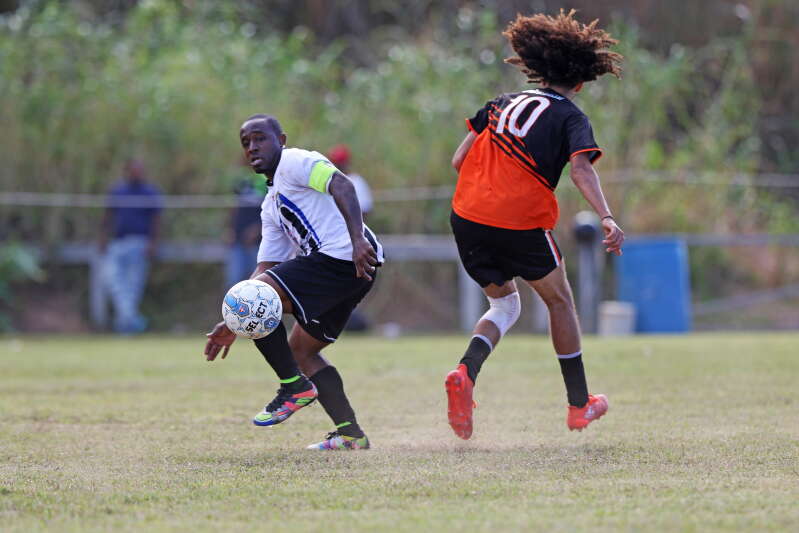 Fighting broke out in the closing moments of the West End derby between Somerset Eagles and Somerset Trojans in the Premier Division at White Hill Field yesterday.
In the final minute of the game Shaquille Bean, the Trojans goalkeeper, ran out of his box and cleared the ball upfield and out of play.
The ball was caught by Danvers Seymour Jr, the Trojans coach, who held onto the ball while his goalkeeper was out of possession leading to tensions as Eagles tried to prise it from him in order to take a quick throw-in.
According to an official at the game, Seymour was struck by an Eagles player and the two squared off before supporters and players from teams now joined in the mêlée.
Rushaun Seaman had given Eagles the lead in the seventeenth minute before substitute Johnny Bean, a second-half substitute for Trojans, levelled in the 83rd minute.
Last week Trojans also had an incident in their home match against Dandy Town, the defending champions, when the rear window of the Town team bus was smashed by a brick thrown by some youths after the game.
Town suffered their fourth straight defeat in the league yesterday, losing 3-1 away to Boulevard.
Striker Ian Coke struck a hat-trick for Boulevard, including two late penalties to seal the victory.
Coke had given Boulevard the lead in the fifth minute before Angelo Simmons, the Town captain, levelled.
Midfielder Jahmel Swan gave Town the lead in the 24th minute before Coke's spot-kick double.
Lynn Tucker, the Town midfielder, was sent off in the 78th minute for two yellow cards.
Mikre Pace, the Boulevard assistant coach, said the sending off was the turning point in the match. "I thought we showed character and it feels awesome to beat the champions," he said.
"We went ahead first and then we took our foot off the pedal and Town got us.
"We went behind but once they went down to ten men we changed the formation to get more players forward and it paid off with a couple of runs that turned into penalties and I really want to congratulate Ian on his hat-trick."
In the day's other top-flight games North Village beat Flanagan's Onions 1-0 at Goose Gosling Field thanks to a strike from Shayne Hollis, while PHC Zebras defeated Devonshire Colts 4-1 at PHC Field.