Goater wants to stay at debt-ridden Ilkeston
Created: May 02, 2017 09:00 AM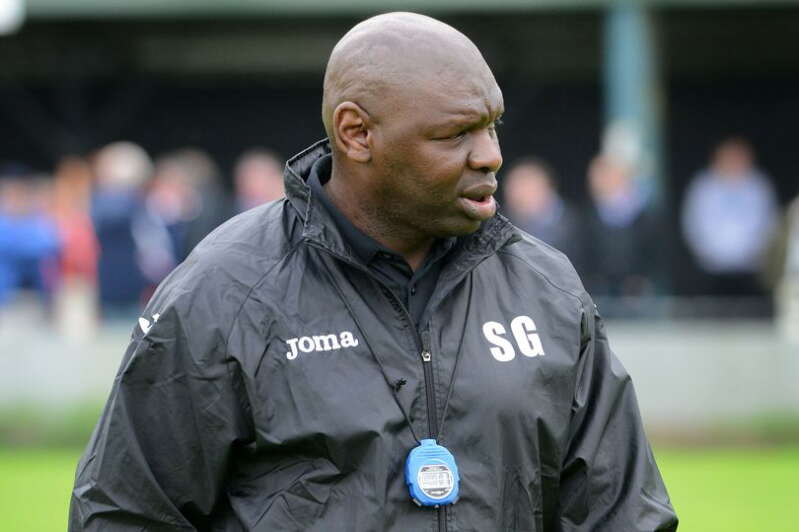 Shaun Goater said he relished his first taste of football management and is keen to remain at Ilkeston next season — if the debt-ridden club still exists.
Goater took over in February, with the English non-League side sitting second from bottom in the table, and could not save them from relegation to the Evo-Stik First Division North.
Ilkeston's financial difficulties were laid bare when their players refused to travel to AFC Workington for a league match at the end of the season because they were unpaid since Christmas.
Although a takeover is thought to be imminent, Goater admits that Ilkeston still face an uncertain future and said he was not aware of the full extent of their off-field problems when he became manager.
"It's been challenging and when I took the job I didn't know that the players hadn't been paid," said Goater, who returned to the island for the Bermuda International Football Festival at the weekend.
"That's something that wasn't told to me and to this day the players still haven't been paid.
"Will there be a club next season? I honestly couldn't say. They are struggling financially and there's supposed to be a takeover but that's been ongoing for the last five weeks.
"All I've been told is, 'It's getting close, it's getting close'."
Goater, who won his first game 1-0 at home to Sutton Coldfield, said he could not have asked for a more committed group of players especially considering they had not been paid for four months. He hopes the situation is resolved soon so the Derbyshire side can begin their preparations for next season.
"I've relished the challenge and I've seen the players improving, they know they're improving and they've loved the information I've given them," said Goater, who previously applied for managerial jobs at League Two sides Bury and Scunthorpe United and Vanarama National League outfit Chester.
"I take my hat off to the players because they gave everything and were showing up in their numbers to training every day.
"At the same time I have respect for the chairman [Nigel Harrop] because he didn't take over the club wanting to be in this situation — he's doing the best he can.
"When it's resolved it will be good for everybody because the players want to give it their all and get paid, and the chairman wants to be in a position knowing he can fulfil his obligation of paying players."
It became abundantly clear to Goater soon after taking the job that his young squad had some glaring weaknesses with a lack of speed and physicality his chief concerns.
The former Manchester City striker is confident he can fix those deficiencies, if given the opportunity, but insists the team needs bolstering with experienced campaigners.
"I've learnt a lot about the players, some of the weaknesses we have and what we really need to improve," he said.
"We have a really young team, a lot of players aged between 17 and 21, whereas a lot of the other teams have 28, 29 and 30-year-olds.
"That's been the challenge along with us not having pacey or physical players.
"We have a lot of players who are about 5ft 8in and not explosively quick and that means we struggle to change games and often get bullied."
Goater, 46, joined a slew of Bermudians at the club, including Dale Eve, Danté Leverock, Jaylon Bather and Tevahn Tyrell, and believes his compatriots have had mixed success in the muck and nettles of football's lower echelons.
"Some of the players we have from Bermuda are not quite aggressive enough and the outcome is they're not good enough," he said.
"They're playing at a Bermuda tempo and in England you don't get to have seven touches and therefore they're getting tackled, getting smashed.
"They're coming away with a Bermudian mentality of, 'Oh, it almost came off'. But it's the same outcome the next week because they haven't got the options in their head of playing two-touch, sharp football.
"I think players can adapt if they have the right attitude, as a lot of Bermudians have proven over time."
Ilkeston were briefly suspended by the Evo-Stik Northern Premier League in August, just days before the start of the season for a breach of rules and regulations and a failure to pay football creditors.
The club claimed they had been "aggressively pursued" having been poised to secure a payout after former player Che Adams's £2 million move from Sky Bet League One side Sheffield United to Championship outfit Birmingham City.
The debts were settled a fortnight later with the suspension lifted with immediate effect.
Goater stepped down as coach of Premier Division side North Village in 2013 after four seasons with his boyhood club. He led Village to six trophies — the league title, three Friendship Trophy titles and two Dudley Eve Trophy titles.
He turned down the Bermuda coach's job on a temporary basis before the appointment of Andrew Bascome.