Wells hunger set him apart, says Ellis
Updated: May 26, 2017 10:04 PM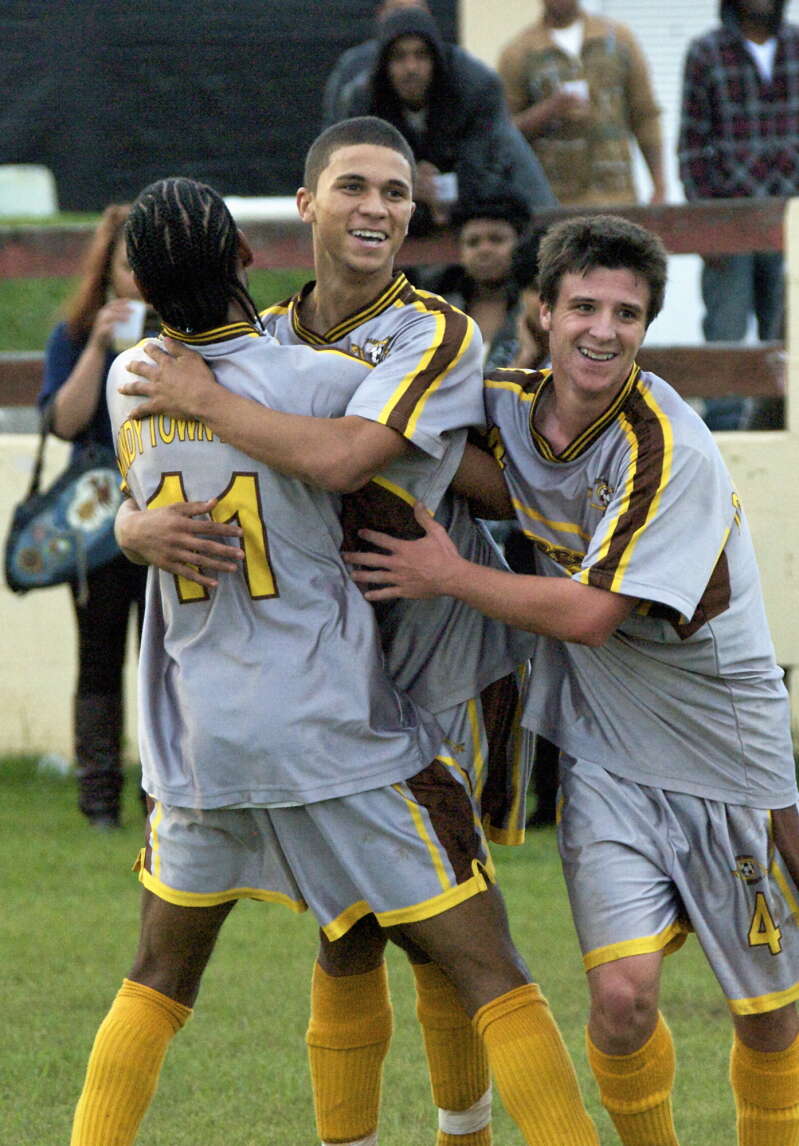 Mark Ellis remembers Nahki Wells hitting a hat-trick on a park pitch in Yorkshire and celebrating as though he had scored a match-winner at Wembley.
It was 2010 and Wells had only been in England for a few months after leaving the island to join Ellis's football academy programme in the hope of attracting the interest of professional clubs.
His confidence was sky high, having come off his most prolific season in Bermudian football, scoring 20 goals to help Dandy Town win the Premier Division title.
Wells was already 19, however, his window of opportunity slowly shutting.
"I think Nahki was thinking, 'This may be my last chance to play professional football," said Ellis, a tricky winger who spent a decade at Bradford City.
"You could tell he was really hungry to do well and how much talent he had."
Ellis was instrumental in getting Wells to both Carlisle United and his former club as part of his Richmond International Academic & Soccer Academy coaching project.
While Wells' natural talent and eye for goal were obvious, it was his confidence and determination that set him apart.
"I remember taking our boys to play a Hull City XI and we won 3-0 with Nahki scoring a hat-trick; he was unbelievable," Ellis, the RIASA football director, said.
"There was another game on a park field when he got another three goals and you'd have thought he'd scored at Wembley! To be honest I'm surprised somebody didn't pick him up straight away."
Little could Wells, or Ellis for that matter, imagine that those wild celebrations were the start of a football journey that has taken the striker to within a whisker of the Premier League.
On Monday, the Huddersfield Town man will play in the Sky Bet Championship play-off final against Reading at Wembley. It will be his third appearance at the iconic stadium having played there twice for Bradford in 2013.
Wells struck up a lethal partnership with James Hanson, another of Ellis's finds, that season as the pair led the giant-killers to the League Cup final where they lost 5-0 to Swansea City.
A few months later Bradford returned to Wembley, thrashing Northampton Town 3-0 in the League Two play-off final, with both Wells and Hanson among the goals.
"Bradford were really lucky to get Nahki in the first place," Ellis said. "My friend Greg Abbott was manager at Carlisle at the time and I took him up there.
"I only did that because I'd had a difference of opinion with Bradford. Carlisle can't be an easy place to settle and he kept coming down to Leeds at weekends to see his friends.
"I was surprised when Carlisle let Nahki go but I asked Dave Baldwin [the club's director of operations, now the chief executive at Burnley] if Bradford would now have a look. He had to persuade the club to bring him in."
Ellis is still searching for untapped talent at RIASA, a United States-funded university programme, which has produced several professional players. It is Wells, though, who remains Ellis's star student.
"We went to see Nahki about four months ago, we were doing a promotional video and he said some really nice things about the programme," said Ellis, a former part-time Huddersfield academy coach. "He hasn't forgotten us and we're all really pleased to see that he's done so well. He's a great lad and it's nice to see somebody like that come in and seize his opportunity."
Should Huddersfield beat Reading and reach the Premier League for the first time in the club's history, Wells would become only the fifth Bermudian to play in the top flight behind Arnold Woollard, Clyde Best, Shaun Goater and Kyle Lightbourne.
Scoring goals at that level, according to Ellis, would not be a problem.
"Whether he can reach the Premier League with Huddersfield or somebody buys him, it wouldn't surprise me," he said.
"I think he will score goals at any level; I'm sure of that. He has a real variety with his goals whether it's with the outside of his right foot, bent in with his left foot, strikes from outside the box, or the free kicks that he takes.
"It's an incredible story and it could be an even better one if Nahki gets to the Premier League!"
At 26, Wells has plenty of chapters of his football tale still to write. Whatever the twists and turns, from the park pitch to hopefully the Premier League, Ellis will be reading avidly.