Advantage Paget after stalemate
Updated: Mar 04, 2018 05:39 PM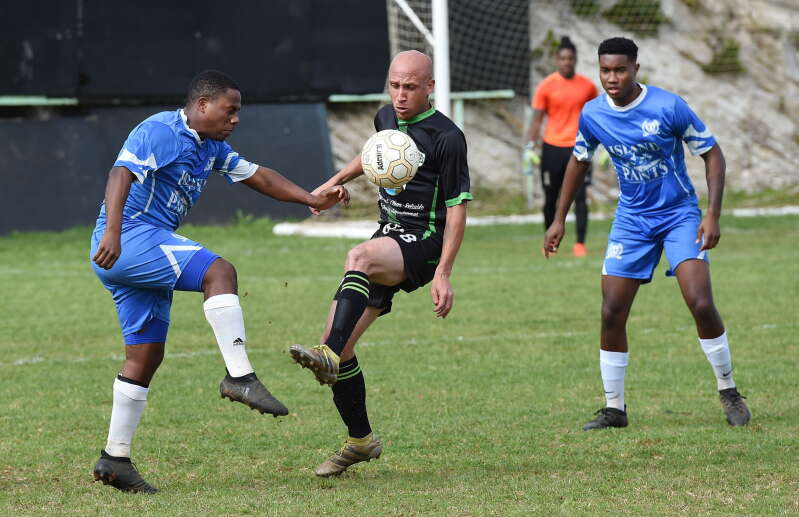 Paget Lions held on to second place in the First Division after holding Southampton Rangers to a scoreless draw at Southampton Oval yesterday. The draw keeps Paget two points clear of Rangers for the second promotion place.
Rangers came agonisingly close to opening their account in the fifth minute when Khalil Symonds was sent through on a penetrating pass that split the Lions defence. However, Symonds could only look on helplessly as he squibbed his effort inches wide of goal from ten yards with only Paget goalkeeper Jason Smith to beat.
In the tenth minute, Nelson Carpenter, who was making penetrating runs along the left flank all afternoon for Paget, squared a cross into the penalty area to a sitting Tahj Wade, whose powerful header at goal was whisked wide by the strong crosswinds.
Conditions played a huge part, with several passes carried away by the high winds.
Five minutes into the second half, Symonds was the recipient of another golden opportunity for Rangers, after he received a deft pass across the face of the goal from Ezekiel Stoneham, but he could only drag his effort wide.
With one goal likely to be the difference maker in this tightly-fought contest, both teams played deep in defence to lessen the threat of being beaten by any long balls over the top.
Both teams had last-ditch efforts late in the game. Paget's Robert Richardson saw his header sail wide after going through untouched in the 79th minute and Quadir Maynard, for Rangers, miss from close range the 85th minute after a corner kick was deflected in his path by team-mate Nacorie Smith.
In the final analysis, both teams would share the spoils in an it was a fair conclusion to an otherwise hard-fought and entertaining contest.