Town put BAA to the sword
Created: Sep 17, 2018 09:00 AM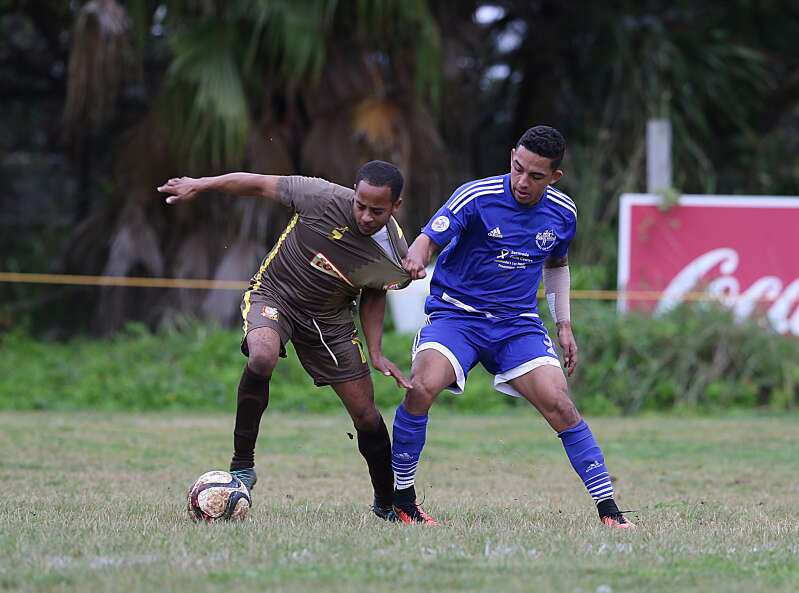 Dandy Town 4 BAA 1
Dandy Town put their Dudley Eve Trophy exit behind them to beat top-flight newcomers BAA at Goose Gosling Field yesterday.
Two goals by Oneko Lowe and captain Angelo Simmons secured the win, but the game was not without controversy.
The game started 20 minutes late as the third official had to make his way from St George's, having just completed refereeing a First Division game.
BAA's Drewonde Bascome and new signing Keishen Bean were running hard for every ball but the Town defence, marshalled by Kwonde Lathan and Tre Manders, stood firm.
Town had the first chance when Damon Ming gave a short corner to Lowe, but his low shot went wide.
The visiting side scored two minutes later when Ming was let loose down the left flank. He outran his defender before slipping the ball inside to Simmons, who squared to Lowe for a simple finish. BAA equalised within minutes while Zaire Burchall, the Town midfielder, had left the field to change his boots leaving his player, London Roberts, unmarked.
Roberts played the ball inside to Bascome, whose drive beat the outstretched arms of goalkeeper Troy Hall.
Hornets took the lead just before the half, albeit in controversial fashion. Jahnazae Swan beat defender Quintonio Lema to a through ball. Swan attempted a cross only for the ball to hit Lema. Play continued for some ten seconds only for referee Cassandra Trott to blow the whistle and stop play. She then ran over to her assistant referee and, after a brief conversation, Lema was adjudged to have handled the ball. Simmons converted the penalty.
Nizigh Spence, came on as a half-time substitute, and made an quick impression. He received a throw-in and delivered a cross-field pass to Lowe, who unleashed a shot into the net.
BAA were awarded a penalty for handball by a Town defender but Bascome's effort was smothered by Hall.
Ming set up the fourth goal before being ejected for violent conduct. He dribbled inside the box and was fouled. In his frustration, he thought the referee was pointing for a goal kick, so he picked up the ball and blasted it in the direction of the assistant referee. Simmons slotting his spot kick home.
"It was good to start the league season after our disappointing performance in the Dudley Eve," Cal Blankendal, the Town assistant coach, said.
TEAMS
BAA (4-4-2): D Johnson — Q Lema, T Burgess, Z Robinson, N Gibbons — I Simmons, T Tucker, M Iris (sub: E Butterfield-Tankard, 66min), L Roberts (sub: L Thomas, 70), D Bascome, K Bean. Substitutes not used: A Darrell, J Lottimore, Laquan Thomas, Sariko Thomas. Booked: Bascome, Q Lema.
Dandy Town (3-5-2): T Hall — K Lathan, T Manders, N Smith (sub: J Eve, 60) — Z Burchall (sub: N Spence, 46), L Emery, D Ming, E Blankendal, J Swan — A Simmons, O Lowe. Substitutes not used: G Liburd, Omar Wilson, Temiko Wilson. Booked: Emery, Sent off: Ming.
Referee: Cassandra Trott.