Rangers on cruise control
Updated: Sep 24, 2018 09:35 AM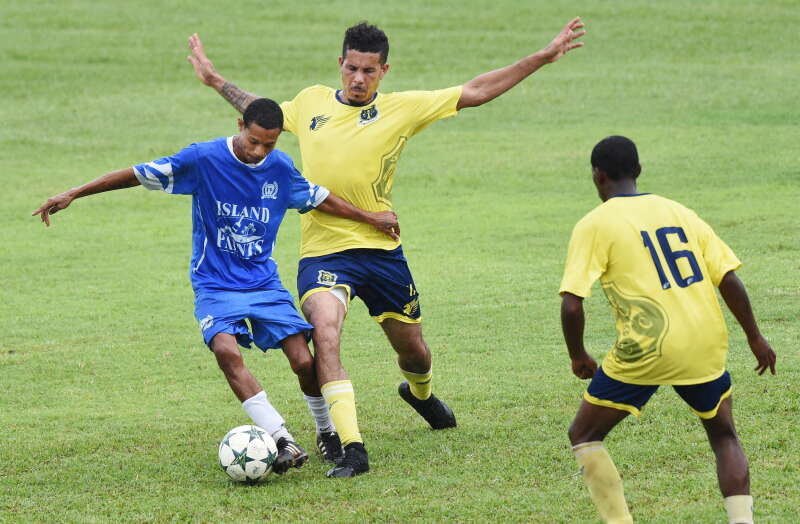 Southampton Rangers 2 St David's 0
First-half goals from Cardel Henry and Ezekiel Stoneham allowed Southampton Rangers to cruise to victory over St David's at Southampton Oval on Saturday.
Although the visiting side were resolute in their defending, they offered little going forward, and never looked like coming back once they were down.
Rangers controlled possession from the start and it took only ten minutes for them to take the lead, when Henry headed home a Marquel Tankard cross from the right.
Stoneham doubled the lead in the 20th minute from the penalty spot after Dante Brangman was brought down by the centre half.
St David's had a brief spell in the early stages of the second half, and were unlucky not to score from a Kontai Burton header that came back off the crossbar.
From that point, Rangers regained control of the match, and were able to carve out numerous chances to extend their lead.
However, woeful finishing spared the blushes of the visiting Warriors, and the game would end with no further changes to the scoreline.
SCORERS
Southampton
Henry 11, Stoneham 20
TEAMS
Southampton Rangers (4-4-2): A Daniels — R Sampson, D Cox, K Harrison, M Tankard — Q Maynard (sub: R Lowe, 82min), C Henry (sub: N Mello, 78), E Stoneham, J Hill — C Burgess, K Durrant (sub: A Butterfield, 59th). Substitutes not used: D Steede, D Hill, T Wilkinson, S Perinchief.
St David's (4-4-2): K Burton — D Butterfield, J Daniels, K Davis, D Fishenden — W Ming (sub: W Jones, 46), M Proctor, C Richardson, W Jones — K Minors (sub: J Woodley, 46), D Hendrickson (sub: J Pitcher, 67). Substitutes not used: O Minors, E Ball, M Crockwell, K Roberts. Booked: K Minors, Burton.
Referee: A Francis.