Bermuda reach out to Wells
Created: Oct 31, 2018 09:00 AM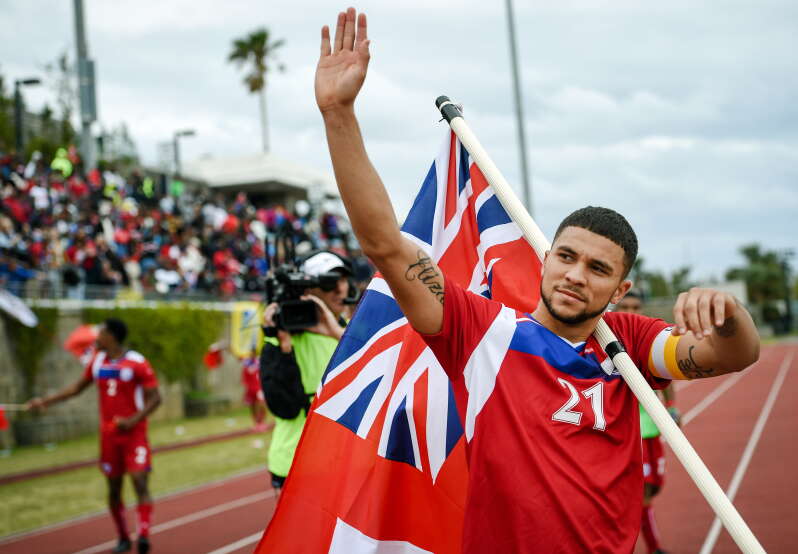 Nahki Wells looks set to return to international duty when Bermuda face El Salvador in their third Concacaf Nations League qualifier at the National Stadium next month.
The Bermuda Football Association confirmed it has approached Queens Park Rangers, where Wells is on loan, about the striker returning for the match on November 16.
All Nations League matches are being played during Fifa international dates.
"We did send a request for Nahki to come back and be a part of the El Salvador match," said Maurice Lowe, the BFA technical development officer. "We got confirmation from the club. Coach [Kyle] Lightbourne has been in contact with Nahki."
Wells has not played for Bermuda since March 2015, when he captained them in two World Cup qualifying fixtures against Bahamas, winning 5-0 in the Caribbean and 3-0 at home, when Wells netting twice to seal an 8-0 aggregate victory. He also scored once in the win in Bahamas. There have been plenty of changes to the Bermuda set-up since then, with Andrew Bascome stepping down as coach and being replaced by Lightbourne, who served as Bascome's assistant.
The El Salvador match has always been viewed as Bermuda's toughest of their four qualifiers and Wells's inclusion would be a significant boost.
"Nahki is a top-quality player, a professional and our only Premier League player, so having him a part of our set-up gives us that much more strike power in getting goals, an important area for us."
Wells was unavailable for Bermuda's opening two Nations League matches against Aruba, a 3-1 defeat in Curaçao last month, and their 12-0 win at home over Sint Maarten this month. Wells netted his first goal for Sky Bet Championship side QPR in their 3-0 win at home to Sheffield Wednesday last week.
Since he arrived at Loftus Road, QPR have climbed out of the relegation zone and are in tenth place, just two points off the promotion play-off positions.
n The BFA has confirmed that Young Men's Social Club have been awarded the points and a 3-0 result for their scheduled First Division match on September 30 that was not played.
The Competitions Committee deliberated over the reports submitted for the match at Garrison Field and "concluded that the match be deemed a forfeit by Wolves FC and award YMSC with a 3-0 result." The points lift Social Club from ninth to fifth place, level on ten points with Hamilton Parish.