Burgess the hero as Parish prevail after extra-time
Created: Dec 27, 2018 08:00 AM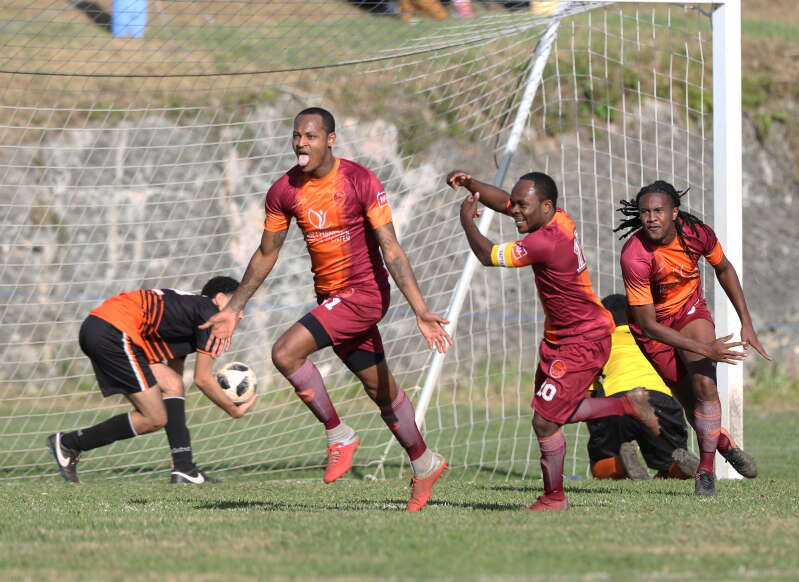 Devonshire Colts 2 Hamilton Parish 4
(Hamilton Parish win aet)
Hamilton Parish reached the Shield final after an extra-time win over a gutsy Devonshire Colts at Lord's, St David's, yesterday.
Parish will face defending champions Southampton Rangers at Somerset Cricket Club on New Year's Day.
Goalkeeper Nigel Burgess was the villain turned hero for Parish. With the score level at 2-2 and the game heading into the 90th minute, Burgess conceded a penalty after he fouled Diego Richardson as the Colts man attempted to dribble around him.
Burgess was able to redeem himself by making a save from Johkeylo Burgess's penalty before he sailed the rebound well over the top to send the game into extra time.
"Both teams wanted it badly," Burgess said. "I thought it was over when I gave up the penalty with the last kick of the game, but I read the penalty well and went the right way to make the save.
"The save gave us a momentum swing and a boost going into extra time."
The game started at a fast pace with both teams letting their intentions be known by scoring in the first ten minutes.
Colts conceded a free kick on the left flank and Chris Caisey's floated cross was helped into the net by Colts goalkeeper Johniko Francis with a feeble punch as he came of his line.
Colts responded two minutes later from a free kick of their own when Mauriq Hill mistimed his jump allowing the ball to skim off his head and into the back of his net.
It would be Colts who took the initiative after the break as they applied constant pressure to the Parish defence.
In the 48th minute, Colts won a corner which Burgess could only punch partially clear and the rebound found the boot of Chemari Henry who squeezed his shot between two defenders on the goalline. Shayne Hollis equalised midway through the half when he picked up a loose ball and fired at goal only to have it blocked. He was first to the loose ball and hit a hard, low shot, which beat goalkeeper Francis to his right.
Richardson had been a menace to the Parish defence all game with his dribbling skills and won his team a penalty in the final minute in such a fashion. However, Burgess pulled off a sensational penalty save denying Johkeylo Burgess to send the game into extra-time.
The save seemed to deflate Colts' spirits and it was Parish who picked up the momentum as they scored twice in extra-time.
First, Caisey's free kick was knocked back into the centre of the goal and it was Giovanni Saltus who reacted the quickest to poke the ball past Francis.
Caisey scored himself late in extra time with his second when his initial free kick struck the wall but rebounded back to him. His second attempt beat the outstretched arm of Francis.
Goals
Devonshire Colts: Hill 9 og, Henry 48
Hamilton Parish: Caisey 7, 119, Hollis 74, Saltus 112
TEAMS
Devonshire Colts (4-3-3): J Francis — M Issac, San-Tze Burgess, F Lema (sub: J Bean-Lindo, 66min), J Maybury — C Trott, D Richardson, C Henry — D Lambe (sub: J Paynter 66), M Gerardo (sub: J Eve 84), Johkeylo Burgess (sub: D Davis 108). Substitutions not used: K Darrell, Q Simmons, K Bailey. Booked: J Lema, C Trott, J Maybury.
Hamilton Parish (4-1-3-2): Nigel Burgess — Ryan Richardson, A Famous, K Cann (sub: G Saltus 75), M Rudo — M Hill — C Caisey, S Hollis, Jordan Burgess (sub: J Steede 66) — M Walker (sub: Kneiko Richardson, 94) C Smith. Substitutions not used: Q Glasford, D Rogers. Booked: Jordan Burgess, S Hollis.
Referee: L Cann.