Trojans win on the road
Updated: Mar 16, 2020 07:21 PM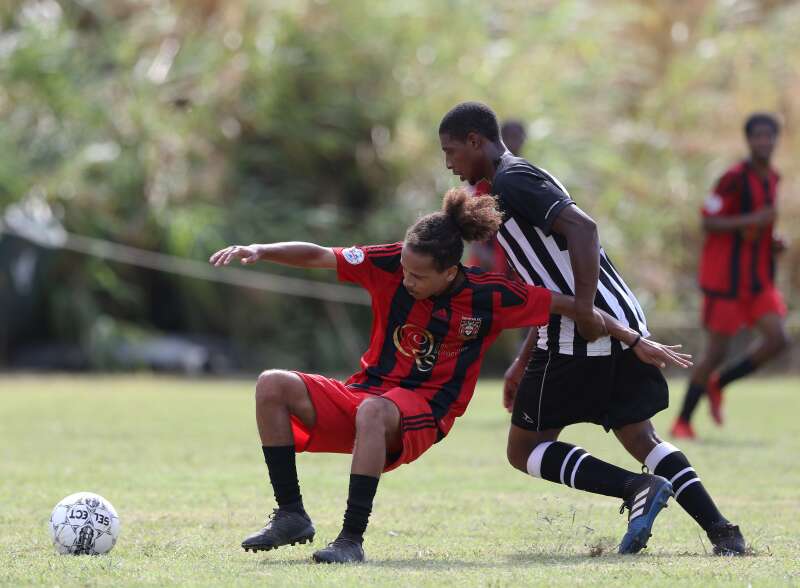 X-Roads 0 Somerset Trojans 1
A 79th-minute own goal gave the Somerset Trojans a victory on the road against X-Roads at Garrison Field yesterday.
This hard-fought win could go a long way to determining their battle against relegation.
Damon Swan and Jaden Ratteray-Smith, in the Trojans midfield, created a hatful of chances that wingers Leo Burgess and Jeze Butterfield, somehow failed to convert.
With six minutes or so remaining in the first half, they looked certain to score from a goalmouth scramble but close-range shots from Jaden Ratteray-Smith, Swan and Deunte Darrell, were all denied, by last-ditch X-Roads defending.
And then just two minutes before the half, the Trojans produced their best goal-scoring opportunity. Jaz Ratteray-Smith received the ball out wide, dribbled past a X-Roads defender, cut in and fired off a shot that looked destined for goal until goalkeeper Cooper managed to get his fingertips to it and direct it away from goal and out for a corner.
In the 48th minute, a long ball was played over the top of the Trojans defence and Donovan Thompson, the X-Roads striker, managed to latch onto it and produce his first attempt on goal, for the day. However, Thompson only managed to put his first-time shot wide. Then, Khamori Brangman, the X-Roads winger, chipped an effort over the crossbar.
X-Roads were riding a wave and experiencing their first real sustained period of pressure, in the game. They made an early substitution, bringing on Andre Burgess, and it made a difference. Burgess was involved in a passage of play that led to scoring chances for Brangman and Tymon Daniels, in quick succession.
The Trojans were finding it hard to reestablish the rhythm that they had had in the first half. Scoring opportunities were becoming few and far between for them. Needing to get something out of this match, in order to stave off the threat of relegation, the Trojans' coach Dennis Brown introduced Johnny Bean and Keith Jennings into the match, at the midway point of the second half.
Bean and Jennings, both experienced players, seemed to change the game, in their sides favour. The impact of the Trojans' substitutes was felt, in no time at all. Bean even had a major involvement in the goal that gave the visiting side the lead.
Bean received the ball out wide and squared it to Darrell, who then fired in a venomous shot which a X-Roads defender tried to hack clear but instead just ended up kicking into his own net.
With five minutes remaining, Trojans almost gifted X-Roads an equaliser.
Goalkeeper Crockwell was adjudged to have carried the ball outside of his area while being challenged by a X-Roads defender and X-Roads were awarded a free kick from a very promising position.
However, Crockwell redeemed himself by producing an expert save to prevent Tyrell Burgess's free kick from sneaking in at the near post.
In injury time, the Trojans lead was threatened again by another flurry of X-Roads corners and free kicks, but Trojans were able to deal with them all.
Trojans fought hard to preserve their 1-0 lead and they were rewarded when the full time whistle was blown. Trojans were able to secure a precious win and they may have given themselves a real chance of survival.
SCORERS
Somerset Trojans: Own goal 79
TEAMS
X-Roads (4-2-3-1): D Cooper — O Williams, M Hill, K Wilkinson, C Hayward — T Burgess, T Daniels — R Beek (sub: A Burgess, 60min), A Heyliger, K Brangman — D Thompson. Substitutes not used: J Burrows, K Talbot.
Somerset Trojans (4-2-3-1): D Crockwell — R Quinn, T Ming, M Joell, K Sharrieff-Hayward — D Swan, Jaden Ratteray-Smith – J Butterfield (sub: J Bean, 69), Jaz Ratteray-Smith, L Burgess (sub: K Jennings, 74) — D Darrell. Substitutes not used: C Durham, R Seaman, T Sharrieff- Hayward. Booked: Darrell, Jennings.
Referee: Lionel Cann.