Colts still finding their way in top flight
Created: Oct 14, 2020 01:00 AM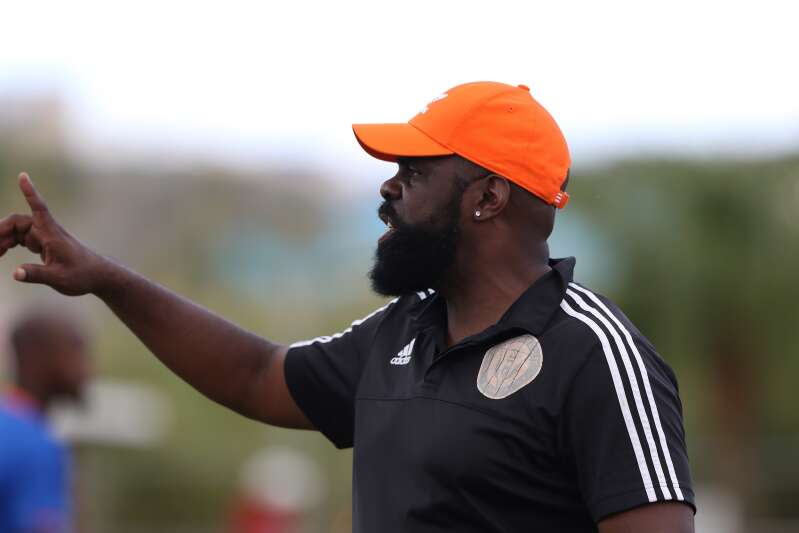 Devonshire Colts have little to show for three gutsy performances in their return to the top flight, but coach Ray Jones is optimistic things will get better for the promoted team.
Colts took the lead in two of those games, against PHC and North Village on Sunday, only to surrender the advantage, although they did get a point from a 2-2 draw with the Zebras. In their opening game against Somerset they were beaten by a Khiari Sharrieff-Hayward winner deep in stoppage time.
After a bye this weekend, Colts will return with three successive home games against Southampton Rangers, Devonshire Cougars and St George's when they hope to finally get some wins under their belt.
"It's a bit frustrating, we are definitely competing, definitely playing well," coach Ray Jones said. "In two of the three [games], Somerset and Village, the style of play that we wanted to play I thought we did.
"The PHC game, I thought was more of a scrap — the other side of them when they showed that they have the ability to scrap, that it wasn't going to be nice, beautiful football.
"In my humble opinion, we should definitely have more than one point. The chances that we are creating each match, that are going begging, I think is the difference between one point and seven points at this point."
Even on Sunday, after taking the lead against champions North Village, Colts gave up two goals to Rai Simons in the space of four minutes early in the second half.
"On Sunday, to get three one-on-ones with the 'keeper and not finish them, that's what I'm putting through to the boys, the conversion rate on chances we create," Jones said. "Because if we score goals, it take pressure off.
"I'm not pushing the panic button at this point. The upside is because it is 11 teams there are more games to play, and because the performances haven't been bad, it's just a matter of, 'Can we find that next 10 per cent'?
"That's the challenge we're putting to the team. We have let in six goals, two goals a game, which is not a good thing to be happening. But then three of the six were dead-ball situations — two free kicks in the Somerset game and a penalty in the Village game."
Jones's own frustration got him a second straight booking on Sunday, this time after expressing his displeasure with a call by referee Martin Wyer when he suggested to the official that he wasn't close enough to the play to make a decision.
"The spirit is still good but a bit painful when you only have one point from the three matches," Jones explained.
"In the Somerset match, the goal was basically in the 96th minute, but in the Premier Division you have to play right to the end. In the first two games we looked a bit leg-weary because our opponents already had two more matches in, but on Sunday we looked rather strong physically in the last 15 minutes in the attempt to get the equaliser.
"It's basically a young team and maybe the lessons are coming early enough that we can finish strong versus if we got off to a flyer, they might think it is a bit easier than it really is."
Colts boosted their squad with ten signings during the summer, ahead of their return to the Premier Division. "The players who have come in have put their heads down and really worked hard in pre-season," the coach said.
"In three games, we've already used 20-plus players and if we didn't have the depth, I might be in panic mode. But we definitely do, sooner rather than later, need to get a positive result with three points."
Robin Hood and Village are leading the tables with maximum points from three games — Hood are top on goal difference —while Dandy Town have two wins from two matches.
"The fact that we are now in a position where we can work on some things and try to improve with maximum points from three games is satisfying," said Kenny Thompson, the Village coach, after Sunday's win.