BFA presents five student-athletes with Legends scholarships
Updated: Aug 06, 2021 02:40 PM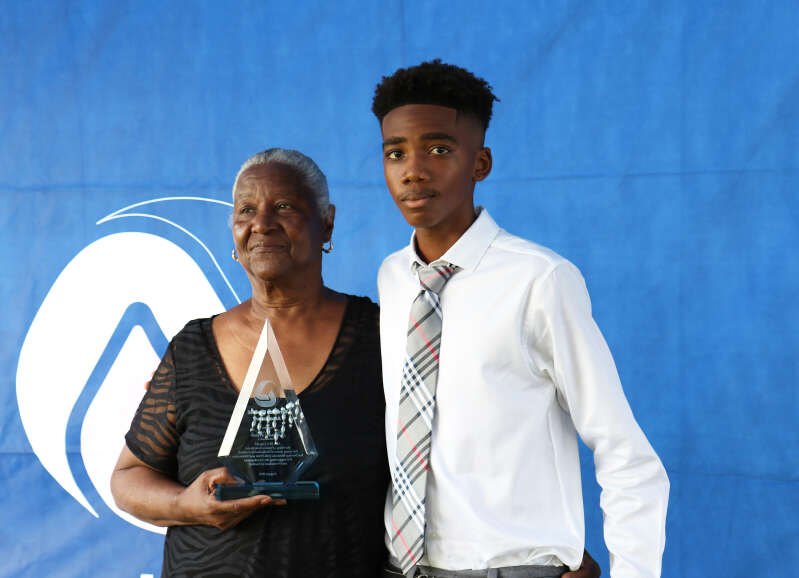 The Bermuda Football Association held its Legends Scholarship Awards last evening at the Clyde Best Centre of Excellence when five of the island's top student-athletes each received scholarships worth $5,000 annually over two years.
The scholarships were named in honour of top footballers of the past:
• Larry "Cracks" Darrell, the former Young Men's Social Club, Vasco and Bermuda player who captained Vasco to two FA Cup titles, the Dudley Eve Trophy and the Friendship Trophy after joining them in 1980 from Social Club. Darrell also travelled with the national team on numerous tours and captained the team that beat Canada 1-0 at BAA Field, scoring the game's only goal.
• Sheldon Bradshaw, the former Somerset Trojans, North Village, Warwick United and Bermuda goalkeeper. Bradshaw developed his love of football at West End Primary and later Churchill where he played with Clyde Best and other top players. He travelled to countries like the United States, Canada, Haiti, Jamaica, England and Suriname to represent his country.
• The late Rudy Minors, who made his name in football as a left back with the Somerset Trojans, after starting out with the West End Rovers. He was a long-serving captain of the Trojans in the 1960s and 1970s. He led the Trojans to the league title four years in a row as well as the coveted Triple Crown.
• The late Glenn "Gappa" Wade, who started playing with the Pembroke Juniors in the 1950s after being promoted to the A team in 1954 at age 15. Wade would go on to win four straight League titles with Pembroke Juniors from 1955 to 1958 as well as winning the BFL Knockout Trophy three times. At Dock Hill Rangers, Wade is most known for being half of the dynamic striker duo with Bayfield Clarke, who were known as the "Terror Twins" as they formed one for the deadliest pairings to grace the pitches of Bermuda. Wade also toured with Bermuda in 1964 to Iceland, and scored a brace in their 2-2 draw against Iceland
• Shawnette Perott, one of the island's top female athletes, has been involved and committed to Western Stars Sports Club over the last 30 years, as a member, and a player on various sports teams such as football, softball, and netball and served as captain and coach, winning several individual and team awards. When the BFA Women's League emerged Perott, joined the Cedar Park team in 1990. Cedar Park would later join WSSC and change its name to Dandy Stars. In 1991 she was a member of a Bermuda Select team that travelled to Atlanta to participate in the Pelé Tournament.
The Larry Darrell Scholarship recipient is Kauai Evans who has most recently played for PHC and will continue his high school studies at Washington Academy.
T'Syi Showers is the recipient of the Sheldon Bradshaw Scholarship and will be studying Kinesiology, Sport & Athletic Coaching Track at the University of Central Florida.
Jannis Roberts is the recipient of the Rudy Minors Scholarship. Jannis has played for FC Bascome and is a current player of the IMG Academy in Florida under-15 team as well as the Bermuda National Academy under-15 team.
Richard Jones, the recipient of the Shawnette Perott Scholarship, recently made his first appearance with the senior national team. He will be studying Sports Medicine at Loughborough University in the UK.
Bakari Furbert is the recipient of the Glenn Wade Scholarship and will soon be one of a few Bermudians joining Brooke House College in Leicestershire, England, on an IGCSE course.
Wade's widow presented Furbert with a biography of her late husband, highlighting his footballing achievements. "'I felt if he is going to get a gift in somebody's name he should know something about them," she said of the young midfielder who plays locally for Robin Hood and aspires to play professionally.
"It highlights five or six of [Glenn's] accomplishments over the years. I spent hours and hours doing it!"
David Sabir, the general secretary of the BFA, said it is the association's intention to encourage more scholarship applications from female footballers going forward.
"This year we had not one single female apply. That's unheard of, so in 2022 we're going to ensure that we have females applying to the Bermuda Football Association's Legends Scholarships," he told the audience.
One of the recipients, Richard Jones, recently departed for England, but expressed his gratitude through his parents: "I feel completely honoured and grateful that I have been chosen as one of the recipients of the BFA Legends Scholarships," he wrote.
"Unfortunately I could not make this award ceremony due to my flying out to England to embark on my latest educational and football experience, but I know my mother and father will carry out my words and receive this award with gratitude as I would have if I was there.
"I know your selection of me is a representation of your investment in me and a belief in my future and my potential. I promise to put my best foot forward in representing not only what the scholarship stands for, but all my coaches, mentors, teachers and everyone who has helped guide and support me."