First-half goals power Cougars to Friendship Trophy final
Updated: Mar 30, 2022 07:30 AM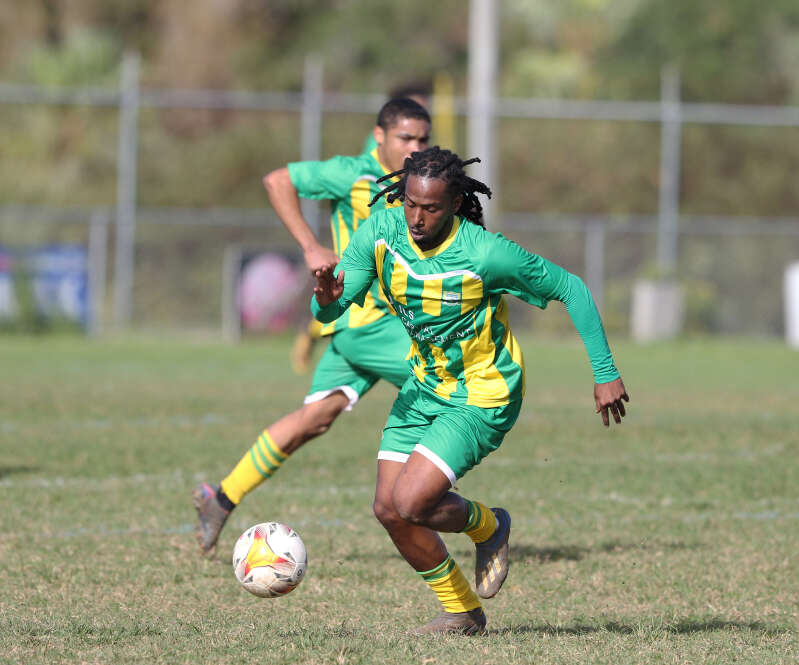 Devonshire Cougars 2 Robin Hood 0
Devonshire Cougars booked the first spot in one of the two end-of-season cup finals last night at Somerset as first-half goals proved to be enough to see off Robin Hood in their Friendship Trophy semi-final.
Cougars, who sit third in the league table behind Dandy Town and PHC, will have a keen interest in tonight's other semi-final between the first and second placed teams on their home field at Devonshire Rec at 8pm.
Goals in the sixteenth and 27th minutes proved enough to get Cougars comfortably through, as Hood were left to rue a glaring miss by substitute Ellis Morgan in the 76th minute, which could have made it a close match in the end.
A seemingly harmless back pass to Ricardo Brangman saw the Cougars goalkeeper trip on the ball as he tried to control it. Morgan was quick to pounce but rushed his shot towards an open goal and somehow sliced the ball wide from about eight yards.
It was in the same goal that Cougars scored their two goals, twice putting shots against the crossbar before taking the lead through midfielder Zari Simmons. Fullback Darren Williams laid on the perfect cross from the right and Simmons beat goalkeeper Matthew Kenny with his header at the far post.
The second was another well-taken goal after Domico Coddington did all the hard work to get into the box and then turn and square the ball to Drewonde Bascome who side-footed home at the far post.
Coddington had a chance to make it 3-0 just before the half when he intercepted a pass before blasting just over the bar from 20 yards.
Ari Cannonier almost sealed the match for Cougars in the 58th minute when, just a minute after coming on, he put an effort just wide of the far post with his first touch.
SCORERS:
Devonshire Cougars: Zari Simmons 16, D Bascome 27
TEAMS
Devonshire Cougars (4-3-3): R Brangman 6 – D Williams 6, Z White 6, Zion Simmons 6, J Thomas 6 – Zari Simmons 7, Q Maynard 6, D Coddington 7 – D Bascome 6 (sub: R Simmons 73min), Chekai Caisey 6 (sub: M Battersbee 85), Chris Caisey 6. Substitutes not used: L Simmons, C Albouy.
Robin Hood (4-3-3): M Kenny 5 – K Knights 5 (sub: A Simons 72), C Ryan 5 (sub: N Outerbridge 58 6), M Henry 5, D Cook 6 – T Bean 6, K Naylor 6, L Evans 5 (sub: A Mussenden 72) – A Nelson 5 (sub: T Goater 53 6), C Brangman 5, E Outerbridge 5 (sub: E Morgan 72). Booked: Cook, Henry.
Referee: M Wyer