Tre Ming sent off as North Village's title hopes dented
Updated: Feb 20, 2023 10:48 AM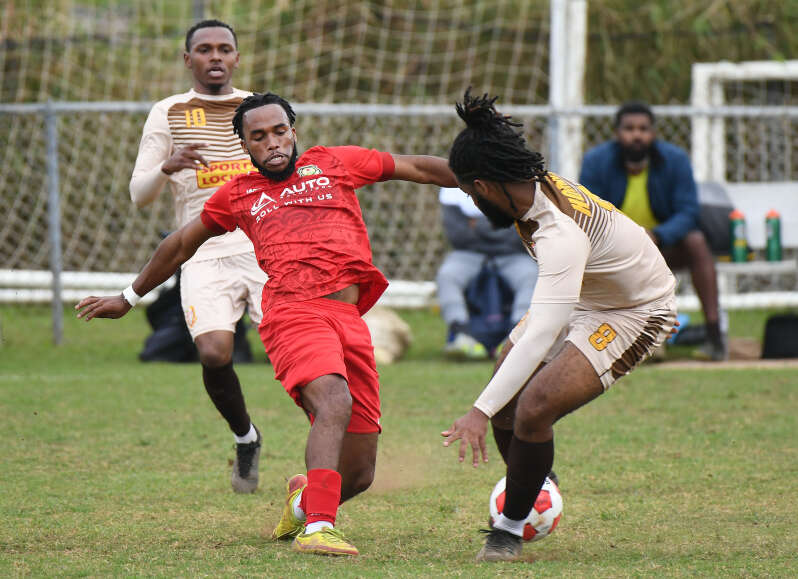 North Village 1 Dandy Town 1
North Village's chances of collecting the Premier Division title took a severe blow on Sunday as they were held to a 1-1 draw by defending champions Dandy Town in a highly-charged affair at Bernard Park.
A brilliant 22nd minute strike from Town's midfield schemer Tomiko Goater gave the visitors a first-half advantage before Village counterpart Justin Bell equalised following the interval during a period they dominated.
However, despite an all-out attack being launched in the latter stages by Village, they were unable to find the breakthrough and on top of the failure to achieve maximum points, additional damage to the Rams' title prospects came when key midfielder Tre Ming was sent off as time dwindled.
Ming went sprawling to the turf inside the six-yard box while on a goalward charge in the 85th minute, and arose believing himself to have been fouled by centre-back Edry Moore, only to have referee Martin Wyer call it as a dive.
The player's initial dispue of the decision resulted in a yellow card, with a second coming soon after, sending Ming to the dressing room along with his team's chances.
In addition to six in-game cautions, Wyer was busy after the final whistle, handing out yellow cards to Rams' goalkeeper Detre Bell and head coach Kenny Thompson, who had been openly critical of what he deemed as a lack of consistency by the official to player infringements.
With crucial points dropped, Village now find themselves in virtual, must-win circumstances on the final run of four games, facts not lost on team captain Tahmi Williams.
"Today I think we did okay, but we didn't take our chances," said Williams, one of the few to remain calm after the match.
"I missed two chances that were crucial but I feel that we had a bit of hunger in the second half towards the end.
"We didn't start out very hungry, even though we finisheda bit hungrier. Still, it just wasn't enough at the end to win. The red card put us back towards the end, but that's how football goes sometimes.
"We came up short today and now we're three points off the top, but we have to keep going and need to pretty much win all of our games going forward to try to keep our title hopes up."
Contrasting the numerous failed attempts, both goals were gems of high quality.
Goater's goal sparkled in its design, as he combined with striker Azendae Furbert for a one-touch pass and go, which left three defenders stranded and allowed Goater to pick his spot and power a right-footed shot past Bell.
Midfielder Bell's goal had its foundation laid by the determined effort of Jalen Harvey, who surged forward to get on the end of a Jaizel Smith-DeShields through-ball on the left side. Harvey then battled and won a fight for possession on the goalline against Michael Parsons, before squaring across to Bell, who momentarily held before slotting home.
Not displeased with Hornets' performance was club president and stand-in coach Devarr Boyles, who understood there to be little at stake for his side outside of pride as they formally relinquished their Premier Division crown.
"For us it's about numbers and trying to do the right things," began Boyles, deputising for head coach Aaron Denkins, who was out with an undisclosed illness.
"We're trying to get our players to buy into three basic rules. The first one is important to say and that is to make their time and today, at pre-game, everybody was on time, so I figured something was going to happen.
"Then, on the pitch we just want them to do the right things consistently and the percentages were up from the last match. The last one was to help your team-mate, which we saw happening towards the end.
"Because, even though Village went down to ten men, in the last five minutes it still looked as if it were numerically equal .
Boyles' team has begun to show glimpses of past form after a season that started out with a new coach and high hopes for success, descended into chaos following a string of unfavourable outcomes which resulted in the resignation of the coach after a mere handful of matches.
"I think it has been building," said Boyles. "but we don't have the penetration that leads to goals, so we've been struggling with that. The football between the boxes is decent, the problem is the lack of scoring.
"The goal that Tomiko got was fantastic and really a team goal, but we still don't do enough shooting.
"It's not that we don't do the training, it's a matter of the players not having the confidence at this particular point."
SCORERS
North Village: Bell 62
Dandy Town: Goater 22
TEAMS
North Village (4-1-4-1): D Bell 6 - J Harvey 7, T Wilson 6, K Knights 6, A Dos Santos 6 (sub: T Somner, 82min) - K Harrison 5 (sub: N Smith, 61 5) - V Perinchief 6 (sub: S Somner, 82), T Williams 6, T Ming 5, J Bell 7 - J Smith-DeShields 5. Substitutes not used: N Anglin, P Smith, D Dillas. Booked: D Bell, N Smith, Ming, K Thompson (coach). Sent off: Ming.
Dandy Town (4-5-1): T Gibbons 6 – S Darrell 5 (sub: A Simmons, 46 6), E Moore 6, M Parsons 6 (sub: H Butterfield, 83), J Bean-Lindo 6 -- J Wilson-Butterfield 6, N Spence 6, J Chapman 6, T Goater 7 --D Scraders 6 (sub: S Tatem, 75) – A Furbert 6. Substitutes not used: Z Hart, D Johnson, T Smith. Booked: Gibbons, Moore, Chapman.
Referee: M Wyer.