Signage key to communicating phased re-opening of Bermuda's economy
Updated: May 07, 2020 06:31 PM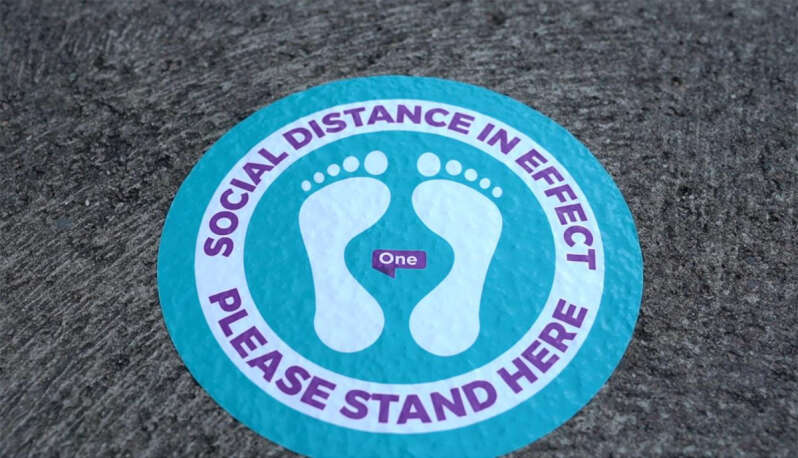 As the Bermuda government prepares to open its economy, strict new guidelines and physical distancing measures will need to be followed by businesses and consumers alike. It's part of the government's phased re-opening plan that will keep Bermudians safe while looking toward a new normal.
To ensure employees and customers are aware of the rules and are following safety protocols, proper signage will be key to communicating important messaging. "Without proper signage, there can be great confusion and uncertainty," says Karen Brouillette, Sales Manager at Bermuda Press and Island Press. "If you create clear instructions so people know what to do upon arriving at a retail outlet or business, they don't have to talk to other people to ask questions and get instructions. Signage makes things easier and safer and promotes a better and safer customer experience."
Brouillette has been inundated with requests for signage in recent days. A range of businesses, including retailers and restaurants, have been inquiring about everything from "keep your distance" floor graphics to wearable signs that read, "I'm practicing physical distancing," as well as sidewalk signage to provide clear curbside pick-up information.
While business might not have required such signage in the past, there are a range of opportunities today. Businesses are using a variety of options to communicate the new guidelines. Special signage may hang from the ceiling or appear as stickers on the floors of grocery stores, pharmacies, banks and other businesses to remind customers of social distancing measures and give them a visual cue to maintain a two-meter distance when waiting in check-out lines. Window graphics may be affixed to windows while sandwich boards can stand outside retailers to let patrons know where to wait for curbside pick-up or how many customers are allowed into a retailer at once, as per the government's occupancy limits. Signs can advise customers of the hours of operation for high-risk patrons, such as seniors, and remind them as to why the government recommends wearing a mask when they leave home. Smaller signs at check-out counters can reassure customers that counters, credit card machines and other surfaces are regularly disinfected. Posters may also be placed outside parks, beaches and golf clubs, for instance, to let people know whether the facility is open or closed, as well as advise everyone of their hours of operation.
Behind the scenes, signage is an important reminder of rules that will keep employees safe as well. Signs might remind them to self-monitor for symptoms of illness or to social distance when restocking shelves or working on a construction site. Signs can remind staff to wash their hands regularly or use sanitizer. They can also be used to communicate the reasons the government requires staff to wear a face mask on the premises, namely to prevent the spread of the virus as they come into contact with co-workers or customers. Posters can tell employees not to shake hands or share phones, computers, radios or tools and to limit social gatherings, such as in the workplace cafeteria.
As the government continues to monitor the health of the country, it will advise the population when it's safe to move to the next stage—Phase Two—of re-opening. This will be the new normal for some time while governments across the globe continue to safeguard the health of their citizens. Signage will help retailers and businesses meet these public health challenges and give consumers and employees the confidence in their shared ability to safely open the economy.
For the latest information, visit the Government of Bermuda's website at coronavirus.gov.bm. Organizations and Businesses can reach out to the Bermuda Press Team at info@bermudapress.bm.