Fast improving Kigotho claims half-marathon title
Updated: Nov 28, 2011 08:20 AM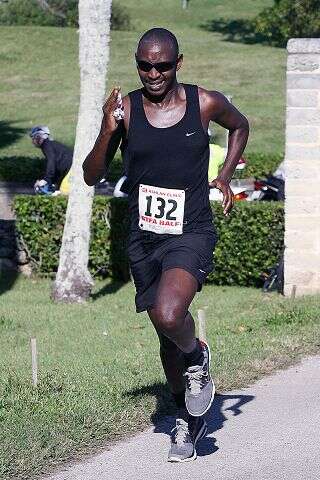 Two new names have been added to the list of winners in the Island's second oldest road race, the BTFA Half-Marathon
Gideon Kigotho and Deon Breary proved themselves worthy champions in the 40th edition of the event, with both athletes putting in an authoritative performance to claim the men's and women's titles respectively.
Kigotho, from Kenya, has been steadily improving his finishing positions in Island races and reached the number one slot yesterday with a front-running performance that saw him come home in a personal best of one hour 22 minutes and 41 seconds.
Since arriving in Bermuda a few years ago, he has taken up the sport for the first time since leaving school. He hails from western Kenya, though not from the famed Rift Valley region that has produced countless world-beating distance runners. However, he had the swiftest feet in yesterday's race, securing victory ahead of Simon Ashby who clocked 1.23.59.
Afterwards Kigotho, who works as an accountant, said: "I went flat out. I was looking for a 1.20 time. It feels good to win. The conditions were perfect out there. I'm sure if I'd had someone in front of me to push me I'd have gone quicker."
Runner-up Simon Ashby was equally pleased with his performance, which also secured him the Masters category title. His training this year has been curtailed by a stress injury to his left foot. He is still in the early stages of his racing comeback and yesterday's 13.1-mile event marked a significant step-up as his longest training run before Sunday had been only eight miles.
"I ran the Crimestoppers 5K and the Bacardi race last week. Today I was thrilled with my time. I could see him (Kigotho) ahead, and the lead police bike's lights. I was keeping him in sight, but he had a great run. I'm happy with second place," said Ashby, who during his time out with injury has worked to maintain his fitness by swimming and cycling.
In the women's race current May 24 Half-Marathon champion Deon Breary ran seven-minute-mile pace in the early portion of the race and stayed close to that for the full distance to cross the line in 1.33.51. She said she had felt comfortable during the race. Breary was followed home by 2009 champion Sharlene Sousa in 1.39.32.
Unlike the rainy day that marked the inaugural BTFA Half-Marathon in March, 1972, yesterday's event enjoyed perfect running conditions with sunshine and low humidity.
In the 10K race, held in conjunction with the main event, teenager Juma Mouchette powered to an impressive win in 36 minutes 34 seconds. He was followed across the line by Chefton Hall in 39.46 and Fraser Hunt in 40.09.
Fourth overall, and winner of the women's title, was Victoria Fiddick. The 2010 half-marathon champion, returning to competition after dealing with an injury, stopped the clock at 41.28. Runner-up was Emma Rego in 45.43.
Glenn Robinson and April Vesey were the co-directors for yesterday's two races, which was sponsored by Ashlan Clinic and attracted a combined field of more than 100 runners.
BTFA Half-Marathon age category winners:
Women: (Overall) Deon Breary 1.33.51, (20-39) Sharlene Sousa 1.39.32, (40-49) Lesley Caslin 1.46.59, (50-59) Carolyn Conway 2.08.33.
Men: (Overall) Gideon Kigotho 1.22.41, (20-39) Giueseppe Gugliemucci 1.31.03, (40-49) Simon Ashby 1.23.59, (50-59) Edwin Armstrong 1.34.22, (60+) Elvin Thomas 2.13.01.
BTFA 10K age category winners: (Overall) Victoria Fiddick 41.28, (20-39) Emma Rego 45.43, (40-49) Kathy Fulcher 45.52. (50-59) Carol Griffith 56.19.
Women:
Men: (Overall) Juma Mouchette 36.34, (15-19) Daniel Maguire 43.05, (20-39) Chefton Hall 39.46, (40-49) Scott Neil 43.08, (50-59) Chris Jones 47.03, (60+) Mike Whalley 48.53.
Full results, see Scoreboard, Page 14.