Perfect Duffy does it again
Updated: Sep 19, 2017 07:22 PM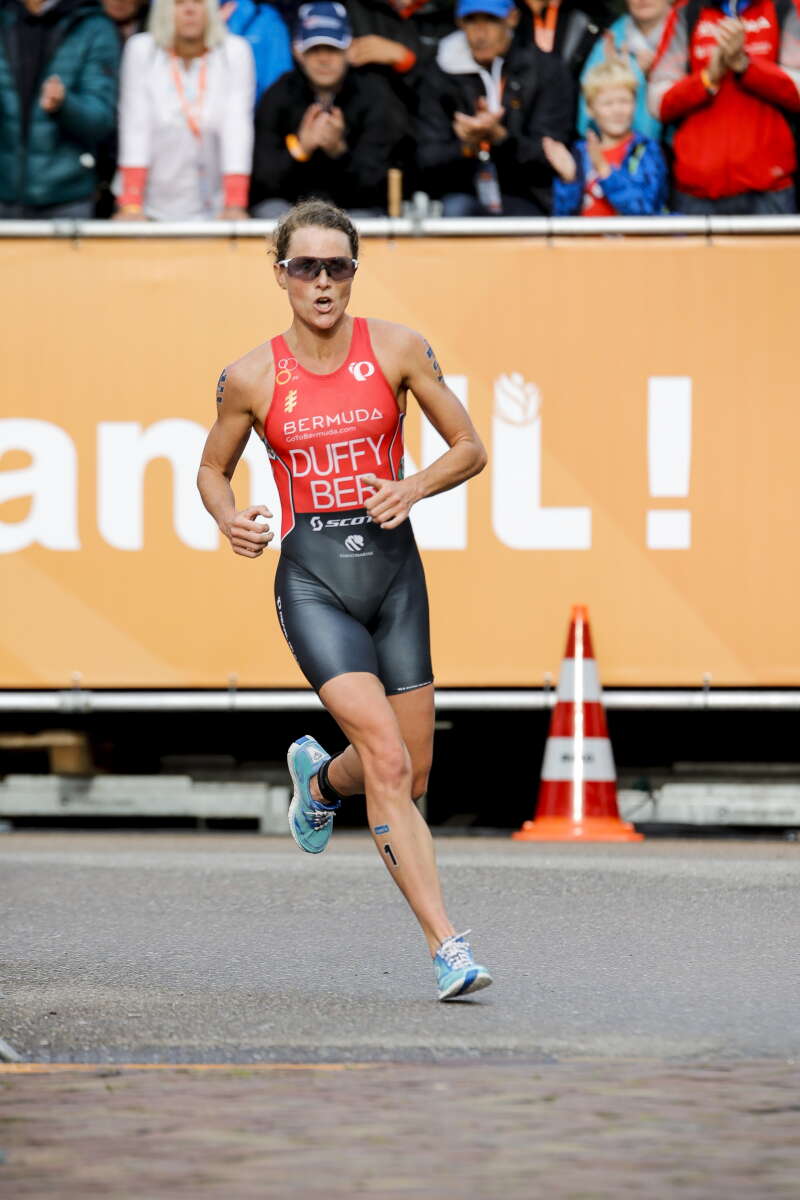 Flora Duffy came about as close to perfection as you can get in winning a second successive ITU World Triathlon Series crown on Saturday.
The Bermudian needed only to finish no lower than seventh in the WTS Grand Final in Rotterdam, having won five of six previous races in the 2017 series and finishing second in the other one. It was clear early on that only injury or a crash would stop the 29-year-old from reaching her goal.
From being only one second off the pace on the swim, to one second ahead on the bike, Duffy ran across the line all on her own, as she has done so many times during this record-breaking campaign.
She finished the race in a time of 1hr 58min 39sec, and it was almost a minute before her nearest rival followed suit, with Katie Zaferes, of the United States, finishing 55 seconds behind in second place. Duffy ends the campaign with a perfect 5,200 points, with each competitor's five best scores being taken into account.
Of course, Duffy's five best scores are all 800-point victories, as well as the 1½-times points she earned in the final pounding the streets of a city known for its grit, determination and work ethic — which makes it very similar to Bermuda's world champion.
"I am pretty reluctant to ever say you can have a perfect race, but I would say today went just how I wanted it to," Duffy said after the race.
Duffy started off exactly how she wanted to. She finished the swim only one second behind Jessica Learmonth, of Britain, who has now led four times out of the water in nine races this season.
It did not take long for the Bermudian to be among those dictating the pace on the bikes either, with her and Learmonth being joined by Zaferes on an early breakaway.
Duffy finished the bike in the lead in 1:24:37, one second ahead of Learmonth and two ahead of Zaferes. The trio were about 90 seconds quicker than the rest, who were not so much a chasing pack as a trailing pack.
The Bermudian powered through on the run to cross the line all on her own. Learmonth was third, 2:18 back, with Ashleigh Gentle, of Australia, who held on to second place overall, in sixth, 3:21 behind.
"I had a great swim and set myself up perfectly for the bike," Duffy added. "I tried to play it safe on the bike because there is so much on the line and then on the run I felt pretty strong, so I wanted to go for it."
Duffy is only the second woman to have won six races in a season, after the American Olympic champion Gwen Jorgensen. This season, Duffy also recorded the widest winning margin in series history, when she beat Zaferes by 1min 51sec in Yokohama in May, and followed that by defeating Gentle by 31 seconds in Hamburg two months later for the widest winning margin in a sprint race.
Gentle finished 880 points behind Duffy in second place overall, with Zaferes rounding out the overall podium, finishing third on 4,302.
Learmonth, who ended up sixth overall, was more than holding her own in the swim and bike, but found it tough to keep in touch with Duffy and Zafares.
"It was hard from start to finish," the Briton said. "I didn't feel very comfortable throughout, I know I led out of the swim and stuff, but on the bike Flora and Katie were so strong I was really struggling.
"I didn't know how the run was going to go. I felt all right but my back was really stiff and the back of my calf hurt towards the end; it was just a battle to hold on."
Duffy had the 2018 season in mind even before the race, with Jorgensen, among a host of others, expected to return to action after the birth of her son last month.
"I think in 2018, you're going to see Gwen Jorgensen come back, Nicola [Spirig] will probably race more, Helen Jenkins will probably come back," Duffy said before the race. "Vicky Holland and Non Stanford have suffered illness and injury this year. I need to continue to improve swim, bike and run; particularly my run. It's improving but there's lots of space to be better."
But for now, Duffy can bask in the glory of another job well done.
"Yeah, it was a great day," she said. "I just try to make it a swim, bike and run. Not a swim, get through the bike and then on to the run. So maybe it is forcing everyone to be really good at all three, but that is how I want to race a triathlon. I just love to race."