Gordon crushes TMR field by seven minutes
Updated: Oct 01, 2018 09:14 AM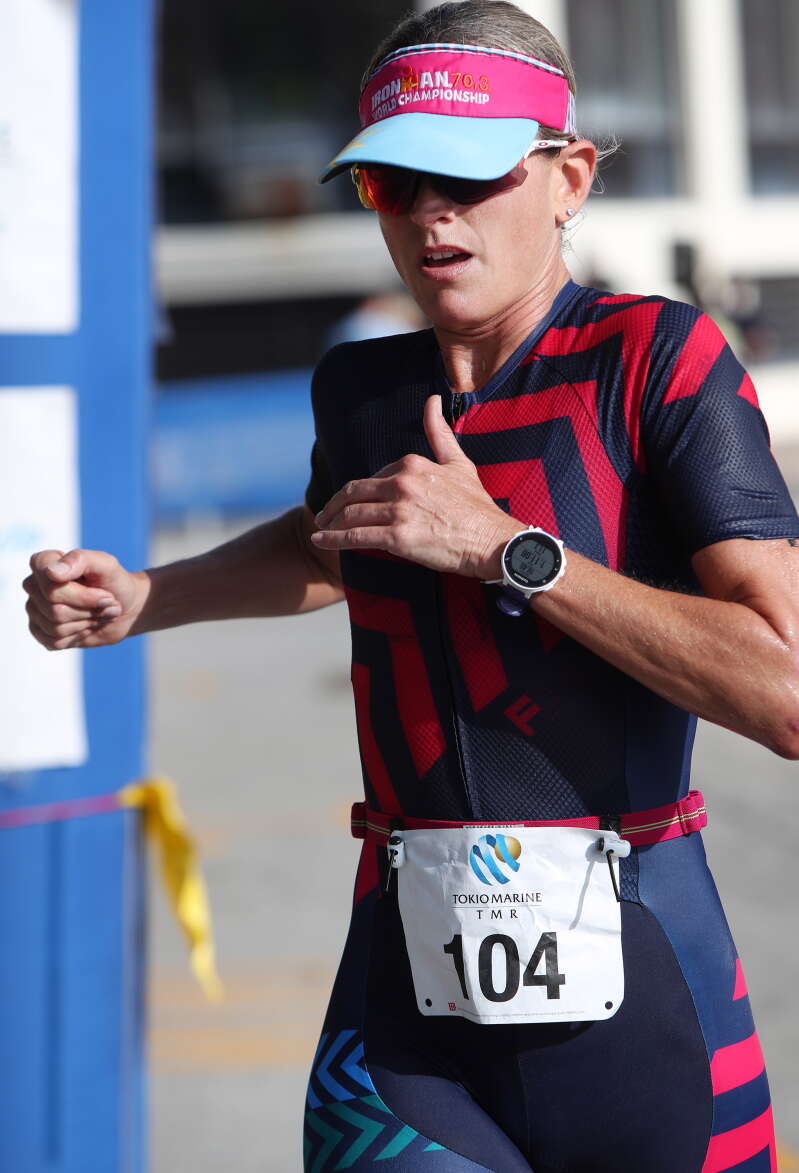 Visiting coach Adam Gordon was the dominant figure in the TMR Triathlon in Hamilton yesterday.
Gordon, in Bermuda to conduct a triathlon camp, was fastest in each discipline of the sprint race, his finishing time of 1hr 0min 33sec putting him almost seven minutes clear of the next person to cross the tape.
With an impressive seventh-place finish at the Ballina Triathlon in Australia in late August, Gordon came into the island's most popular event as a clear favourite.
The 36-year-old Australian was out of the 750-metre swim in 11min 10sec, raced through the 20-kilometre bike in 31:10 and completed the 5km run in 17:16, each segment almost no less than a minute and a half up on the second-fastest athlete.
The race for second, as was evident from the outset, given the retired visiting professional's glittering résumé, was won by Philip Mace in 1:07:09.
Alan Potts, runner-up last year, used a strong bike to reel in Corey Brunton, then overtook him on the run to take third in 1:07:53. Brunton was five seconds farther back in fourth.
In the women's race, Ashley Couper put her running abilities to good use to overhaul early pacesetter Maddie Durkin and clinch the title in 1:11:06.
Durkin, whose finishing time of 1:13:18 marked a significant improvement on her 1:20:00 in 2017, was the first woman out of the water in 13:01 and also had a better bike of 36:04. But, notwithstanding Durkin's slow transitions that cost her a combined 19 seconds, Couper more than made up the stagger on the run.
The 41-year-old clocked 19:19, fourth fastest in the overall field.
She was eighth overall out of 49 finishers, with Durkin tenth.
The senior team race went to Butterfield & Vallis I, represented by Steven Petty, Mark Lombardi and Spencer Butterfield.
They were timed in 1:08:33. Second were TMR A in 1:12:27 and TMR B were third in 1:12:52.
In the junior duathlon race for 11 to 15-year-olds, over 2km run, 8km bike and 2km run, Harlan Watson-Brown won comfortably in 35:21, with J'auza James second in 38:14 and Flynn Watson-Brown third in 40:02.
Charlotte Millington was the top female in 45:43 with Carina Bortoli second in 49:45. There were ten finishers.
In the seven to ten-year-olds race over half the distance, Jamie McFarlane was first in 19:02, Ryan Soutter second in 19:22 and Jacob Wright third in 19:36.
Marleigh Howes was the top girl in 21:41, with Jaeda Grant second in 21:51 and Zoe Mir third in 22:45. There were 50 finishers.