Flora Duffy: 'it felt great to be racing again'
Updated: Jul 27, 2021 09:12 AM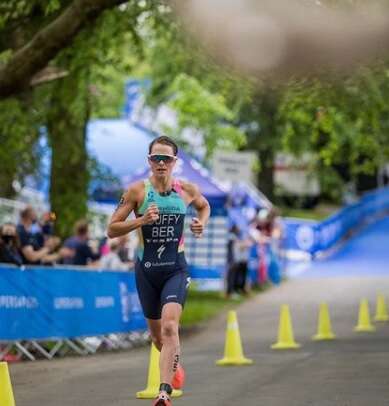 Flora Duffy was encouraged by her long-awaited return to elite-level action in which she claimed fourth place in the AJ Bell 2021 World Triathlon Championship Series Leeds on Sunday.
Having delayed the start to her season, Bermuda's two-times world champion produced a promising performance in her first race at the highest level since October 2020 — including the fastest run among the stellar Elite Women's field — to finish just a minute adrift of race winner Maya Kingma and narrowly miss out on a medal.
While admitting to struggling with certain aspects of the challenging course, the 33-year-old was delighted to get the opportunity to test herself and get some vital competition against her main rivals ahead of the Olympic Games this summer.
"It felt really great to be racing again because really there are so few opportunities to race before the Olympic Games," said Duffy, who completed the 1,500-metre swim in 19min 1sec, the 36.2-kilometre cycle in 1:01:06 and the run in a blistering 33:47 to cross the line in a total combined time of 1:55:25.
"The course is always really difficult in Leeds but I really enjoyed it and it was great to be out in front of a crowd again and hearing them cheering us on throughout the race.
"It was also really amazing to see a number of Bermuda flags along the course, which made it extra special for me on a personal note.
"As well as the course being really hard, it was also a really strong field to compete against, which was fantastic because it is exactly what I need before competing in Tokyo. It's vital to be racing against high-quality fields and to be really testing myself.
"Overall, I was pretty happy with how the race went. I made a few mistakes but that gives me areas to work on in the build-up to Tokyo.
"It was a positive return to competing and I think I'm moving in the right direction. I'm excited for the rest of the build-up to Tokyo because it's not too long to go now."
With the start of the Games only 45 days away, Duffy has returned to her pre-Olympic base in the United States to continue a tailored training programme focused on high-altitude work in Boulder, Colorado, as she steps up her preparations for Tokyo.
She may be forced to rely solely on her training schedule to prepare her fully for the Games with limited options to compete again before the Olympics begin on July 23.
Hamburg, Germany, was supposed to be the next destination on the World Triathlon Championship Series calendar — originally scheduled for July 10 and 11 — however the event was postponed just this weekend, owing to "ongoing restrictions related with the Covid-19 pandemic" organisers confirmed.