Bermuda taught a tough lesson by top seeds Dominican Republic
Created: Sep 29, 2021 07:49 AM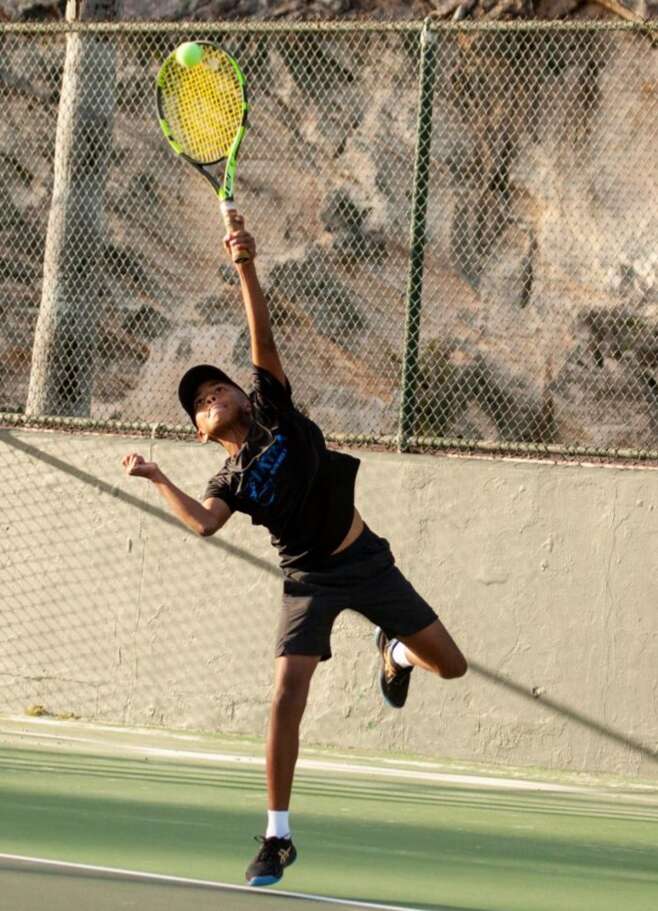 Bermuda endured a difficult outing on the second day of competition at the International Tennis Federation/Central American and Caribbean Tennis Confederation Under-12 tournament in the Dominican Republic yesterday.
Having got their campaign off to the perfect start with an emphatic 3-0 opening-day victory over Jamaica on Monday, the team of Jaden Jones, Tristan Pettit and Dexter Snaith were aiming to build on that momentum against Dominican Republic I.
However, it was not to be as their opponents showcased why they are considered as the favourites in pool A with a comprehensive 3-0 victory.
Just as he did on Monday, Pettit kicked off proceedings but he could not repeat his comfortable success from the opening day as, despite a valiant effort, he went down in straight sets to Miguel Baquero, losing 6-3, 6-1.
It also proved a difficult afternoon for Jones in his singles match, as he suffered a 6-0, 6-0 defeat by the highly rated Isaac Guerrero.
Pettit then joined up with Snaith, making his debut at the tournament but the pair could not prevent the whitewash, going down 6-1, 6-3 to Guerrero and Fernandez, to wrap up proceedings.
Coach Gavin Manders conceded it was a difficult day but praised the spirit of his players, whom he feels will learn valuable lessons from the defeat.
"It proved a real tough day for the boys," he said. "However, sometimes when you go out and compete you just come up against someone that is better than you on the day. We have to tip our hat to Dominican Republic I.
"I certainly feel they are the best team in the competition and within their team they have one of the best players in this region in Isaac Guerrero.
"It was a tough day for Jaden who ran into him but a great learning experience for him to play against a player of that level. He'll use that to understand what it takes to be able to compete at this level.
"Tristan fought really hard and did his best but he came up against someone who was willing to put in a little bit more work and fight a little harder, and sometimes that's the difference.
"In the doubles it was great for Dexter Snaith to get his debut alongside Tristan and again it was a tough one. However, overall it was just a great learning experience for all the boys playing against a level they haven't seen before.
"For me it is my job to make sure we move past today and get ready to face Trinidad & Tobago because the winners of that match will have the best chance of finishing second in the group and have a chance of gaining promotion to the next stage."
If Bermuda do manage to finish second in the group, which also includes St Lucia, they will progress to face the runners-up of pool B, comprising Dominican Republic II, Guyana, Barbados, US Virgin Islands and Haiti.