Maddie Durkin and Alex Waldauer shine as amateur athletes come out in force
Updated: Nov 07, 2022 07:58 AM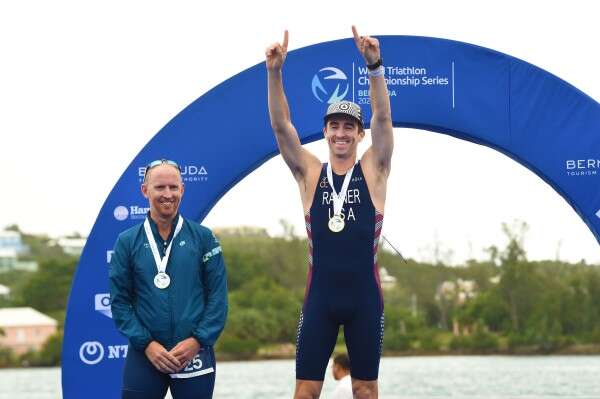 The impact Dame Flora Duffy continues to have on Bermuda was evident when more than 200 amateur athletes competed in the WTS age group races and relay on Saturday, but a couple of the people who perhaps inspired Dame Flora were among the winners.
Duffy's mother and father Charlie and Maria won their age groups in the sprint triathlon just a day before elite athletes from around the world showcase their next-level talent.
Brave Bermudians and visiting triathlon enthusiasts were greeted by a fantastic atmosphere with friends and family lining the course to encourage them towards the finish as their stamina started to sap.
Click here for Photo Galleries
And make no mistake, this was a true test for amateurs with windy conditions and heavy showers to contend with on a 1,500m swim around Hamilton Harbour and a 40-kilometre bike ride, consisting of four laps between Fort Hill Road to the east of Hamilton and Pitts Bay Road to the west, followed by a 10km run up and down Front Street four times.
While some were making a truly valiant effort just to reach the finish in a personal battle with only themselves, there was some fierce competition among the front-runners.
There were just 30 athletes brave enough to take on the standard triathlon, with 17 men and 13 women taking on the full distance and some familiar names came to the fore.
Alex Waldauer, a regular top performer in triathlons in Bermuda, was the first person to cross the finishing line, completing the punishing course in a time of 2hr 18min and 14sec, more than seven and a half minutes ahead of his closest challenger Andrew Rayner with Byron Rencken finishing third.
Last year's national sprint triathlon champion Maddie Durkin picked up another huge victory when coming home more than five minutes clear of her nearest rival Ashley Couper in a time of 2:27:44 to win the women's race. Laura Burns completed the podium with a good third-placed finish.
But there were not just medals for the overall winners, with those coming out on top in various age categories also getting their chance to feature on a podium.
Women's third-placed finisher Burns came out on top in the women's 20-29 age group, beating Emma Norman and Giselle Yeung. Durkin and Couper were the first two home in the 40-49 category ahead of Jennifer Wilson, with Karen Smith taking home top honours in the 50-59 section after finishing in a time of 2:41:06, more than four minutes clear of Cora Lee Starzomski.
Wauldauer and Rencken beat Byron Shrubb into third place in the men's 30-39 age group, with Rayner taking out the 40-49 category ahead of Alan Potts and Alex Kronenberg. Geoff Smith produced a superb time of 2:30:57 to win the race between men aged 50-59 by more than 30 minutes from Keith Bernhard, while Neil Bradshaw was the winner of the 60-69 age group.
While wide-margin winners were the order of the day in the standard races, the sprint events were much closer and Mik Onions had just 12 seconds to spare when winning the men's overall sprint in a time of 1:13:11 after a great battle with David Morin.
Melissa Diel had slightly more breathing space at the line, winning the women's race by 1min and 46sec over Kristen Robinson.
With 118 sprint competitors there was plenty of action to follow. Christopher Hands beat out Chris Nusum and Will Green to top spot in the men's 30-39 category and Michael Weyant, who finished fourth overall, was number one in the 50-59 group. Jay Riihiluoma beat Ed Ellison and Kent Richardson in the 60-69 category, with Charlie Duffy winning the 70+.
Olivia Diel won the women's 20-29 sprint age group with more than ten minutes to spare over Grace Broughton. Harriet Cunningham took out the 40-49 category with Stephanie Lyles-Weyant winning among the 50-59s. Lea Osborne finished on top in the 60-69s and Maria Duffy was first home among the over 70s.
Saturday was not only about individual competition with sprint and standard relays taking place, featuring teams of three.
Team Lancashire Insurance came home first in the standard event in a time of 2:06:55, more than five minutes clear of Team C to the Power of 3 and with 20 minutes to spare over Team Tri-Guys.
Team Tri-ing Our Best did exactly that by winning the sprint event, beating Laura's Angels and World Tri Media Team to top spot on the podium.