Dage Minors romps to second Butterfield Mile win
Updated: Jan 15, 2023 09:46 AM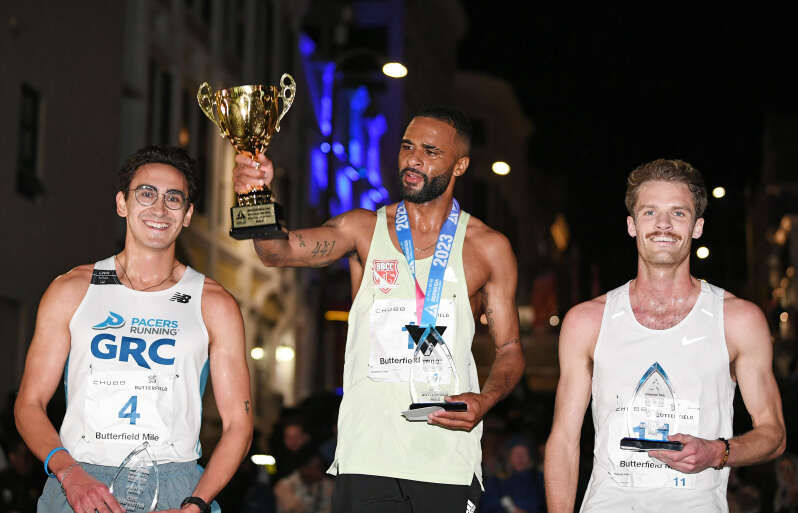 Dage Minors delighted the home crowd after storming to his second Butterfield Mile title last night.
Reminiscent of his historic victory in 2018, when he became the first Bermudian to win the iconic race, the 27-year-old got off to a strong start, pulling clear of the field alongside American Elias Graca at the halfway point before seizing his moment to sprint away from his main rival and clinch victory in 4min 16.68sec, much to the joy of the rapturous supporters.
"I'm really glad to have come back and got a repeat of the win [from 2018]," said Minors, who finished second to American Patrick Casey when the event was last held in 2020 before a Covid-enforced hiatus.
"It's hard on the road because you don't actually know the pace you are running at and so my coach has always told me to take the lead in the moment when I feel I can win.
"I was just hanging back in second place feeling good and then I knew it was time to go so I made my move and sprinted for home.
"When I made the move I felt great but then about 20 metres later I thought there may be a chance I might get caught, but I thought to myself no way and thankfully the crowd played a big part.
"The first victory was special because it was the first time but I think the person that I have become since, in time this one will probably mean a bit more.
"I'm getting older and wins are getting harder and so I'm really proud. Hopefully I can keep running this race and picking up victories."
Having got off to the ideal start to the new year, Minors is hoping to build on the success of the previous season in which he broke national records over 5,000 metres in Boston, 1,500 at the Trafford Grand Prix and in the West Chester Mile in Pennsylvania.
"When you have a big year you never want to settle on it and so that was my mentality going into this race," he added. "I competed well at the Commonwealth Games and broke the national record and so I want to prove that I'm actually that good.
"That's the mindset I'm taking into the new season. We have goals but the main priority is to keep getting better day by day."
There was also an encouraging debut within the elite category for compatriot Ryan Outerbridge, who finished sixth in a time of 4:24.31, after narrowly being pipped on the line to fifth by John Santana.
Heading into the race the 20-year-old was determined to prove himself at a higher a level and he did just that, with an assured performance among an established field of athletes.
"I'm pretty happy with how I raced," said Outerbridge, who hailed the impact of the home crowd. "Obviously it's a big jump coming into the elite race and so I really didn't know what to expect.
"I just wanted to enjoy the moment, learn from the experience and just try and give it my all.
"The home crowd makes such a big difference and I felt it as soon I stepped out on the course. They really pulled me along throughout the entire race.
"I was focused on the race but I couldn't help taking it all in, it was a beautiful moment having everyone rooting for you.
"I want to come back even stronger next year and hopefully get on that podium."
Gina McNamara claimed a maiden Butterfield Mile title after sprinting clear of Britain's Ellie Stevens to clinch glory.
After a hard-fought battle with Stevens up to the halfway stage, the 28-year-old American finally showed her greater pedigree, racing clear of her rival down the final stretch to cross the line in a winning time of 4:51.89.
Stevens followed five seconds adrift in 4:56.14, with Christina Vergara Aleshire taking the final place on the podium in third in 5:04.89.
"It was amazing, this is my first time out in Bermuda and I'm pleased to have had a great race," said McNamara. "Myself and Ellie went together and then I just went into a fifth gear and it worked really well.
"Racing here for the first time was just phenomenal. Road miles are always electric but having the fans the whole way down the course was amazing."
The event was a perfect launchpad for the Chubb Bermuda Triangle Challenge ahead of the BF&M 10K Run and Walk on Saturday before concluding with the PwC Bermuda Marathon, Half-Marathon and Half-Marathon Relay tomorrow.