Micah and Eilidh Franklin crowned national squash champions
Updated: Mar 11, 2023 11:22 PM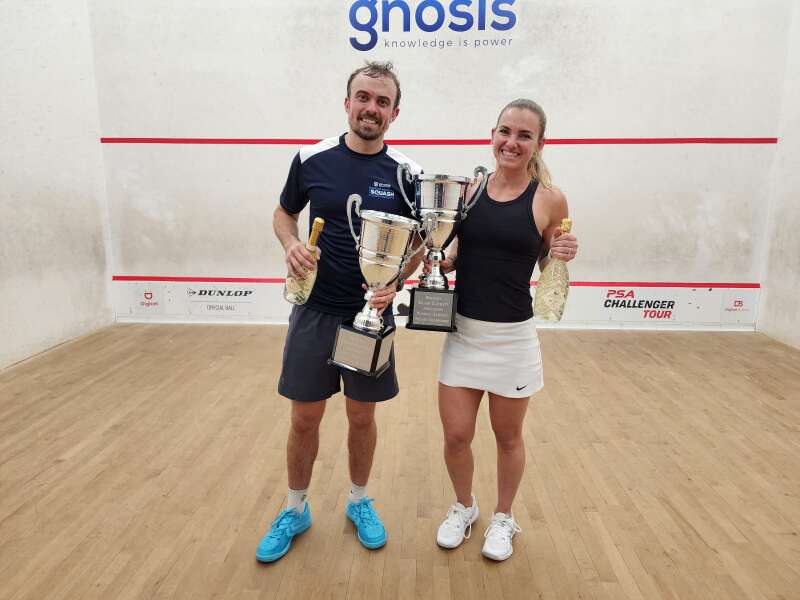 Husband and wife Micah and Eilidh Franklin basked in glory after capturing the Gnosis National Squash Championship Open men's and women's titles at the Bermuda Squash Racquets Association last night.
Second seed Micah upstaged top seed and three-times defending champion Noah Browne 11-7, 11-9, 14-12 to finally get over the last hurdle, having finished runner-up to his opponents the previous three finals.
"Noah has gotten the better of me the last three times, so it's a great feeling," he told The Royal Gazette.
"I feel great and it feels like a weight off my shoulders."
"I feel like there's been something that's not let me move forward. It just felt like there's been some stumbling blocks in the back of my head, that doubt. This is overcoming that doubt, which is why I had that emotion at the end.
"I don't think it was our cleanest of matches in terms of congestion and contact but I do think we give it our all."
Micah seized early control after taking the opening game which saw two lead changes and featured long rallies, exquisite stroke play and tremendous athleticism.
The second game, which also saw both players hold a share of the lead, was more evenly fought with Browne staving off three game points before his opponent was controversially awarded the game by the referee after the two players made contact.
Very little separated the pair in the third game, which saw Browne rally late and stave off match point to draw level at 10-10.
Browne surged ahead with a stunning behind-the-back stroke, which even drew applause from his rival to move to game point.Franklin won the next two points to move back to match point, only for Browne to draw level again as the see-saw battle continued.
However, Franklin would not be denied glory as he dug deep to win the next two points and finally seal the title.
It also proved a night to remember for the 30-year-old's wife, Eilidh, who overpowered teenager Izzy White 11-5, 11-4, 11-4, in what was lopsided women's final.
The top seed jumped out to a commanding 7-2 lead in the opening game and never looked back to place herself in the driver's seat.
The second game proved much of the same as Franklin's experience and clinical stroke play continued to shine through, while While struggled to find her rhythm.
White offered more resistance at the beginning of the third game, reeling off successive winners to draw level at 2-2.
However, Franklin regained the lead for good before the game was held up for several minutes after White was unwell.
Upon resumption, with the score at 8-4, the top seed wasted no time finishing off the job by producing three successive winners to secure a maiden title.
"It's hard for it to end that way, it's a real shame for Izzy because she's such a lovely player and always plays such a great game," Eilidh said. "I thought it was incredibly admirable for her to come back on and finish the match. I thought those first two games were good, nice clean squash.
"My plan was to avoid making any errors and to just hit the targets, keep it as tight as I could and keep the pressure up from the beginning of every game.
"You can't give Izzy anything. If you give her any loose shots she can put the ball away really well, so my goal was to keep the ball out of the middle of the court.
"She's a lovely player and she's got many finals in her future. She's only 17 or 18 years old, so she's pretty wicked."
Micah was thrilled to see he and his wife savour glory together.
"This is the first time we have won it together and is a dream come true," he said.