US Olympian Bennett stars in Harrington Sound swim
Created: Oct 14, 2013 05:57 PM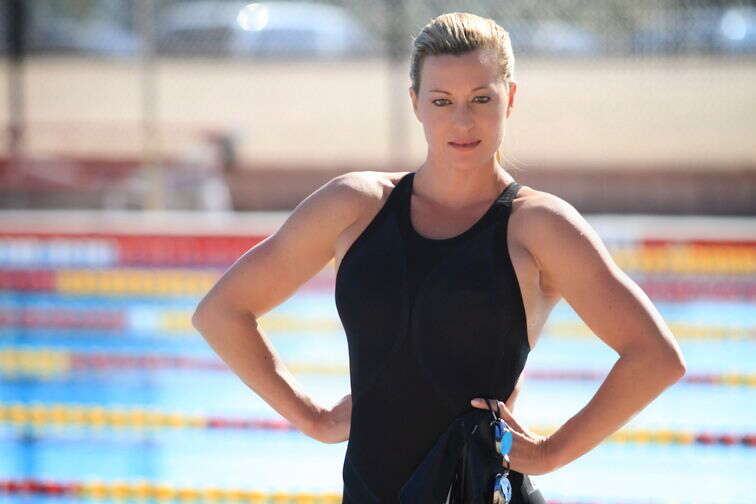 American Oympic gold medallist Brooke Bennett led the way over the 10 kilometre course in the Round the Sound swim on Sunday.
One of 140 visiting swimmers who flew in for the 23rd edition of the annual Harrington Sound event, Bennett has claimed three golds in the freestyle at two Olympics.
On Sunday, she clocked two hours, 19 minutes, 27 seconds, followed by 15-year-old Anina Lund (2:19:47).
Morgan Wolfe was the first male in the 10K as he was timed in two hours, 25 minutes and 59 seconds.
A total of 322 swimmers took part in the charity event, 315 of them finishing.
Competitors got the chance to tackle five distances — 10K, 7.25K, 4K, 2K and 0.8K
Three females grabbed the honours in the 7.25 race — Katharine Owen finished 2:01:18, followed by Jenny Wolfe (2:06:54) and then Darcy La (2:08:49).
Over 4K, Tyler Smith got home first in 56:01, more than four minutes ahead of Kirsten Read (1:00:36). CJ Hinckley was third in 1:02:21.
Cara Cannilla (27:20) was one second better than Emma Harvey (27:21) in the 2K, with Brett Smith (29:23) third.
Jack Harvey clocked a time of 11 minutes, 58 seconds on his way to winning the 0.8K, with Chris Conway (12:15) and Marie Miele (13:03) finishing second and third respectively.
"This event is a charity fundraiser. Over the years we have raised $325,000 for local charities and hope that our pledges this year's will benefit the BZS (Education Programmes) and the Lion Fish Task Force," said organiser Patricia Hill.