Burch gets Olympic reprieve
Created: May 25, 2016 09:00 AM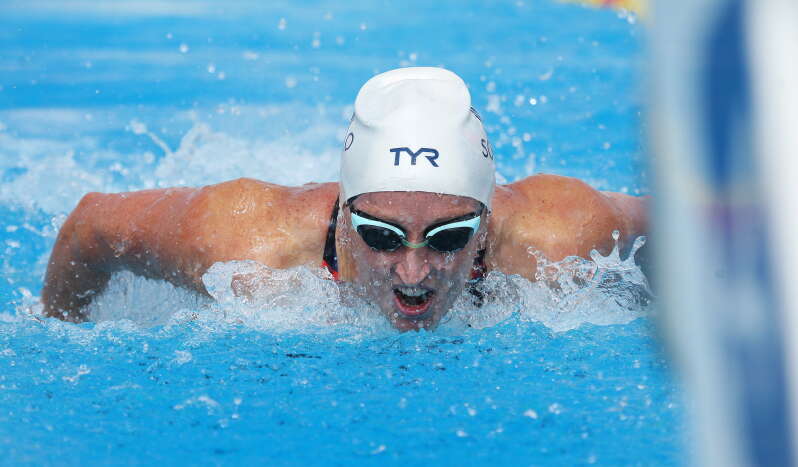 Roy-Allan Burch has been handed one final chance to qualify for this summer's Olympics little more than 12 hours after bringing the curtain down on his impressive career.
After failing to reach the B standard in the 50 metres freestyle during yesterday's final day of the Validus Bermuda National Championships, the two-times Olympian said he was calling it a day.
Burch won a thrilling 50 metres freestyle final, touching the pad in 23.11sec, his fastest time since recovering from a potential career-ending injury, but still six hundredths of a second slower than the B standard of 23.05.
"That's it, physically I don't know if I can take it any more," Burch said afterwards.
However, the Bermuda swimmer made that comment under the impression that yesterday was his last shot to qualify for the Rio Games. It was not.
Burch revealed this morning that he has one last opportunity next month at the Caribbean Championships, an event he had already decided to compete at but did not know was an Olympic qualifier.
It is a chance that he intends to grab with both hands.
"I definitely need to thank everyone who has been so supportive during this Olympic run," Burch wrote in a Facebook posting this morning. "My wife Lauren, my family, my friends, my team and especially my sponsors — Digicel, Finis, Kaatsu, Bermuda Amateur Swimming Association and the Bermuda Olympic Association.
"In typical Roy Burch fashion I put my foot in my mouth and spoke to soon about calling it quits. I was under the impression that Bermuda Nationals was my last opportunity to make the Games so I felt I had to reach a level of acceptance and be prepared to move on.
"I had already made the decision to compete at the Caribbean Championships next month unaware that it was a qualifying opportunity. Although the pain in my knees can drive me nuts and make me uncomfortable I can put up with it for a little longer to go to Rio.
"Being .06 off the time it only makes sense to go for it. The last few weeks my body has been getting better and another month to heal will only help. The Road to Rio is still on!"
The enthusiasm Burch displayed this morning was in stark contrast to the philosophical figure he cut last night after believing his Olympic dream was over.
"Physically, I really shouldn't be able to do any of this," he said. "So, I can't be mad about the results because it was a long, long road back.
"I am very happy to have been home and it was very nice to get the win. I haven't been on the podium in a long time and it just feels good.
"It didn't hurt not to get it [qualifying B standard]. I still feel good and happy with being in Bermuda and being able to put on for my home crowd."
Now Burch has one more chance to hit that standard and join Rebecca Heyliger and Julian Fletcher in qualifying for the Games in August.
Heyliger went below the B standard of 26.17sec in the 50 free twice and also eclipsed her own national record and personal best on as many occasions.
She met the B standard on the opening day of the championships after posting a 26.13sec, which was a personal best and faster than her national record of 26.58. However, it did not stand as she was competing in a time-trial and not a race.
Heyliger officially broke her own national record and personal best after recording a 26.22 during yesterday's 50 free preliminary heat, and then shaved another six hundredths of a second off her record en route to winning the 50 free final in a time of 23.16.
"I'm happy with my time," Heyliger said. "I didn't break the 26 second barrier, but I made a big drop this weekend and I was able to do it at home and show my sponsor that I deserve their support."
Fletcher also had plenty to shout about after reaching the B standard in the final of the 100 metres breaststroke on Saturday.
The 25-year-old swam the distance in a personal best time of 1:02.47, eclipsing his own national record in the 100 breaststroke, which he lowered to 1:03 in the earlier heats.
"It was just an absolutely amazing experience," Fletcher, who finished second in the final of the 100 breast, said.
"This is the first time actually under 1:03 and I'm very happy to have done a B standard in front of the home crowd and family and friends.
"I was just absolutely humbled and elated by all the people that came out to support and then also from the support of coaches in Bermuda and other swimmers as well."
Fletcher's performance went a long way towards making up for the disappointment of narrowly missing out on reaching the B standard in the lead-up to the previous Olympics in London.
"This will be my first Olympics, if I go," he said. "In 2012, I missed the standard by six tenths and it didn't really settle that well.
"I wasn't sure whether I wanted to continue swimming or not and just wasn't happy with my career at the time.
"A lot of credit goes out to [national coach] Ben Smith for helping me pursue Olympics for another four years, and also my parents. I would not have been able to do it without them."
Update: this story has been amended to reflect this morning's news
• For the full results from the Validus Bermuda National Swimming Championships 2016, click on the PDF link under "Related Media"