Bermuda beach reaches London on the side of a bus
Created: Mar 08, 2012 09:03 AM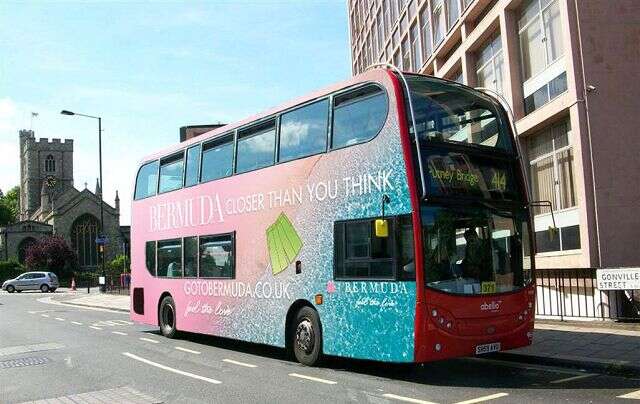 Public transportation in three major markets have been transformed into bright pink mobile billboards as part of a marketing push for Bermuda.
Between now and April, two Toronto street cars will be wearing Bermuda pink, along with a trolley in Boston which will be fully wrapped in pink for three months.
And in London, a double-decker bus has been fully wrapped in advertising designed by Bermuda Department of Tourism's internal creative team, including the image of Bermuda's signature pink sands, clear blue sea and a pair of Bermuda shorts.
Pink taxis are also making their return to London, targeting business commuters, leisure and shopping audiences will be seen throughout the capital city.
A Ministry of Tourism spokesman said: "Taxi drivers are acting as brand ambassadors by wearing characteristic Bermuda shorts and interacting with passengers, offering information of the branding and holiday destination while in their taxi, offering a one-to-one marketing experience with commuters.
"A four-week train passenger panel campaign will also run on lines in London and the South East targeting 3.9 million individuals travelling into Central London. The train car panels are also adorned with iconic images from the Island, the 'Feel the Love' branding and website details."
The advertising effort can also be seen in New York, with a billboard in place near the Lincoln Tunnel. Bermuda advertisements can also be seen on "high profile digital boards" in the city's Grand Central Terminal.
Minister of Business Development and Tourism, Wayne Furbert, said: "This is an effective way to ensure the destination is top of mind. We are not only grabbing the attention of a strong demographic audience, but we are doing so in a very eye-catching and creative way.
"We are sending a very strong message directly to consumers. We want your business, we are nearby, we are ready to welcome you and give you the time of your life."