Tall ship's crew looking forward to some R&R in Bermuda
Updated: Feb 19, 2021 08:38 AM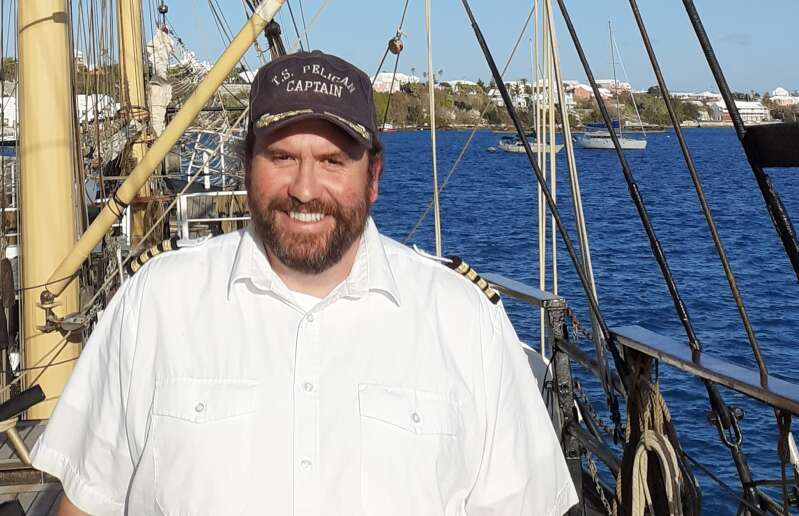 The tall ship Pelican of London arrived in Bermuda on Wednesday morning after 28 days at sea.
However, the crew of 44 must remain on board until they receive negative results from the Covid-19 tests they were required to take on arrival.
Captain of the UK-registered sail training vessel Ben Wheatley said the crew, made up of professional seafarers, teachers and students, were enjoying the scenery from Ordnance Island, St George's and were hoping to explore the island during their weeklong stay.
Mr Wheatley told The Royal Gazette: "The sense of relief to be here is overwhelming. We can all get a good night's sleep and are excited – thinking positively that we receive negative results – that potentially tomorrow or the next day we can explore the island's museums and parks. We also want to go out dinghy sailing and we are hoping to do a joint sail with Spirit of Bermuda."
The sail trainees aboard the Pelican are between 15 to 17 years of age and attend Ocean College, an educational establishment in Berlin, Germany. Most of the students aboard are German but there are also some French and Swiss crew members. They split their time between sail training and regular classes with teachers on board.
Mr Wheatley said that his crew were well informed about Covid-19 protocols and had been liaising with local health officials.
"The key thing is making sure there is a minimal risk of our crew bringing it on board," he said. "We will be maintaining social distancing, wearing masks, washing hands and following all the guidance.
"We split the sail trainees into groups when they go ashore and they are accompanied by the professional adults."
The ship's last port of call was Golfito in Costa Rica where the crew all received negative PCR Covid-19 test results.
They have not been ashore since but must receive their negative test results before disembarking and then take further tests on day four and day eight of their stay.
"We know it's a nice safe place to go ashore," said Mr Wheatley.
"We are less worried here than anywhere else. We stopped in Panama and for fuel in the Bahamas but we kept everyone on board because we didn't want to jeopardise the opportunity to come aboard here.
"We have not had a single case on board, we have been very restrictive on shore leave. We have been having PCR tests everywhere we go and it's costing a fortune."
At 150ft, the Pelican of London is a class A square rigger built in 1946 with a home port of Weymouth, UK.
The current crew members began their journey on October 9 from Emden in northern Germany and travelled through the Bay of Biscay, Spain, Gibraltar, Madeira and the Canary Islands. From there they voyaged to Antigua, Curaçao, and to the Panama Canal before heading to the Pacific side of Costa Rica.
From Bermuda they will head towards the UK and end up back in Germany on April 10.
Mr Wheatley said that many tall ships had been unable to embark on voyages because of Covid-19. However, as the Pelican's voyage is six months long, it allowed all Covid-19 protocols to be put in place for a safe passage.
However, Covid has still had an impact on its schedule.
He explained: "Our advantage is the long voyage and minimal changes in personnel. There has still been an element of uncertainty. When we were coming from Curaçao we didn't know where we were going to go as countries can change their rules over night. We had to be flexible in our itinerary.
"We identified a port on Costa Rica to use it as a base and we were allowed to go ashore.
"We have certainly had fewer opportunities to visit ports and less shore leave."
Mr Wheatley said that the UK charity Adventure Under Sail is doing much of the legwork in directing them on their course.
The Pelican has visited Bermuda about five times, including three with Mr Wheatley as its captain in the last two-and-a-half years.
Mr Wheatley added: "It is always a pleasure coming to Bermuda. We're excited about the different things we can do while we are here."