Marathon weekend on track to be biggest yet
Created: Dec 16, 2015 08:00 AM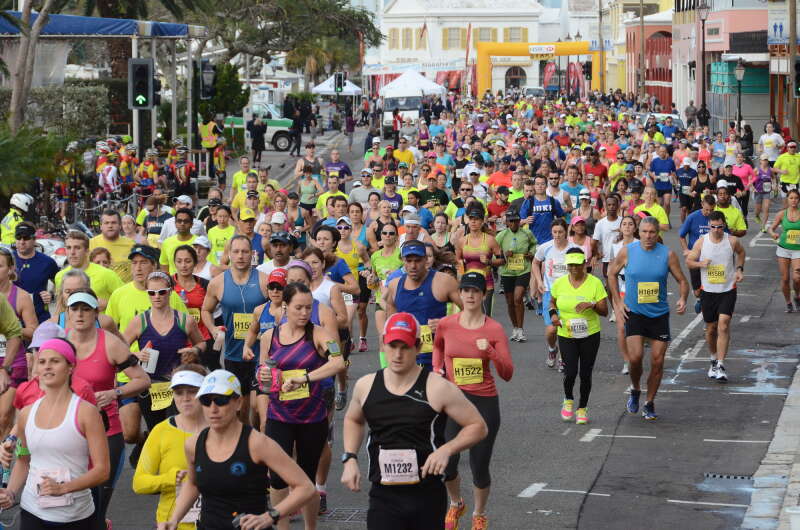 Officials believe next month's Bermuda Marathon Weekend could be one of the biggest yet.
Already numbers are on course to exceed this year's 40th anniversary race, and that would mean more than 1,300 runners taking part in a variety of races.
Anthony Raynor, who is again the race director for the January 15 to 17 races, puts the spike in interest down to the internet, social media, and even the exposure Bermuda is getting for the 2017 America's Cup.
The deadline for entries is the Wednesday before the races, but already participants from as far away as Brazil, the Philippines, Germany and Hungary have signed up.
"It's too early to give an end number because registration is still open, but I can say we are tracking a little ahead of where we were with our numbers this time last year," Raynor said. "Hopefully we can sustain that through to the end of registration.
"One of the pluses for us in the United States would be the economy there, where at least people I've been in contact with seem to be a little more comfortable with travelling to these destination events.
"With the economy being a little stronger, people have a better feeling about their future and are happy to make the trip.
"What's happening here [Bermuda] gets out, so, with hotel development, redevelopment of the Hamilton Princess, and the America's Cup, people are reading about it and getting a better feeling about Bermuda."
Raynor said the Bermuda Tourism Authority had also played its part in helping generate interest in the event, which began back in 1975 with seven runners participating in the marathon.
Last year overall participant numbers topped 1,300, which represented an increase of around ten per cent on the previous year, women making up 59 per cent of the total entries last year, with the number expected to rise again.
"They [BTA] are our biggest supporters, we start the process with a conversation with the BTA and regularly we talk about where we are and where we're going," Raynor said. "We're even in conversation about the next couple of years.
"I just looked at the overall numbers and right now we have 61 per cent female registered and from New York and England we've seen an increase in our numbers," Raynor said.
"From North and South Carolina the numbers have increased over last year. I was looking at the registrations just yesterday and there is somebody registered from the Brazil and the Philippines.
"It goes back to online where people are communicating with Facebook so the word gets around quickly. It is a good thing, I'm happy and looking forward to it."
Raynor has been race director for the eight years and admits it is a lot of work around this time of year.
"I tell people that I love Bermuda and love athletics so there is nothing better for me to do with my time than to combine the two interests," he said.
"A large amount of our participants is by word of mouth when you talk about visitors coming to the Island.
"Word of mouth enforces it when they see the advertising or hear about it somewhere else.
"We even have some of the invited athletes come here and go back and tell their friends directly, or have written about it on Facebook or twitter and as a result of that somebody else decided to come."
Benjamin Meto won this year's Bermuda Marathon at the first attempt, racing to victory in 2hr 28min 20sec to add to his triumph in the 10K the day before.
Claiming the women's marathon title was two-time Olympic cyclist Lyne Bessette, of Canada, in 3:10:17.
Local pair Stephen Allen and Jay Donawa shared the glory in the half-marathon after crossing the finish line together, as Donawa helped push Allen to a personal best time as both broke the tape in 1:12:33.