Jah-Nhai Perinchief claims bronze in Commonwealth Games triple jump
Updated: Aug 10, 2022 07:30 AM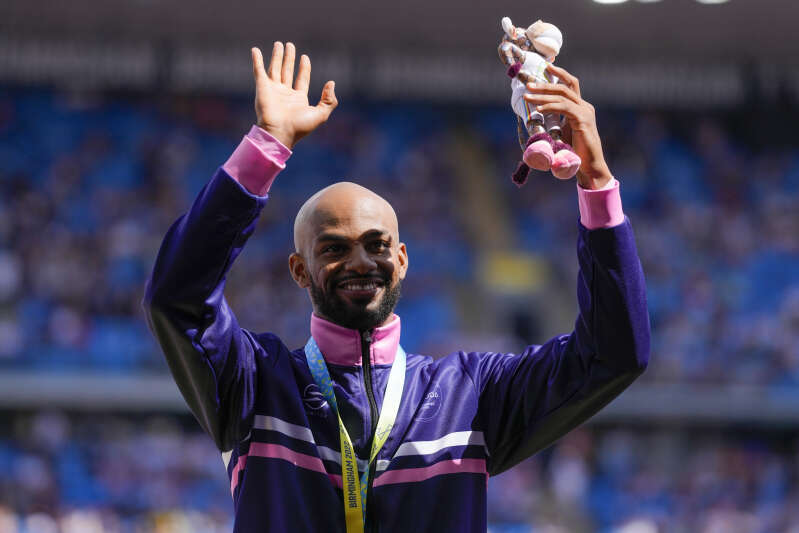 Jah-Nhai Perinchief etched his name into Bermuda sporting history after claiming a Commonwealth Games bronze medal in the triple jump yesterday.
Ahead of the event, the 24-year-old promised to put on a show at the Alexander Stadium in Birmingham and he more than met expectations to cap his debut at the Games in memorable fashion.
A best jump of 16.92 metres — with his first attempt — ultimately proved enough to secure a place on the podium alongside India's Eldhose Paul, who claimed gold with a best jump of 17.03, just one centimetre ahead of compatriot Abdulla Aboobacker Narangolintevid.
"I feel great and it's just a great feeling," said Perinchief, who hopes his exploits on the international stage can inspire the next generation in Bermuda. "I wanted the gold medal but the two Indian athletes came through and executed better than I did.
"I'm just happy to do it for Bermuda. "I've always thought, 'Why can't I medal?' I'm from a small nation, but we have a lot of talent back home and I'm going to keep saying that.
"I just hope this inspires the youth because that is my main focus; that's all I want to do — give back and inspire the youth to show they can do it, too."
His achievement sees Perinchief become the first Bermudian to win an athletics medal at the Games since mentor Brian Wellman in 1994 in Victoria, British Columbia.
Having followed in the footsteps of the likes of 1990 gold medal-winner Clarance "Nicky" Saunders, whose Commonwealth high jump record still stands, as well as Wellman and sprinter Troy Douglas, all of whom played a role in his progression, Perinchief took the opportunity to hail the trio who came before him.
"They have all been really influential in my life and it's great that I can join legends like that," he added. "We had 'Dougie' as national coach, and I had Wellman looking out for me today as my coach.
"I spoke to Nicky a lot when I was a high jumper. It's good that I can be in the realm of legends like that."
Reflecting on his performance, Perinchief admitted he had extra determination to make his mark and atone for a poor showing at the World Championships in Eugene, Oregon, last month when he failed to qualify for the final.
"I was nervous before my first jump," he added. "But I was like, 'I have nothing to lose' as the Worlds didn't go well. I've already been there. I was just looking to go out there, execute and do my best, which I did."
Having got off to a brilliant start — with what proved his best jump — and after two more efforts of 16.55 and 16.67, Perinchief moved into the medal round in second place behind Paul as one of the top eight athletes.
Despite being knocked down a place into third by Narangolintevid in what proved a tense finale, Perinchief is adamant he felt no nerves, when he could have quite rightly been sweating on his medal chances.
"Honestly I wasn't nervous [watching the final jumps]," he said. "It's more about the first jump because you don't always know what to expect.
"After that I like the fact that people were jumping farther because it pushes me to jump a little farther," he said.
"The wind was a little tricky. I still felt like a ran into a brick wall with a few of the jumps, but I just had to go for it.
"I definitely thought I had a chance after that first jump. My aim was to just put pressure on people because that's all you can do in these events."
Perinchief's achievement helped Bermuda sign off on one of its most successful major international games, having claimed two medals after Dame Flora Duffy's gold in a successful defence of her women's triathlon crown.