Roofs blown off as Humberto batters island
Updated: Sep 19, 2019 09:01 AM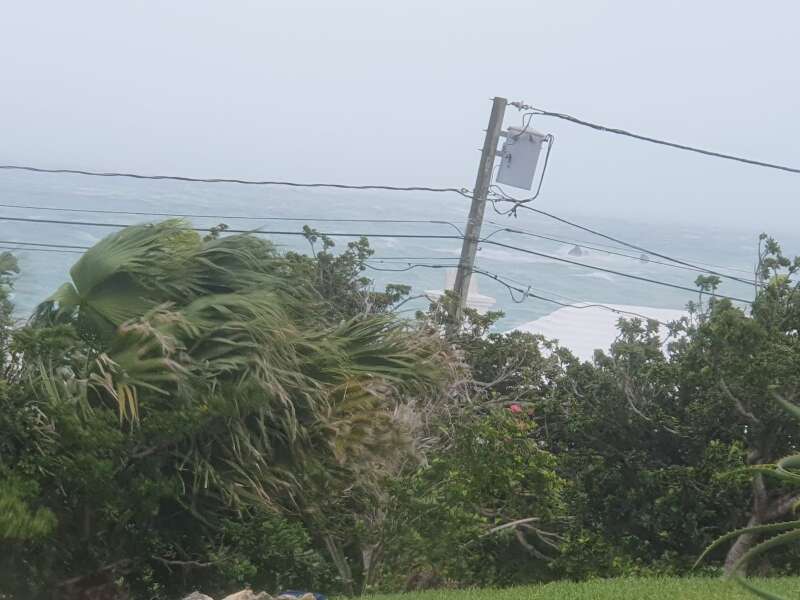 Numerous buildings have been damaged and more than 28,000 people lost power as Hurricane Humberto battered Bermuda.
Somerset Police Station lost part of its roof — although all officers were said to be safe — in the storm that has lashed the island with hurricane force winds for several hours.
The CedarBridge Academy shelter suffered damaged windows but none of the 46 members of the public or 30 support staff were injured.
Part of the roof blew off at Island Glass, on Serpentine Road, at least eight homes were reported damaged in the West End and the Government warned people to stay off the roads in the morning because of downed trees and power lines.
At Humberto's peak point of impact at about 8.30pm, wind speeds of more than 81mph and gusts of more than 114mph were recorded at LF Wade International Airport. The storm's closest point to the island came at 9pm, when it was about 75 miles away.
The Causeway will remain closed until further notice while it is examined for structural damage. Public schools and Government offices will be closed today.
Wayne Caines, the Minister of National Security, said at 7.45am: "We have come through a really, really challenging night.
"There were no fatalities. Our country is resilient. Today, we are going to get through this."
Mr Caines urged people to stay off the roads until they have been cleared, but encouraged them to help clean up their neighbourhoods and "look out for the seniors and most vulnerable".
The Bermuda Fire and Rescue Service received 45 calls by midnight, including three minor structural fires, nine medical incidents, 17 minor incidents such as gas leaks and transformer fires and 16 automatic fire alarms.
Emergency incidents included a reported propane gas leak at Caesar's Pharmacy on Main Road, Somerset, and a car getting stuck in the area of Stokes Point Road, St George's.
Harbour Radio reported a boat in distress but said the single occupant on-board was found safe, on land and uninjured.
Power outages affected 28,515 Belco customers — about 80 per cent of the island — by 10.45pm.
Belco urged people to stay off the roads early on Thursday because of downed trees and power lines.
Hurricane force winds were beginning to subside by 10.30pm, but tropical storm force winds are expected to continue until 4am or 5am.
By midnight, Humberto had passed and was about 128 miles to the north-northeast. It remained a Category 3 hurricane, with winds of 120mph and gusts of 150mph.
A Government spokeswoman said at 1am: "At first light, early responders will start moving around Bermuda to assess and begin clearing the roads. In the interest of the safety of the emergency personnel, no assessments will be undertaken before daylight.
"Reports have been received by emergency services of downed trees and power lines. For their own safety, residents are urged to stay off the roads which will also give emergency services the time to do their jobs. The priority will be clearing major roads at each end of the island going to King Edward VII Memorial Hospital."
She added that Mr Caines would give an overview and assessment of the island at 7.30am.
Bermuda Hospitals Board said sections of the Mid-Atlantic Wellness Institute and old Continuing Care Unit facilities had suffered damage but that patient care was not impacted and staff kept services running throughout the storm.
Services were expected to resume after the storm finishes.
Anna Nowak, the vice-president of public relations at BHB, said: "Special thanks to all BHB staff who have worked tirelessly through the storm to ensure care continued.
"It takes hundreds of clinical, support and administrative staff in multiple facilities to implement organisational hurricane plans and ensure all events during the storm are managed so that people in need of care and support receive it without interruption.
"We are also grateful to all of the additional senior clinicians who willingly made themselves available on-site to react to any unforeseen emergencies. Finally our thanks to the Bermuda Weather Service for their very helpful products online which guide our management."