Hurricane Larry now a 'potential threat' to Bermuda
Updated: Sep 05, 2021 06:45 PM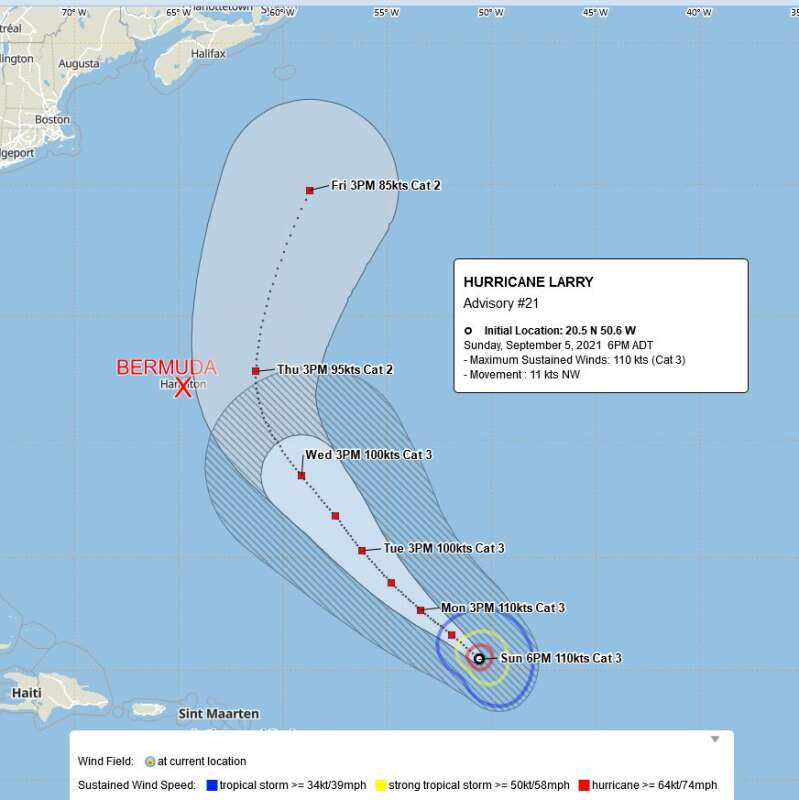 Hurricane Larry is now a potential threat to Bermuda, the island's weather service said this evening.
In its latest update the Bermuda Weather Service said that the closest point of approach to Bermuda within 72 hours is now forecast to be 342 miles to the east south-east at 6pm on Wednesday.
The BWS said: "However, this system may move closer to Bermuda after this time period depending upon its track."
It added: "A small craft warning is in effect for Tuesday through Tuesday night that will elevate to tropical storm watch, 48 hours in advance of the fringe winds of Larry."
Earlier today the BWS said the swell generated by the Category 3 hurricane could spread to Bermuda tomorrow and Tuesday.
In an update on the hurricane this morning, the Bermuda Weather Service (BWS) said: "While any wind impacts from Larry will not be until late Wednesday into Thursday, hazardous seas and dangerous surf develop from Labour Day onwards."
The US-based National Hurricane Centre said: "Larry is expected to remain a major hurricane through the middle of the upcoming week.
"Swell generated by Larry are expected to reach the Lesser Antilles today, and will spread westward to portions of the Greater Antilles, the Bahamas, and Bermuda Monday and Tuesday."
As of noon, Hurricane Larry was still 1,285 miles southeast of Bermuda and moving northwest at nearly 13mph.
The NHC said: "Maximum sustained winds are near 125mph with higher gusts.
"Larry is a large hurricane – hurricane-force winds extend outward up to 45 miles from the centre and tropical-storm-force winds extend outward up to 175 miles."
In an update yesterday the BWS said it would be prudent for people to review their hurricane plans.