Weakened Hurricane Lee on track for close approach
Updated: Sep 10, 2023 07:46 PM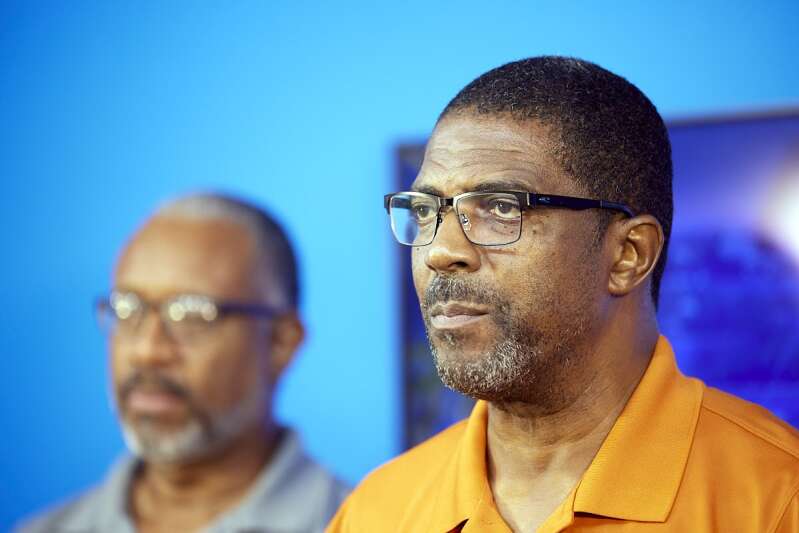 Hurricane Lee is on track to come closer to the island than previously forecast but has weakened in strength.
According to the Bermuda Weather Service's 6pm update, the closest point of approach to Bermuda within three days is forecast to be 467 miles to the south-southwest.
Lee, presently 740 miles south-southeast of Bermuda, is packing winds of 121mph with gusts of up to 138 mph.
A small craft warning was issued at 11.30am this morning and will be in place until Tuesday night.
The public were warned earlier this week to take Hurricane Lee seriously as forecasts suggest the then Category 3 storm may head towards the island.
Michael Weeks, the Minister of National Security, said at a press conference on Friday that the Emergency Measures Organisation would meet about the hurricane on Monday.
However, he urged the public to use the weekend as an opportunity to make sure they are prepared.
"With back-to-back storms last week, I fully appreciate that our residents are feeling hurricane-weary, but now is not the time to become complacent," he said.
"Our island has a rich history of resilience in the face of national challenges, and I expect that we will rise to the challenge in facing any potential threats related to Hurricane Lee."
Mr Weeks said it is anticipated the storm could near the island next week.
While the storm has weakened, forecasts suggested the storm could regain strength over Sunday and Monday.
"Hurricane Lee is not to be taken lightly," he said. "It is a large and dangerous hurricane, and we must prepare for the possibility of it affecting our island."
The Bermuda Weather Service said swells from the storm could reach the island as soon as this weekend.
The US National Hurricane Centre said the storm is forecast to pass well to the north of the Leeward Islands, the Virgin Island and Puerto Rico over the coming days as a major hurricane.
Hurricane force winds extended outward up to 40 miles from the centre, while tropical storm force winds extended as far as 150 miles.
Mr Weeks said the Government will be in a better position to determine how the storm could impact government services next week when the forecasts become clearer.
"As we have witnessed over the years, paths can change, intensities can fluctuate and the impact on our island can be uncertain," he said.
"This is precisely why we must not be complacent and must remain vigilant and prepared."
Asked if he believed the island was prepared for a Category 5 hurricane, Mr Weeks said Bermuda has shown its resilience in the past and he was confident the island's people could handle a challenge.
He added that the island's infrastructure was a "steady work in progress" but he maintained that the island was positioned to handle any adversity that may arise.
Mr Weeks urged the public to replenish their storm supplies, make sure their storm kits are up to date and prepare their homes.
He also called on the public to trim back trees on their properties, particularly those that could obstruct traffic or pedestrians.
"We want to ensure that such vegetation does not hinder restoration efforts should a storm seriously impact our island."
Mr Weeks urged the public to follow updates on the storm from the Bermuda Weather Service to remain informed.
The Ministry of Public Works also urged the public to trim trees on their property, noting an overgrowth of vegetation.
A Ministry spokeswoman said: "While the Ministry has worked tirelessly to trim back those problem areas, residents are reminded that they too have a responsibility to cut back their overhanging trees and branches, particularly those that impede pedestrians and motorists.
"Residents are reminded that they are required to keep their roadside hedges trimmed. They will receive a friendly reminder, but in the cases where the threat to safe passage is apparent, Public Works will cut the offending tress at a cost to the owner of $1,000 per hour."
The spokeswoman added that the Ministry had carried out trimmings in several areas of the island in recent weeks including Cavendish Hill, Manse Road, Chapel Road, Blue Hole Hill among others.
"Additional works are planned, however due to increased rainfall, overgrowth has spread faster than usual," the spokeswoman added.
"In that regard, the public's co-operation and patience are encouraged as the Ministry work crews address these areas."
Belco urged the public to prepare for the storm, noting that the energy provider's Crisis Management Team had met to co-ordinate their own preparations.
"The most important action residents can take to prepare is to ensure trees on their property are clear of power lines," a spokesman said.
"During the high winds from the two previous storms to impact Bermuda this season, Hurricane Franklin and Tropical Storm Idalia, most outages were caused by foliage and loose debris, including a tarpaulin, hitting power lines.
"Belco does not offer a tree trimming service. Ensuring that trees on private property remain ten feet away from power lines is the sole responsibility of property owners."
The company said if Hurricane Lee does cause power outages, restoration crews will start work as soon as it is declared safe for them to do so.
Wayne Caines, Belco president, said: "Our team are well prepared and closely monitoring the storm and our Crisis Management Team will be meeting frequently until the threat has passed.
"During the aftermath of a hurricane, Belco staff certainly appreciate the patience and understanding of the public as we work to get everyone's power restored as quickly and safely as possible.
"I encourage the public to trim their trees, secure any loose items on their property and review their own hurricane safety plans, as well as tips and advice on the Belco website, to keep their family and property safe should Hurricane Lee impact Bermuda."
Hurricane Lee is the third major hurricane of the 2023 Atlantic hurricane season and became the first to reach Category 5 strength, on Thursday, although it weakened back to Category 4 on Friday morning and to Category 3 last night.
Only 16 Atlantic hurricanes have reached Category 5 strength, meaning that they have sustained winds of 158mph or greater, in the past 20 years.