Listen to your bodies, says cancer survivor
Updated: Sep 16, 2015 02:09 PM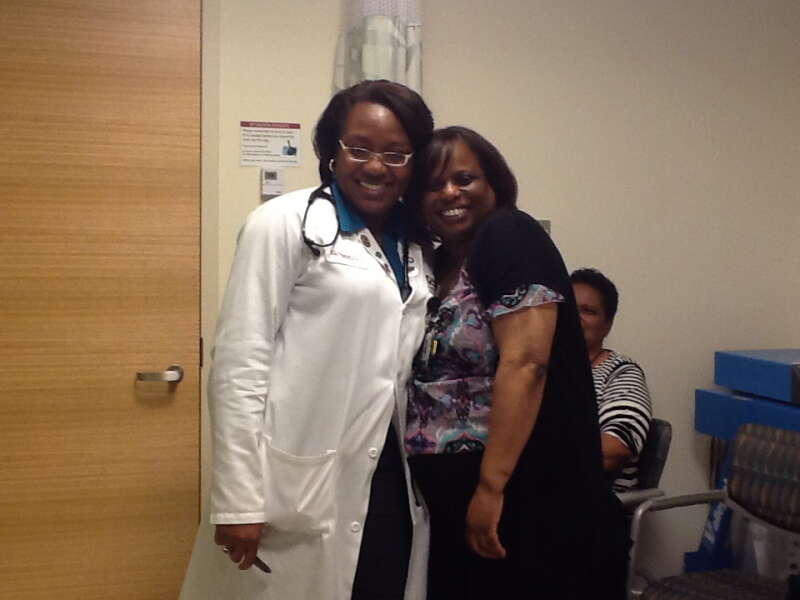 An infomercial may have saved Devoye Darrell's life.
She was suffering from heartburn and bloating. When doctors couldn't diagnose the problem, she chalked it up to menopause.
"I ignored it, but in my heart I knew something was wrong," the 58-year-old said.
It was the middle of the night. The infomercial on ovarian cancer urged women to see a gynaecologist if they were experiencing a list of symptoms for more than two weeks.
"I'd had them for about five years," she said.
Even with all the signs, the accountant waited two weeks to make the necessary appointment. She was afraid.
"Then one day I woke up and said, 'Today's the day'," she said.
The gynecologist did an internal ultrasound and found a mass in her abdomen.
Surgeons removed two tumours during a nine-hour surgery at Brigham and Women's Hospital in May, 2013. One was the size of a grapefruit; the smaller one more like a lemon.
"There are four stages," she said. "It was stage three — there were nodes in my bladder and bowels."
She spent five months at the Boston hospital, undergoing aggressive radiation. Chemotherapy drugs were injected into her nine hours a day.
"I was lucky because some hospitals don't do the stomach pump treatment, which is called intraperitoneal chemotherapy," she said.
The second "bump" in the road came a year later. Doctors discovered cancer in one of her breasts, and removed it. Several months after that, she had a second bout of ovarian cancer.
"Doctors said they got all of the tumour, but sometimes tiny particles stay in your body and regrow," she said. "This mass wasn't as large as the first ones, and it was removed."
Through it all she has never doubted that treatment would work.
"I was positive throughout," she said. "I never thought, 'I'm not doing this anymore'. At one point I developed neuropathy [nerve damage] in my feet. I tripped and knocked my shoulder out of place. That made the chemo hard because it made the area more painful."
She took encouragement from another Bermudian woman undergoing ovarian cancer treatment.
"She had stage four cancer," said Ms Darrell. "I thought, 'If she can do it, so can I'."
Both women agreed that Bermuda was in need of a support group. Ms Darrell and her sister Patty Flood started Ovarian Cancer Awareness Bermuda.
Their hope was to provide support and information to ovarian cancer patients, and promote awareness.
"If I can help one woman like that infomercial helped me, then it will be worth it," said Ms Darrell. "My advice to other women is, listen to your bodies.
"Do not be afraid. Don't think you are the only person. Because ovarian cancer symptoms are difficult to detect in the early stages, it's up to you.
"It whispers and you have to listen. If you feel there is something wrong, track your symptoms.
"The early detection is the key for it. You have to be responsible for your own health."
One of the messages she hopes to get across to women as part of Ovarian Cancer Awareness Month is that pap tests alone won't protect them.
"Some women think that because they've had a pap, they are clear," she said. "That only detects irregularities in the cervix. You also need a regular pelvic exam to try to detect any masses in your abdomen. Some doctors don't do that as part of their care.
"Also, if you have been treated for ovarian cancer, you need to regularly see a gynaecological oncologist. If you do that, your chances of survival increase. They are highly trained in what to look for.
"Unfortunately, there isn't one in Bermuda. That is why there isn't a good database to say how many women in Bermuda have it every year, or how many have died from it."
According to the Bermuda Tumour Registry, three people died from ovarian cancer last year, compared to four in 2013, and seven in 2012.
However, the registry's cancer statistics are purely dependent on local doctors reporting cancer deaths to the Bermuda Tumour Registry, and may not be completely accurate.
The OCAB is holding a luncheon in conjunction with Bermuda Cancer and Health Centre on September 26 at the Hamilton Princess & Beach Club. The keynote speaker will be Harvard Medical School instructor Suzanne Berlin. Tickets, $65, are available the Centre or online: www.cancer.bm/get-involved/purchase-a-gift-at-our-boutique.
A 5K run and walk is organised for Clearwater Beach the following day. Register at racedayworld.com.
For more information e-mail oc abda@gmail.com or call 799-3685.