Chefs share favourite holiday food from home
Created: Dec 23, 2015 08:00 AM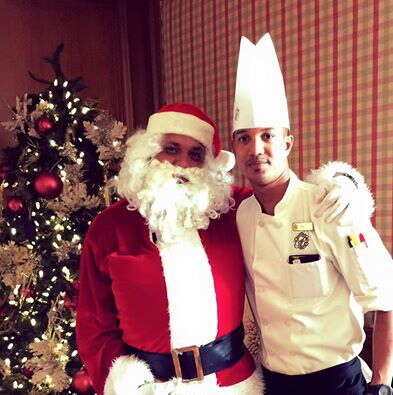 Looking to break from the Bermuda tradition this Christmas? We asked five chefs to share favourite holiday dishes from their home country. Read on for inspiration ...
Fairmont Southampton chef Chris Totah is originally from Mauritius where there's a wide range of ethnic, religious, cultural and language groups.
Although not extremely common, some families in the island nation in the Indian Ocean do feast on turkey at Christmas. There, it's marinated in honey, mustard and chopped garlic with butter and fresh herbs stuffed inside.
Gratin de macaroni is a popular side dish made with white cheddar and crackers, crumbled on top. Mr Totah will frequently serve a starch similar to potato salad. It includes potato, eggs, carrots and beet root, which are boiled until they're soft and then mixed with mayonnaise, chives and honey.
A stew made with venison or rabbit is more commonly found in the region on Christmas Day.
The meat is marinated in red wine, cinnamon, bay leaves, black pepper, salt and dried chilli for 12 hours. It's then cooked in a mix of onion, garlic and tomato.
More red wine is added and it sits on the stove for another hour. The stew is served with rice topped with mango or apple chutney for a hint of sweetness.
Chopsticks' chef Carlos Sabalza is from the Rizal province in Philippines.
A spaghetti dish called panlasang pinoy is often served over the holidays there.
Noodles are combined with ground beef or hot dogs, then mixed with bell pepper and onions. Soy sauce and ketchup are then added.
Turkey isn't customary but many families will barbecue pork or chicken. Mr Sabalza coats the meat with lemon, sugar, soy sauce, salt, pepper and ketchup and marinates it for at least 30 minutes before grilling.
Fruits are Christmas dessert staples.
Lamb or guinea fowl and lasagne are popular dishes in northern Italy at Christmas according to Bella Vista chef and owner Livio Ferigo.
It's what he had while growing up in Forni di Sopra and will often serve to his wife and children here in Bermuda.
For dessert they might have panettone, a type of sweet bread loaf, as well as lots of wine and limencello.
Mr Ferigo coats his turkey in plenty of cinnamon, Italian herbs such as rosemary and garlic and brown sugar and honey. The bird is then stuffed with chestnuts, a seasonal ingredient also used to make Italian cookies and cakes for the holidays.
Rosa's chef Antonio Dominguez is originally from Las Cabos, Mexico.
Although there's a lot of variation when it comes to holiday dishes in the Central American country, tamales are a staple in most homes.
Corn flour, lard, regular flour, water and chilli paste are combined into a dough. It's then cut into 1/4" layers and stuffed with pork, chicken or vegetables. The tamales are rolled and flattened, turned into a little packet and tied with string. They're then put into a big pot, and steamed for approximately 90 minutes.
Mexicans drink champurrado at Christmas. It's a warm and thick drink similar to hot chocolate, made with cocoa powder, milk, cinnamon stick, cloves and orange peel.
Dessert is usually a cinnamon-sugar crisp called bunuelos. The flaky pastry is similar to a tortilla, but coated with cinnamon sugar and a sweet syrup made from sugar cane, star anise, cinnamon and orange skin.
"It's very good, puffy and sweet," Mr Dominguez said.
It's customary to have fondue on Christmas Eve on the French side of Switzerland, where Serge Botelli was born.
Veal or beef is also usually sliced and offered alongside 25 condiments/sauces — the Lido chef said it was one of his favourite parts of the holiday growing up.
Goose was a popular entrée on Christmas Day when he was a kid, Mr Botelli said. Turkey became more prevalent in the European nation only 30 years ago.
Mr Botelli puts a heap of sage and butter under the skin of the bird and pairs it with a stuffing of chestnuts, celery, onions, butter, bread, a little brandy and vegetable stock.
In the Southern part of Switzerland, where they like their meals more sweet; turkey is paired with caramelised apples and cranberry.
Leckerli, a chewy, nutty cookie flavoured with spices and candied citrus rind, was a popular dessert in his house, the chef added.