Aaron falls in love, and earns a Brazilian black belt
Updated: Aug 10, 2022 07:18 AM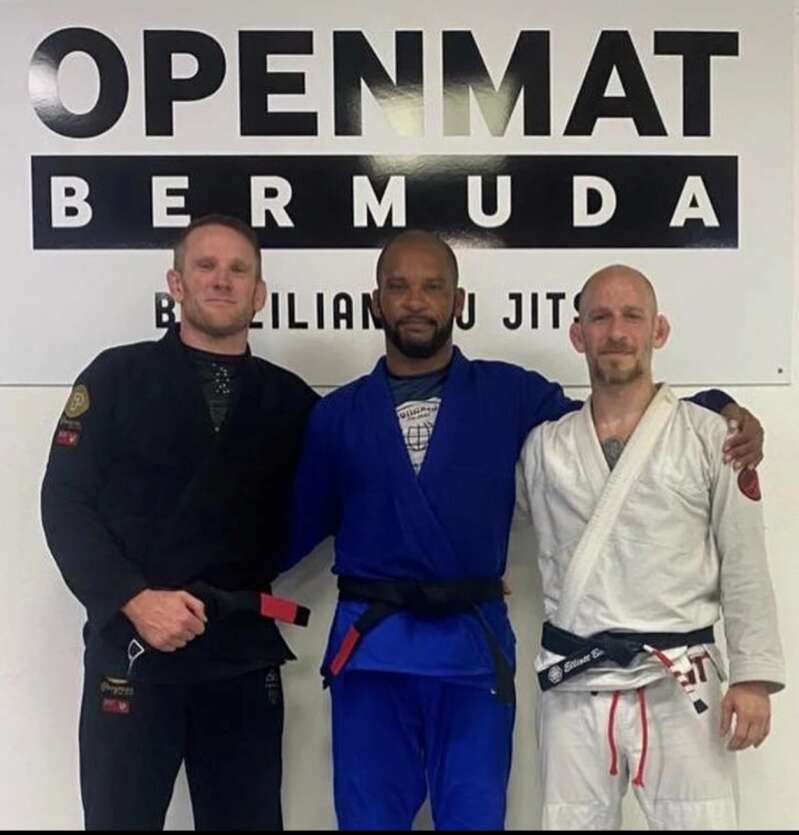 Aaron Dyer's love affair with Brazilian Jiu Jitsu began with a challenge.
He had always loved wrestling and a friend who was a martial artist swore he could beat him.
Their battle on the mat got him hooked.
This summer he earned a black belt. Mr Dyer believes he is only the second Bermudian to have done so but hopes to encourage others through OpenMat Bermuda, the Brazilian Jiu Jitsu academy he started on Mill Creek Road six years ago.
He did it because he remembered how, when he started training "with a couple of guys" 12 years ago, there was no one there to help.
"We didn't have anybody to teach us – there was no professor or event. So we just used to meet up, do some research on YouTube and then fight each other."
They started out of Skipper Ingham's "old karate studio" on King Street.
"I started to get a little bit better than everybody else so I got a little bored with it," Mr Dyer said.
On a trip to Canada, he met Elliot Bayev, the owner of OpenMat Mixed Martial Arts.
"I linked up with him and started learning from him. I brought him down to Bermuda for a seminar and eventually opened up OpenMat Bermuda."
His goal, he said, had never been to start his own academy.
"All I ever wanted to do was just train."
Open Mat started out of a small space on Queen Street and then moved to Front Street before it found its current home above Bermuda CrossFit in Pembroke.
Mr Dyer kept up his training through trips to Canada until he met Chris Regan, a fellow police officer who had earned a black belt in Brazilian Jiu Jitsu.
"I was able to have a professor right here on the island and learn directly from somebody on the island, instead of YouTube. And that's really when everything started to change. I was able to progress through the levels, through the belts.
"I suppose it's a multitude of things that will lead you to getting your belt. It's how many techniques you know; how are you able to move. Brazilian Jiu Jitsu is not something you just go and learn mentally and then you're just able to do it. There's a bunch of muscle reactions, learning your body balance and all that sort of thing. It takes significantly longer than other [martial arts] to get your black belt."
It is also completely different in style from other martial arts, he added.
"There's a lot of sparring involved, which isn't the case with other traditional martial arts. You can only find that balance through multiple sessions of sparring and it's very hard to get relaxed in uncomfortable positions.
"I went to the States for my last two years of high school and I was on the wrestling team and ever since then, I've always loved to grapple.
"With Jiu Jitsu there's no striking, there's no punching or kicking. It's chokes, arm blocks, leg locks, things like that. That was right up my alley. Being calm under pressure plays a big part. It's essentially a chess match with your body. Being in a bad position and being able to work your way out of it, or being in a good position and being able to finish the person with a choke or with an arm lock or whatever."
People around the world started taking notice of Brazilian Jiu Jitsu thanks to Royce Gracie, a now retired professional mixed martial artist and UFC hall of famer.
"This man who weighed 135 pounds was beating people who weighed like 240, 250 pounds. So from that point, it really took off," Mr Dyer said.
"Every person who is in the UFC has to have some sort of ground ability – some sort of wrestling, some sort of submission skills – and that's Brazilian Jiu Jitsu."
Although it is not yet big in Bermuda, he thinks "more and more" people are catching on.
"In the rest of the world Brazilian Jiu Jitsu is on fire," Mr Dyer said.
At OpenMat he accepts students from about age six although there are places elsewhere that will "take them even younger".
"There are so many advantages. It's described as the 'small man's martial art' and it's also a good martial art for women. For self-defence, it's priceless. I have all my daughters learning it although they can have their freedom from it if they ever want it once I feel that they're able to properly defend themselves."
Mr Dyer's black belt is a first for Bermuda in that it marks the first time that one has been awarded to someone who has been trained almost exclusively on-island.
"There's another person who has a black belt but he was privileged enough to go to Brazil and live there for ten years," he said.
"It's a journey. I would say that probably less than one per cent of people who start Brazilian Jiu Jitsu see their black belt. It's a difficult sport, it's a difficult art. So I think that's what makes getting your black belt so special because it shows you were able to buckle down and persevere through the injuries, through all the difficulties, and just being consistent."
Now that he has earned his, he can work towards "a new tab" every three years "just for time served".
"I do enjoy teaching kids because, for me, that's where it goes from here. My goal was to get my kids and a few other kids to compete."
For more information on Brazilian Jiu Jitsu or OpenMat Bermuda, visit openmatbermuda.com or @openmatbermuda on Instagram. WhatsApp Aaron Dyer on 717-2460