Chronic pain, breathing problems … physios do help
Updated: Sep 12, 2023 08:08 AM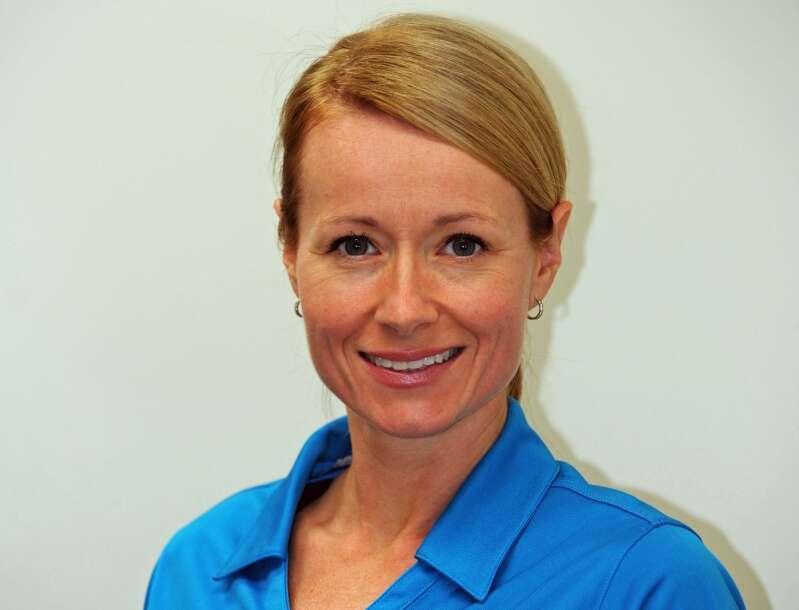 Even as the breadth of their skills sometimes goes underestimated by the wider community, physiotherapists are the heroes of people suffering from respiratory issues, lack of mobility or chronic pain.
World Physiotherapy Day is aimed at raising that awareness. An annual event, it was observed on Friday by the roughly 50 physiotherapists here.
The focus this year was arthritis which physiotherapists can help manage through tailored exercise aimed to reduce pain, swelling and stiffness.
"Physiotherapy is a very broad healthcare profession but our main focus and aim is to improve people's function and mobility," explained Raina Steer Pitcher, education officer for the Bermuda Physiotherapy Association.
"You've got everything from neuro physios that deal with brain injury and stroke, you've got paediatric physios that help kids get moving with disabilities and challenges; you've got cardiorespiratory people that help with [lungs].
"Basically we're trying to keep people healthy, mobile and functioning, whatever their life requires."
She became interested at the age of 13, when she saw how physiotherapy helped her cousin following a traumatic injury.
"She cut her hand really badly. She was working at a local ice cream shop back in Canada. It was pretty interesting because she severed all the tendons in her hands and went to physio, got her full function back and then became a physio herself.
"My mom was a nurse, and I loved people. I was a farm kid in a small town, an athlete who had endless amounts of energy.
"I thought I could never be an elite athlete or somebody highly paid for doing sports and activities but I could get into a profession to help those people keep moving and do what they love themselves."
She got jobs working with physiotherapists throughout high school and on graduating, "got lucky".
"When I got into physio it was kind of just a weird time. The profession was up-and-coming. There was a lot of competition and because someone didn't take their original spot, I got one of the 68 spots in the university I had chosen and I went in directly out of high school."
Seventeen years later, she doesn't regret a thing. Her days are kept interesting by the varied needs of her clients, many of whom have "underlying conditions that affect their function and their capabilities".
"Say you have emphysema — you were exposed to pollutants in your work or you're a smoker and you're having trouble breathing — we can help you breathe better, give you exercises, make you stronger.
"Say you rolled your ankle playing sports or walking down the street, we could help to rehabilitate that injury.
"Maybe you had a stroke and you have weakness …. anybody that has had something that's impacting their function in their life can come to physio – anything trauma-related, like a car accident, some kind of health issue that's cropped up or just somebody that has bad posture at the desk."
Of the 50 physiotherapists registered here, roughly 45 are in practice.
"There's a couple members that are in administration roles or they're retired but still registered; there's a beautiful blend of locals and expats and a beautiful blend of specialities.
"We're very blessed for a small island to have people that love to deal with brain injury and stroke, love to do pre-respiratory.
"We have some really good Bermudians that are into home care, going into elderly people's homes and obviously with our ageing population that's super important."
Most are in private practice. Access to physiotherapists through King Edward VII Memorial Hospital is "a little bit challenged" although improvement is in the works.
World Physiotherapists Day has been observed on September 8 each year since 1951.
"Basically it's just to raise awareness of what we do and how we can help impact the community," Ms Steer Pitcher said.
"A lot of physios work in isolated areas. If you're in a remote area somewhere or, say you are a home care physio, you sometimes don't get to interact with the rest of the community.
"Or you might work in a hospital where you actually get to interact and have multidisciplinary relationships all the time.
"So it's kind of that day just to celebrate how much we want to support the community but also support the profession itself."
Physiotherapists are far more accepted now than they were a few decades ago when many people viewed them as "glorified exercise prescriptioners and massage therapists".
"We're regulated health professionals. Obviously we have to make a wage, but this isn't a business for us. We're part of a healthcare team and helping people get better," Ms Steer Pitcher said.
"Now we're integrated into so many areas of society. There's physios running free meditation classes because we understand the importance of the mind-body connection, there's a few therapists that have taken yoga and do that in the community and then there's the home care side of it."
The broad offering encouraged the understanding that physiotherapy was a way of keeping "people off drugs". "We think we save the insurance companies about 30 per cent of individual healthcare costs.
"So say you sprained your ankle and you see a physio first, we sometimes save you from an MRI; we save you from multiple doctor visits and then we might even save you from pain medication because what we do can sometimes, is help to calm the pain down a little bit. We can't make you heal faster, we can just make you feel better."
Doctor referrals are not necessary to make an appointment although physios and GPs often work hand in hand.
"We're really lucky to have that collaboration with doctors," Ms Steer Pitcher said. "Some of the old school doctors are still like, oh the cast is off just walk on it, you're fine. But most of the doctors nowadays understand that the joints are stiff from the cast, so the physio will help do that with their hands, or the calf is weak so we need to strengthen that so they don't roll their ankle again.
"So I think they realise our importance now, but back then, they probably didn't understand all our capabilities.
"There was that hierarchy of medicine that used to be there where the doctor was kind of 'the one' and then everybody else followed underneath."
For anyone looking for a physiotherapist, the Yellow Pages are a good bet, she added.
"I have to say there's a very strong level of confidence in our local therapists. You can even call the reception at an office and say, 'This is my problem, who in your office is the best to go see?'"
• For more information visit Bermuda Physiotherapy Association on Facebook