Bermuda's creatures on a mission to rescue Santa
Updated: Dec 23, 2010 07:19 AM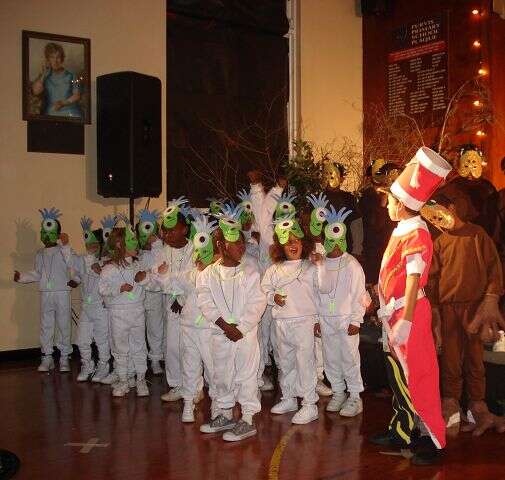 Purvis Primary presented "Tiny and His Friends Save Christmas", written by Deputy Principal Michael Bean, Erica Fuhry, and Alandra Swan, as their seasonal production.
All the land, air, and sea creatures of Bermuda had to rescue a shipwrecked Santa, played by P5 student Markius Rawlins, in time to save Christmas.
The creatures were led by TIny the Treefrog, portrayed by Kwensi Cann, also a P5 student. The skinks waited on the shoreline, looking out for Santa, while the glow worms led by Sergeant Major (Steven Camera, P5) lit the water and the night sky for Santa to find his way back.
The scattered presents were gathered by the ants, and the sleigh was rebuild by the birds. All the hard work and cooperation paid off, and Christmas was saved. The play ended with the song "We Need a Little Christmas, Right This Very Minute!"