Prefects thrive on their busy schedules
Updated: Nov 10, 2011 07:51 AM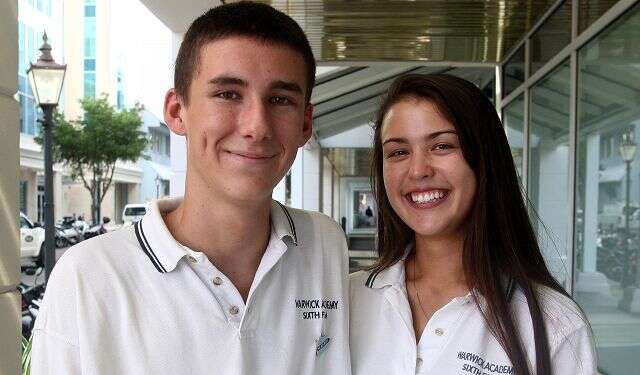 Being a role model, someone students could look up to, having extra responsibility and more input are the key features of being a prefect according to head prefects of Warwick Academy, Daniel Fiddick and Amanda Brown.
When interviewed as head prefects, the pair had a lot to say about their lives so far as prefects. From taking assemblies to speaking at open houses, the role of a typical head prefect is a lot to bargain for. Just a few more of their tasks as prefects are being the liaison between the student council and principal, taking assemblies, and as a team with their deputies, devising a plan in which the two deputies go to the primary section of Warwick Academy assemblies to let the younger students have a sense that they are a part of the same school.
As they are a part of the I.B. programme, they each have to complete a total of 50 hours for each of the following categories: community, sports and creativity. Amanda achieves her community hours by instructing a dance class, but also she completed community hours in the summer by going to Paraguay where she participated in the Habitat for Humanity programme. Amanda acquires her creativity hours by playing the French horn in the school's orchestra, and her sports hours by dancing.
Daniel, on the other hand, coaches volleyball, which is a sport he plays as well for his sports requirement. For his creativity he films and edits movies. "A fun way to get the hours," said Daniel who is currently working on an action movie, though he says he may not have gotten into film production if it weren't for the hours he is currently required to complete.
When asked what was his most memorable moment at Warwick Academy, Daniel stated entering Year 7 (M1) having transferred from Port Royal Primary to Warwick Academy and not knowing a lot of people or where anything was. Amanda's most memorable moment at Warwick Academy would be being chosen as Head Girl, and it just so happens that her father and brother were both once Head Boys at Warwick Academy, and she was very much aware of a sense of heritage.
With regard to the future, Amanda said she wanted to go off to university in the United States, narrowing it down to the East Coast, and though she is not entirely sure what she wants to study, she feels she'll take business and economic courses. Daniel, however has hopes to go to university in Canada to become a mechanical engineer.
Even though this is only the beginning it is clear that they have a full year ahead of them.