Government backs LED lightbulb exchange
Created: Apr 09, 2019 09:00 AM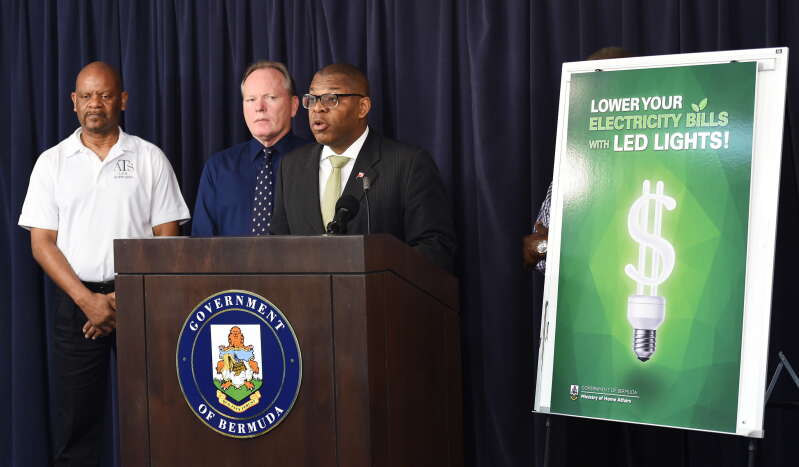 A bright idea to let people change old-style lightbulbs for energy-efficient LEDs is to be launched next month.
The Department of Energy has teamed up with stores to offer one free LED in exchange for an incandescent bulb from May 1.
Walter Roban, the home affairs minister, said: "By working with local retailers we found that the LED equivalent to a standard 60-watt A19 bulb was used by most households. An LED equivalent uses about nine watts.
"Using a 60-watt incandescent bulb for five hours a day equates to spending $46 each year to run that light.
"Switching to an LED equivalent it is about $6.90 for a year. That adds up to 85 per cent less energy being used.
"A single LED would pay for itself in just a few months and after that, the savings will accumulate over time.
"We hope that the public will take advantage of this very unique opportunity to see how energy efficiency can work for them."
People will be able to swap one incandescent bulb for the equivalent LED at the 12 stores that have signed up for the scheme.
Mr Roban said the Government had committed enough resources to allow about 30 per cent of households on the island to take part.
He added it was hoped that the swap deal would encourage people to switch all their lights to LEDs.
Mr Roban said that LED bulbs lasted between 50,000 to 100,000 hours but incandescent bulbs blew after about 12,000 hours.
He added: "We need to think about how we spend our hard-earned money taking into account operating and life-cycle costs.
"Some argue that LEDs do not look nice or that they are not the same size or the same style.
"I can assure you that is no longer the case. LED technology has improved very much over the recent years."
Lightbulbs can be swapped at ATS LED Supplies, Baptiste Building Supplies, Encon, ESC Lighting, Gorhams, Lindo's in Devonshire and Warwick, the Heron Bay, Shelly Bay and Hamilton MarketPlace stores; Masters, Telford Electrics and The Greenhouse Bermuda.