Partners in swimming and in life
Created: Aug 11, 2016 09:00 AM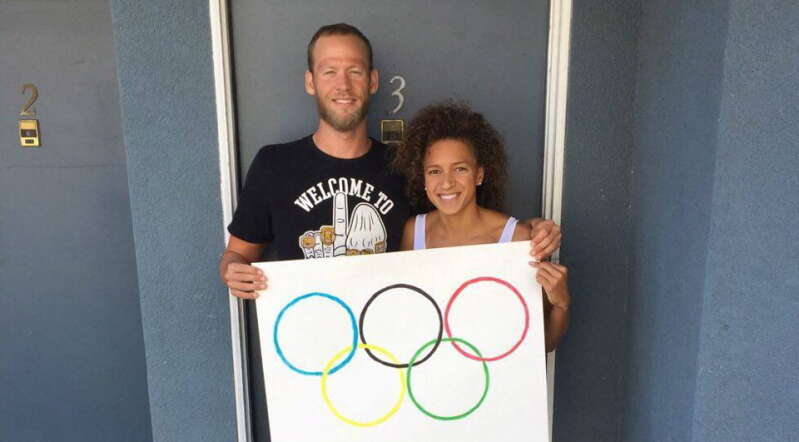 Rebecca Heyliger is living out her Olympic dream in Rio alongside her boyfriend and Denmark swimmer Mads Glaesner.
The couple met 3½ years ago as team-mates for Trojan Swim Club at the University of Southern California and soon made a pact to try and qualify for Rio together.
With Glaesner, a three-times Olympian, already guaranteed a spot in Denmark's team, the responsibility fell on Heyliger's shoulders to ensure their joint ambition remained on course.
"About three years ago my boyfriend was staying in LA and he decided his final goal [in swimming] would be for us to go to the Olympics together," Heyliger said.
"This has been our goal for so long, so it was really exciting to make it happen as he retires after Rio. I was the one who had to make it happen because he was pretty much set!"
Heyliger completed her side of the bargain at the Validus Bermuda National Championships in May, where she set a national record in the 50 metres freestyle in 26.13 — four tenths of a second faster than the Olympic B standard.
The 23-year-old has since been busy picking Glaesner's brain and said his support and knowledge have helped improve her mindset and shape her preparations for Rio.
"He has made it a lot easier for me to understand the lifestyle you really need to get to this level," Heyliger said.
"He's also been a big help in technique and was recently like, 'Just ask me anything about tapering, I can help you'.
"He really knows what he's talking about because he's been doing it for a long time."
Glaesner has experienced plenty of ups and downs in the sport.
The 27-year-old was stripped of the gold and bronze medals he won at the 2012 World Short Course Championships in Istanbul after testing positive for phenpromethamine — a specified stimulant which is prohibited in competition,
However, upon appeal to the Court of Arbitration for Sport, Glaesner's 1,500 freestyle gold was reinstated having tested clean immediately after that race, two days after his initial positive test following his 400 freestyle.
Heyliger was quick to show her support for Glaesner after his final race in Rio, where he finished 36th in the 400 freestyle at the Aquatics Stadium at Barra Olympic Park.
"Congratulations to my baby on an amazing swimming career," she wrote on her Facebook page. "3 x Olympian, world champion and best boyfriend ever. You continue to make me proud every day."
At 5ft 3in tall, Heyliger is at a physical disadvantage compared to the majority of her competitors, many of whom stand at about 5ft 10in.
To compensate for her lack of height, she will be strength training right up until she competes in tomorrow afternoon's heats. She admits her technique will need to be faultless if she is to become the first Bermudian woman to break the 26-second barrier.
"I've been staying in the weights room throughout as I like to stay strong and fast," Heyliger said.
"My catch strength is really important as I'm so much smaller than my competitors so I have to be able to use all the strength I have.
"The things I lack in height I have to make up in technique and strength and doing everything right because I never will be taller."
Heyliger said it is almost impossible for her to qualify for the semi-finals even if she sets a personal best.
"I don't think that would take me out of the heats," she said. "I would probably have to drop almost a full second."