Coastguard to patrol whale watching 'wild west'
Updated: Mar 23, 2022 01:55 PM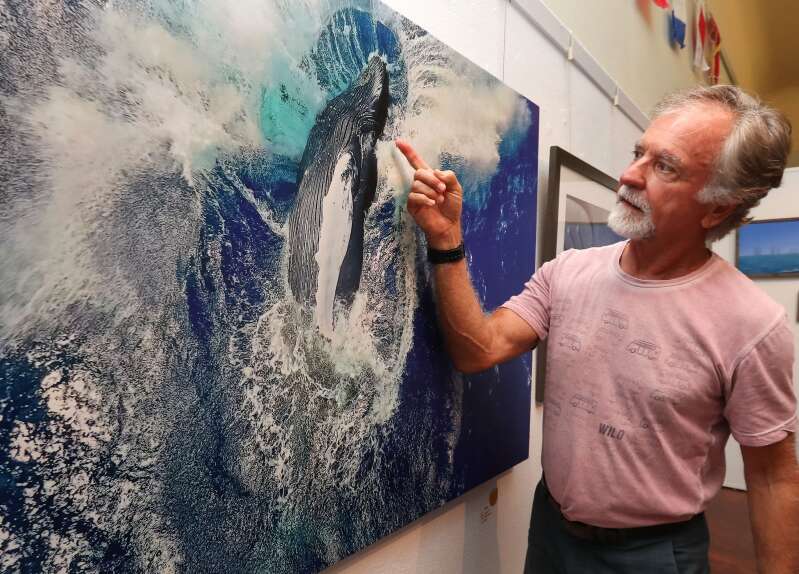 A conservationist said he was "disheartened" by people who tried to swim alongside humpback whales as they passed the island.
Andrew Stevenson warned that it could be distressing for the creatures and that their behaviour was unpredictable.
He said: "It's very disheartening … because it's abuse of the animals.
"I can see that they're stressed.
Twitter
The news came as the Government announced the Royal Bermuda Regiment Coastguard would be tasked with whale protection after the Department of Environment and Natural Resources was alerted to people snorkelling near whales as they passed the island.
Mr Stevenson said: "Let me make it really clear, this is not when somebody has got the engine off and the boat is sitting there and whales come to the boat and swimmers are in the water, drifting towards the whales – that's not what I'm talking about.
"I'm talking about where you have multiple boats with multiple swimmers, especially in shallow water where the whales can't easily dive to get away.
"It seems almost to be a competition among these people to get in the water."
Mr Stevenson was speaking after a photograph was posted to his WhalesBermuda Sightings Facebook page that appeared to show people snorkelling next to a whale.
He said that it was understood there were about six boats in the area at the time.
Mr Stevenson added: "It's dangerous to the whales, it's dangerous to the people."
He said that his experience of commercial whale-watching operators was that they knew the guidelines, were "very good" and did not allow passengers to swim with the animals.
Mr Stevenson, who has studied whales for 16 years, has written three books and made two documentaries about them.
His film Secret Lives of Humpbacks suggested that the animals used Bermuda as a rendezvous point between feeding and breeding grounds.
He said: "The whales are different – they have personalities like us and there are some that are bad tempered.
"The calves, in particular, do not know their size and they are curious and then they suddenly panic and they turn at the last instant and that fluke comes slashing at you.
"There have been accidents and there will be an accident here one day."
Mr Stevenson, who highlighted that he no longer entered the water to record whales but used a drone instead, said: "I feel personally responsible because I have popularised the whales through my films."
He explained that although both of his daughters had swum with whales, it was in controlled conditions in the Dominican Republic, where the activity was well-regulated.
But he said: "It's the wild west here.
"If Bermuda wants to have people swimming with whales – a big 'if' – then they have to work out the protocol, there has to be professional people involved who know what to do."
He added that the open waters around the island were different conditions to those in the Dominican Republic, where boats operated in a "protected horseshoe of reef" at the Silver Bank.
Mr Stevenson said "some kind of enforcement" was required.
An advisory issued earlier this month by the Government said that people who wanted to watch whales should be familiar with guidelines from the Department of Environment and Natural Resources.
A spokesman said at the time: "Specifically, boaters should not get closer than 100 metres, or 300 feet, to any whale.
"Whales will sometimes approach a boat of their own accord.
"If this occurs, put your engine in neutral and let the animals come to you.
"If a whale tries to leave the area where you are in a boat, do not chase it.
"The public is also strongly advised not to swim with whales."
The spokesman warned: "No matter how docile they may appear, a whale could unintentionally strike a swimmer with a casual tail or fin slap, causing severe injury or even worse. Those tails and fins are big and heavy.
"Also, boaters and swimmers may not intend to be intrusive, but getting too close to the whales can disrupt feeding, nursing and migrating behaviours.
"Boats, in particular, can cause unintended injuries to a whale."
He added that it was an offence to injure, disturb or harass a humpback or sperm whale and that offenders faced a fine of $25,000 or two years in jail if convicted.
Mr Stevenson highlighted that the WhalesBermuda Sightings Facebook page was designed to help people watch the mammals from the shore and share information - not to help boats track whales.
A spokesman for the home affairs ministry said an incident where people were swimming with whales had been reported to the DENR and an investigation had been launched.
He warned the RBR Coastguard would mount extra patrols in whale watching areas as a deterrent.
The spokesman added that it was the first reported incident of the year, but that complaints - mostly about the behaviour of private boats - had increased over past few years.
He warned: "Any reports of whale harassment will be investigated to identify boat owners and the appropriate action taken."
The Government advisory said signs that a whale was agitated or no longer interested in being near a vessel included regular changes in direction or speed, tail slapping or trumpet blows, repeated diving and fast dives.
Whale harassment should be reported to the Fisheries Wardens on 535-4615 or to the Coastguard Operations Centre on 294-0610.
Photographs and video recordings with boat names and registration numbers of offenders can be sent to environment@gov.bm.