Brodsky bullish about Bermuda's chances
Created: Sep 25, 2018 09:00 AM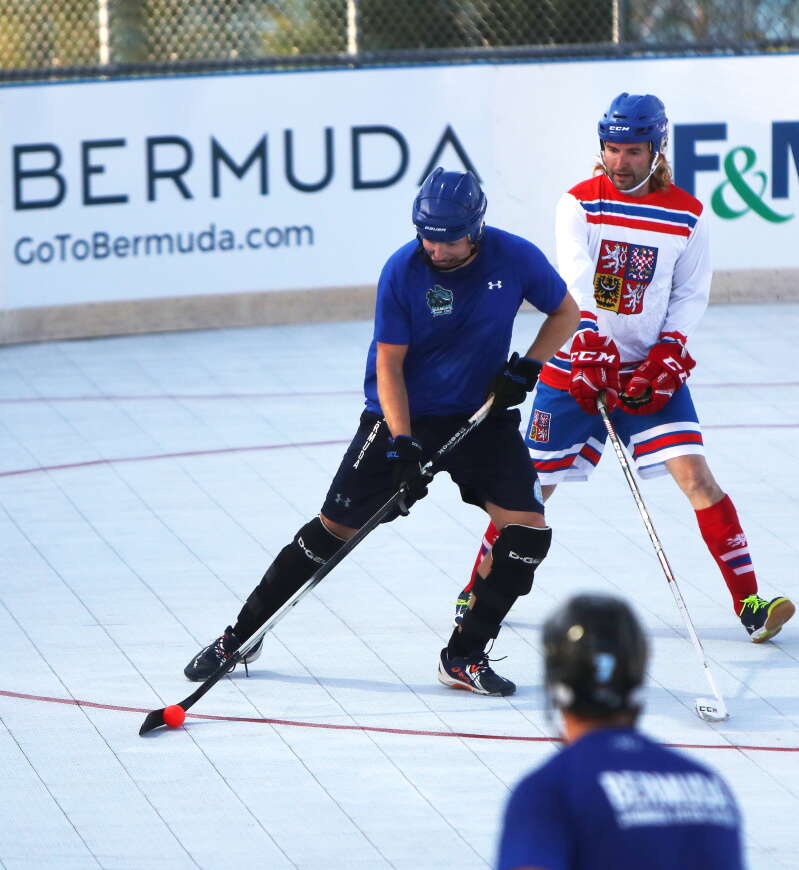 Pete Brodsky, the Bermuda coach, believes that his players have a shot at winning the ISBHF Masters World Ball Hockey Championships if they play to their strengths.
"We're looking to try our best and win this thing on home soil," Brodsky said. "Our goal is always to win and I think we will be competitive and give these guys a run for their money.
"The competition is tough so we obviously have our work cut out for us. I want to make sure we go out and put a full effort in. If we do that and use our skills and our systems to our advantage, then we have a good chance to win some games — but we need to play our best in order to have a shot at that."
The tournament will involve 12 men's and five women's teams from the United States, Canada, Greece, Italy, Slovakia, Czech Republic and Portugal, all the players are over 40 with a few exceptions. The women's teams are Canada 1, USA 1, Ladies Slovakia, Canada NY Extreme and USA 2.
"It's going to be high-level competition," Brodsky added. "A lot of the players have represented their country in the World Championships or maybe the Masters Championships before, so the level of competition is going to be really high for this sport.
"It's going to be a pretty good show for people who have never seen, or even for people who have. They are going to be pretty impressed with the level of calibre the countries are sending."
The tournament will be held at two venues — Pembroke Community Centre near Spanish Point and at the Oracle shed in Dockyard.
Matches will be played at the Dockyard rink on Wednesday, Thursday and Friday, with teams travelling there by ferry.
Bermuda will face Czech Republic in their tournament opener at PCC rink today, starting at 5.15pm. The curtain-raiser for the championships, beginning at 4pm, will be Austria against Old Glory USA in the Men's 1 division.
Brodksy says his players have prepared themselves well for the tournament and are anxious to put on a good show for the home crowd.
"We feel like we spent a lot of time preparing and the guys are really excited and want to do their best and do well for the home crowd," he said.
The women's tournament starts tomorrow.
Round-robin matches will be played up to Friday, with qualification matches on Saturday and the final on Sunday.
"We're really hopeful that lots of people come out to watch and root us on, which would be a great help to us," Brodsky said. "It would be great having the home fans cheering us on that will motivate the boys."
The Bermuda team is made up mostly of Canadians and Americans, with Richard Campbell the one Bermudian on the team.
Games, which will consist of three 12-minute periods, will be held from 9am to 10pm and admission to all the matches is free.
SQUAD AND SCHEDULE
Goaltenders: Yves Paul, Yan LeClerc, Scott Steele.
Defenders: Richard Campbell, Mathieu Desjardins, Chris Coleman, Wayne Newhook, Troy Dort, Tom Washington, Adam Smith, Shannon Gosse.
Forwards: Scott Shannon, Chris Merritt, Cameron Poland, Cory Caouette, Matthew Berson, Nathan Kowalski, Ronnie Dzurus, Chad Cundliffe, Jean-Michael Tremblay, Jeff Ingelman, Tom Miller, Chris Allington, Billy Calko.
Coach: Pete Brodsky. Manager: Dave McPhee.
Today: Austria v Old Glory USA (4pm); Bermuda v Czech Republic (5.15pm)
Tomorrow: Women: USA 1 v Canada (9.15am); Ladies Slovakia v USA 2 (1pm); Canada NY Extreme v USA 1 (2.15pm). Men: Team Slovakia v Italy (Dockyard, 10am); Old Boys Slovakia v Canada Halton Leafs (10.30am); Czech Republic v USA (Dockyard, 11.15am); Portugal v Greece (11.45am); Austria v Canada Halton Leafs (3.30pm); Canada v Team Slovakia (4.45pm); Greece v Old Glory USA (6pm); Portugal v Old Boys Slovakia (7.15pm); Italy v Bermuda (8.30pm); USA v Canada (9.45pm). All games are at PCC unless stated.