Sweet rewards from a world of books
Created: Mar 06, 2014 08:00 AM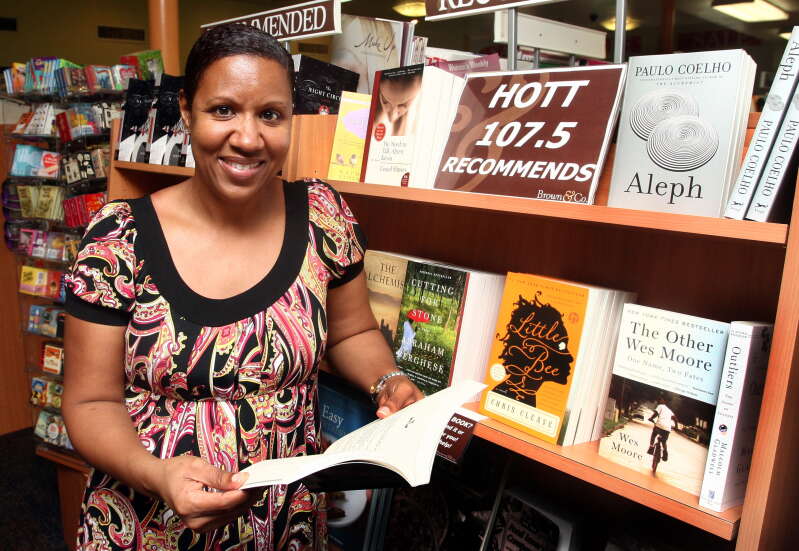 Books have a way of taking you to places you couldn't ordinarily go. From travelogues that show you what it's like in far away lands; to fairy tales that give you your first impressions of romantic love — there's no end to what you can learn and experience through reading.
In honour of today's World Book Day, The Royal Gazette Lifestyle section polled some of our contacts to find out about their favourite books and how reading has informed and empowered their lives. For some, reading has taught them about their purpose in life, while others say it sparked a lifelong passion for knowledge.
For local radio host Nikita Robinson, the book that made the biggest impact on her life was Rick Warren's 'Purpose Driven Life'.
She described it as a 40 day spiritual journey, which shows you how all the pieces of your life fit together. And said it answered one of the most important questions she had: "Why the heck am I here on this earth?"
"It taught me that I am not an accident, that I have a purpose and what I am created for," she said.
"In a nutshell, the book is about letting God use you for his purposes, not using him for your own purpose. Rick Warren writes, 'You were made by God and for God — and until you understand that, life will never make sense'."
Keith Caesar, of Bermuda National Library, remembers how George Orwell's '1984' taught him a lesson or two about the hardships in life and love.
"On a lot of levels it is a book about the worst that could happen to a society, but it is also a book about what could be potentially beautiful in a society," he explained.
"It's like this thing we have, this hope we have, is a force more powerful than everything we know.
"[The book taught me] that the things you want are not always the things you get. That we all have some stuff we need to go through. You can't escape that, but you know what, you work hard, you stick to the wickets and you will reach your potential."
Another great thing about the novel is that it depicts a world where those who are at the lowest end of the spectrum are pushed to their limits.
"What inspires me, and we've seen this happen around the world, is what happens when the overlooked push back," he added.
Author Andrew Stevenson said that one of the best books he read as a young person was Anna Sewell's 'Black Beauty'.
He was in boarding school in India at the time and remembers how much he enjoyed devouring each word.
"I can't say if that book was the catalyst or not, but I do know that I was completely besotted by horses until much later in life," Mr Stevenson said.
"In fact, at around 13 or 14 in boarding school in Scotland I had posters of horses all over my wardrobe space and if I remember correctly, wanted to marry a horse!"
"I love reading," he continued. "Gerald Durrell and his books about collecting animals for zoos were also a favourite of mine and I read everything he wrote.
"I still love reading, but have to admit that since writing books — I've had ten published and am working on the 11th — I haven't enjoyed reading so much, probably because I'm hypercritical. More recently I have started reading again and can consume books almost as fast as my daughter, Elsa, who is an avid reader (that is an understatement!). I guess it must be genetic."
Kim Dismont Robinson, the Folklife Officer with the Department of Community and Cultural Affairs, has always enjoyed reading Toni Morrison's 'Beloved'.
"I've probably read it a dozen times, and it's written with such artistry that I discover something new with each rereading," she said.
"I love how the book was written — Morrison discovered a brief article in an old newspaper about an enslaved runaway who chose to kill her child rather than have the child become dehumanised through slavery. Morrison took this scrap of a story and constructed an entire novel around it."
She said the novel was "heart-rending" and caused her to think about the profound and potentially destructive nature of mother-love — more specifically the ways that love and guilt can twist the human spirit; and how the experiences of the past "inevitably tread on the heels of the present".
"It's affected my philosophy on parenting," Ms Dismont Robinson said. "It's had an impact on my creative life and my decision to write historical fiction; and it's a book that made me feel more human for having read it."
Kristin White, the co-owner of Book Cellar, couldn't think of just one favourite book.
She said there were many books that touched her life, including 'The Giver' by Lois Lowry.
"At Bermuda College I was part of a book club called Read And Get Excited (RAGE) led by Florenz Maxwell. We would read a book and, on live TV and share our views of it. The Giver was the first one Ms Maxwell chose for us.
"It's an incredible book, one I have read countless times since. And that first time, arguing with each other, defending our viewpoints so strongly, sharing our love of reading. The Giver conjures all of that up for me, conjures up for me the passion that books create," she said.
Ms White said books have taught her how to imagine, dream, learn, create, believe and feel.
"There are no greater lessons than these for how I want to live," she said. " 'The Giver' has a particular lesson about the blessing and burden of seeing the world differently from those around you [and asks the question:] what do you do with that knowledge and that gift?"
Designated by UNESCO, World Book Day is celebrated by more than 100 countries across the globe, where people reflect on the power of books and reading.