Sir John: 'She took a strong position'
Created: Apr 09, 2013 09:00 AM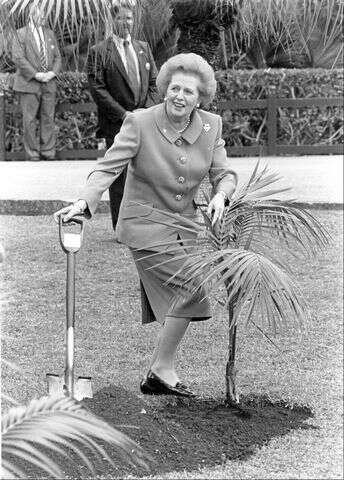 Baroness Margaret Thatcher played a key role in helping Bermuda forge a strong relationship with the United States, former Premier Sir John Swan said yesterday.
"I had the great pleasure of knowing her very early in my career when I first came into office," Sir John said.
He had visited then US President Ronald Reagan, a staunch ally and friend of the British Prime Minister, to discuss a tax treaty with the United States.
President Reagan asked Sir John to get Mrs Thatcher's agreement to begin negotiations, which he did.
"Thus started what was a very extended period of negotiations with (the Congress and the White House in order to finalise this agreement," Sir John told
The Royal Gazette.
"Tourism was not recovering and we needed to do something to recover our economy and this worked quite well."
Sir John and Lady Thatcher did not always agree, however.
"I disagreed with her position on Apartheid in South Africa. I felt that Britain should play a major role in putting sanctions in. She explained to me that she had ten and a half percent unemployment, she had 600,000 English people in a trade relationship with South Africa and she had over a million English people who would end up coming back home if South Africa collapsed and worsen the unemployment situation.
"That was her pragmatic side coming out."
Sir John praised Lady Thatcher as someone who had the courage of her convictions.
"What she believed in she believed in strongly. She took a strong position. Unfortunately, that strong position was also her weakness, because she was prepared to take the consequences of her beliefs which in the final analysis saw her leave politics.
"She served Britain remarkably well. I could see why they called her the Iron Lady, but she was a major jewel in the crown of democracy."
Sir John said they shared a similar philosophy which focused on fiscal responsibility with a social conscience.
"I admired her for her tenacity and I admired her for her determination to do well for the British people and for the world. From that point of view I concurred completely with what she did and the world is a better place as a result of her."
His career as Premier of Bermuda almost paralleled Margaret Thatcher's career as Britain's Prime Minister.
He held office between 1982 and 1995, while she was Prime Minister from 1979 until 1990.
Sir John who visited her frequently when he travelled to London said, despite the "Iron Lady" moniker, he found her to be a very warm person, sensitive to human suffering.
"We always discussed ideas and ideals and events that helped to shape the world, and she was a very warm person. I always found her to have a soft heart and things affected her. Events that were tragic or adversely affected people, affected her.
"We spent considerable time talking about things, thus I was able to devolve a very strong relationship with the Americans, because they knew that she and I was close. And I became close with Ronald Reagan and George Bush Sr and they became our avid supporters in what we were trying to do."
He added: "She had such a profound effect on building the England to the country that it is today. It was a country that was plagued by real strong conflict between management and the unions. Economic conditions were in a sad state, unemployment was ten and a half percent, and the world was toing and froing between communism by the Soviet Union and democracy by Western Europe and England and the United States.
"She was the purveyor of human freedom and working with Ronald Reagan as the President of the United States began the process of dismantling the communists' regimes reign over so many countries."